Cocktails inspired by the 2021 Emmy Awards
Celebrating the Emmy's and your favorite stars? Don't forget to mix up one of these delicious concoctions.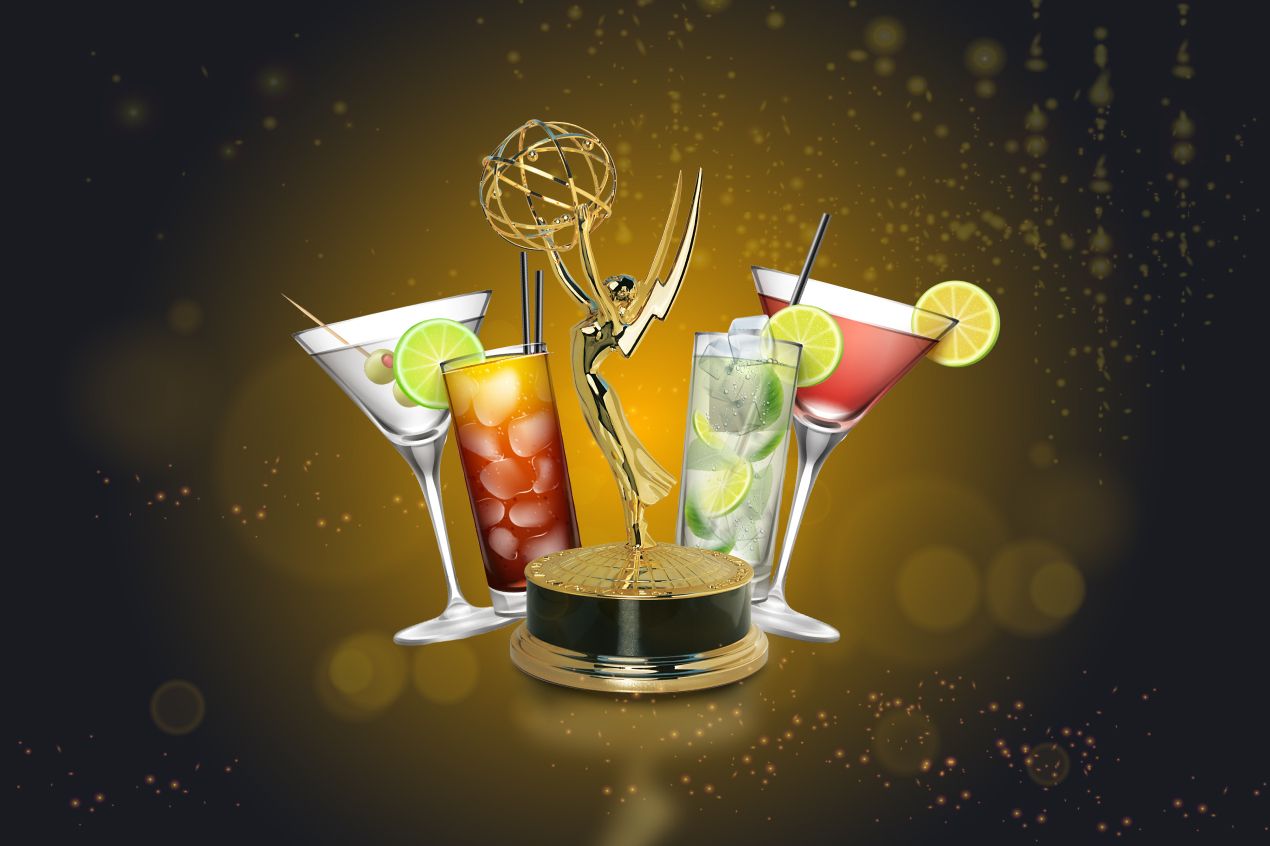 Just like every year, the 73rd Emmy Awards' red carpet was graced with notable big names such as Kate Winslet, Jason Sudeikis, Elizabeth Olsen, Evan Peters, Hannah Waddingham, and Jean Smart, all dressed to impress.
The Crown proved to be the standout performer, claiming 21 awards, with The Queen's Gambit and Ted Lasso following the queue. For those looking to celebrate these victories, the 2021 Emmy Awards-themed cocktails will do just right.
To match that, we have a list of Emmy-inspired cocktails that can walk the talk with their five-star ingredients and flair garnishes.
The Reboot Royale
Recipe by Charles Joly
2021 Emmy Awards Cocktail With Charles Joly
Sip on The Reboot Royale concocted by the award-winning bartender Charles Joly. Crafted especially for the Emmy Awards, we couldn't leave this one out, after all, it is inspired by the awards themselves. Oozing with tantalizing strawberry flavors from Sidewood Estate Pinot Noir, the cocktail balances the dryness of Ketel One Vodka with red berry nuances.
Ingredients
1.5 oz Ketel One Vodka
0.75 oz Calamansi Vinegar & Lemon Juice blend
0.5 oz simple syrup
1.5 oz sparkling wine (try Sidewood Estate Sparkling Pinot Noir, gold medal, 2021 USA Wine Ratings)
0.5 oz cranberry pearls
Shake the first three ingredients with ice, then add the sparkling wine. Strain to a wine glass and add cranberry pearls to the glass.
Crown Royal Flush
Recipe by Crown Royal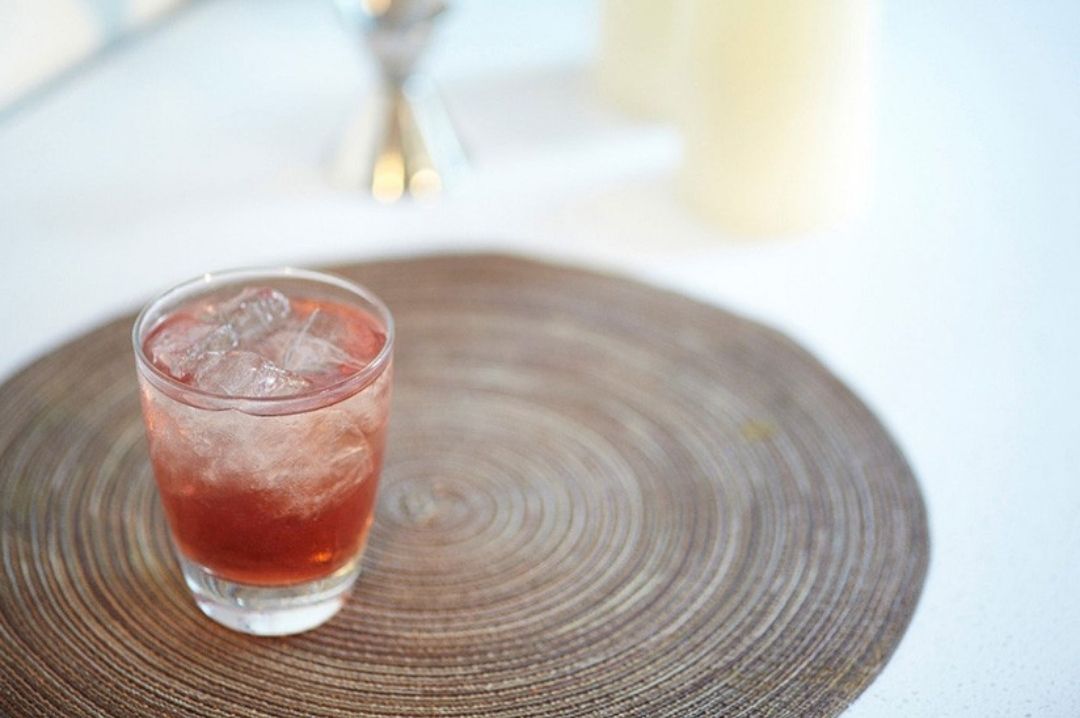 Crown Royal Flush, Source: Website
We celebrate The Crown's dominating award-sweeping show at the 2021 Emmy's with the Crown Royal Flush. The Crown triumphed with 21 awards from a total of 63 nominations, with the 'Outstanding Drama Series', 'Outstanding Lead Actor in Drama Series', and 'Outstanding Lead Actress in Drama Series' lined up in the front row. Celebrate royalty with Fine De Luxe, a whisky made in 1939 for King George IV during his visit to Canada. The sweet maple palate makes the cocktail a treat, finishing smooth with a buttery oak aftertaste.
Ingredients:
Combine all the ingredients in a cocktail shaker. Strain into an ice-filled rocks glass. Garnish with an orange peel.
The Kate Winslet
Recipe by Gourmet
Appearing to be an elegant drink, The Kate Winslet is great if you are a slow sipper. This year, Kate Winslet took home the 'Outstanding Lead Actress in a Limited Series or Movie' for her main character role in the series Mare of Easttown. Sweet red currant jelly and citrus flavors of Zardetto Prosecco DOC Brut make this one a standout, just like Kate Winslet. If you haven't watched Mare of Easttown yet, we highly recommend a binge-watch session with a glass of this drink to keep you company.
Ingredients:
2 tbsp red-currant jelly
2 oz water (1/4 cup)
4 oz (1/2 cup) Bombay Sapphire
1 (750-ml) bottle well-chilled brut champagne or prosecco (try Zardetto Prosecco DOC Brut, gold medal, 2021 USA Wine Ratings)
Garnish: fresh red currants
Heat the jelly and water in a small saucepan, whisking, until the jelly has dissolved. Stir in the gin and chill until cold. Divide gin mixture among 6 champagne flutes, and top it with champagne.
The Lavender Lasso
Recipe by Charlie Park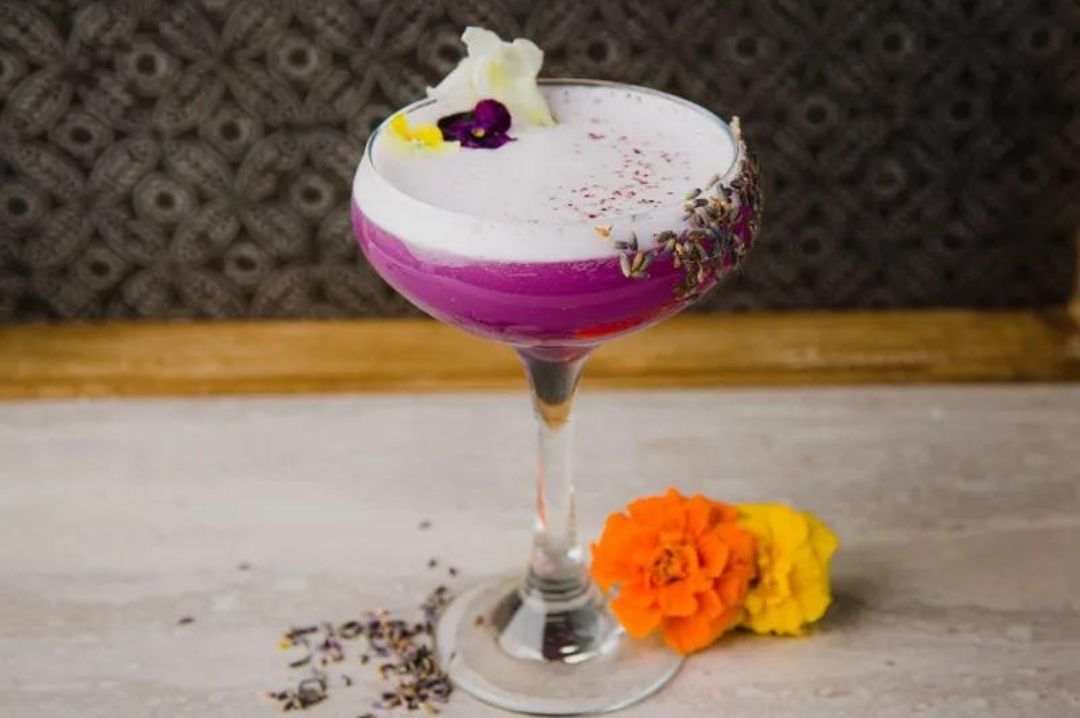 The Lavender Lasso inspired by Ted Lasso, Source: Website
The 'Outstanding Comedy Series' award winner, Ted Lasso took home 7 Emmys this year. Jason Sudeikis won the 'Outstanding Lead Actor in a Comedy Series', as Ted Lasso was nominated for 20 awards in total. To commemorate the success of the Netflix show, we bring to you The Lavender Lasso. This colorful and vibrant cocktail is perfect to toast with its flowery notes and a well-balanced sweet and sour body.
Ingredients:
1.5 oz Empress Gin
0.75 oz coco Water
1 oz pineapple juice
1.0 oz lime juice
0.25 oz lavender syrup
0.25 oz IPA Syrup
0.25 oz Butterfly Pea Flower Syrup
Shake all ingredients vigorously with ice and strain into a martini glass or coupe rimmed with dried lavender flowers. Lightly sprinkle up dust over the froth when poured for contrast.
The Queen's Gambit Tranquilizer
Recipe by The Nerdy Gourmet
The Queen's Gambit Tranquilizer
Inspired by Emmy's award-winning The Queen's Gambit, this is an easy-to-make cocktail that you can make at home anytime. Bagging 11 wins from 18 nominations, the TV series set a high benchmark with the 'Outstanding Limited or Anthology Series' win. Zesty flavors of lemon and pineapple bring fine acidity to the drink.
Ingredients:
Add all the ingredients to a cocktail shaker. Shake and strain. Enjoy!
Loca
Recipe by A Heaping Spoonful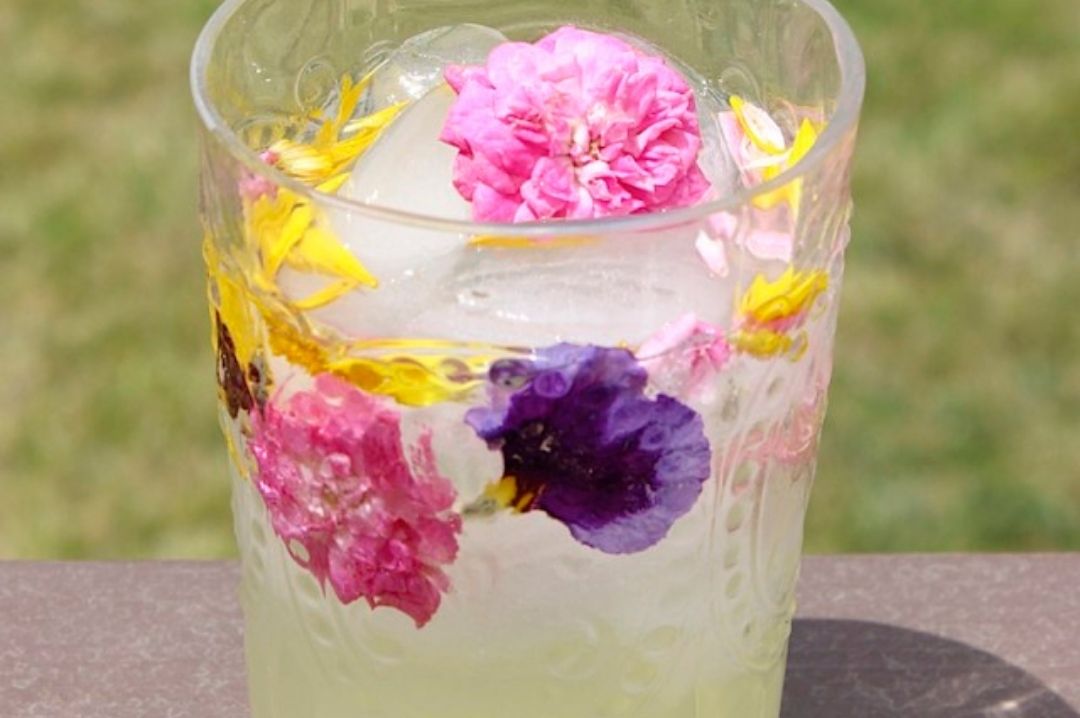 Loca, Source: Website
RuPaul's Drag Race was named 'Outstanding Competition Program' at the awards, coming on top against the likes of Top Chef, The Amazing Race, The Voice, and Nailed It. With multiple aspiring drag queens in the mix, Loca represents the vibrant colors of the show with its floral fragrances. Sweet honey flavors of the award-winning Barr Hill Gin blend flawlessly with elderflower and orange blossom nuances.
Ingredients:
1 1/2 oz gin (try Barr Hill Gin, Gin of the Year, 2021 USA Spirits Awards)
1 oz St. Germain (elderflower liqueur)
Simple syrup, to taste
Tiny splash of orange blossom water
Juice of half lime
A few dashes of Scrappy's cardamom bitters (or any bitters you have)
Serve this drink on the rocks, best to shake all ingredients in a shaker first, but not necessary. Garnish with edible flowers.
Duke of Earl
Recipe by 700 Drayton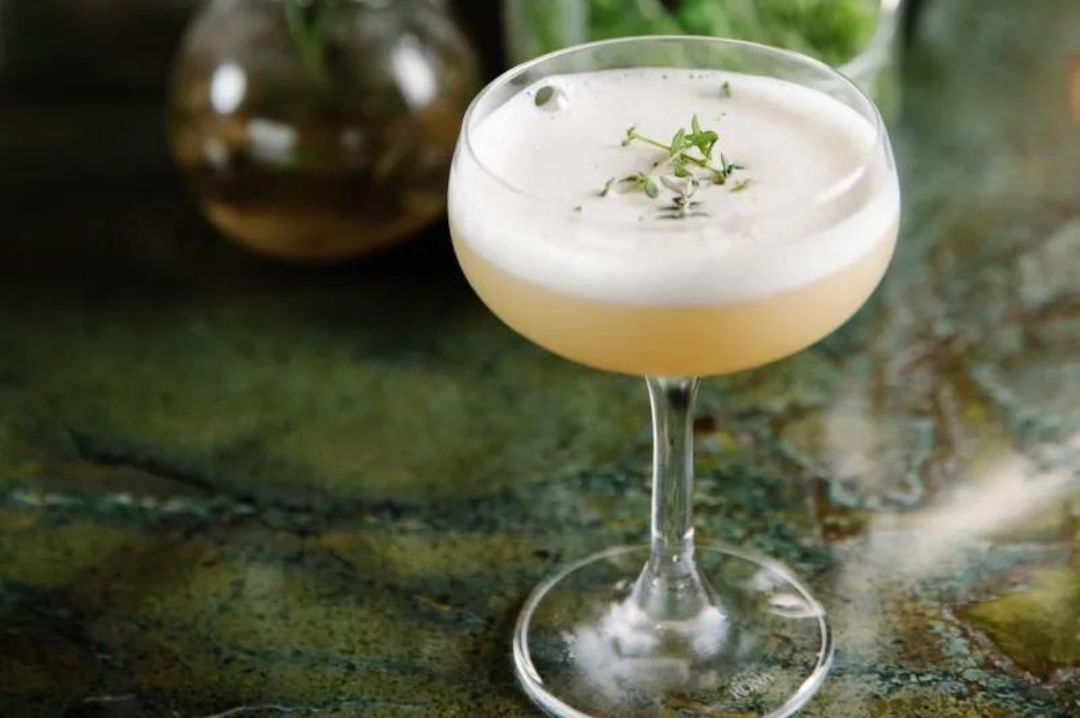 Duke of Earl, Source: Website
Impeccably well garnished and sophisticated, the Duke of Earl is tailor-made for members of the powerful Bridgerton family in England, or at least we'd like to think so. A Bridgerton inspired cocktail made the cut because of the rich drinking culture portrayed in the show, complimenting Duke of Earl's garnishing with the 'Outstanding Period And/Or Character Hairstyling' accolade. You may not dress up like a Bridgerton in this day and age, but you can surely drink like one. The Botanist Islay Dry Gin balances the sugary texture of the Earl Grey Syrup, bringing complexity to the drink.
Ingredients:
0.75 oz. Earl Grey Syrup
0.5 oz. lemon Juice
1 oz. dry Gin (try The Botanist Islay Dry Gin, gold medal, 2021 USA Spirits Ratings)
1 oz. Lillet Blanc
Earl Grey Syrup - Bring 1 cup sugar, 1 cup water, and 2 tbsp loose leaf Earl Grey tea to a simmer in a small saucepot. Remove from heat. Steep for two minutes, then strain and cool.
Cocktail - Combine ¾ oz earl grey syrup, ½ oz lemon juice, 1 oz dry gin, and 1 oz Lilet Blanc into a shaker that's half-filled with ice and shake vigorously. Strain through a fine-mesh strainer into a chilled coupe and garnish with a lemon twist or a sprig of lemon verbena.
Agatha All Along
Recipe by Whimsy Soul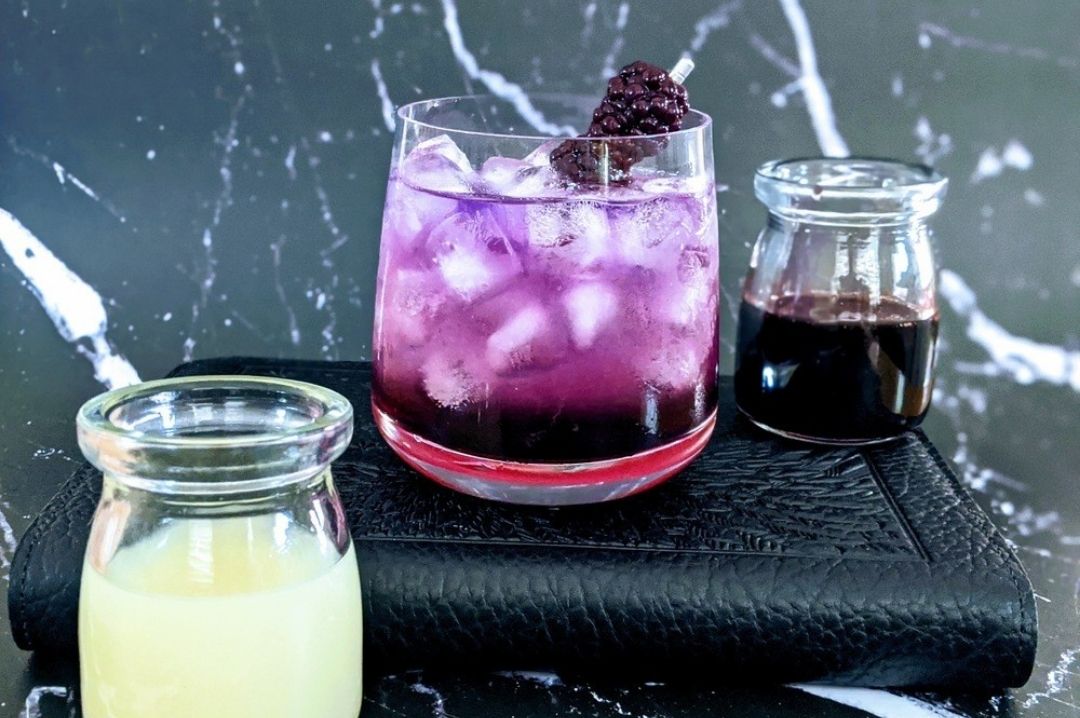 Agatha All Along cocktail, Source: Website
Named after Wanda's mentor, Agatha All Along is a mystical potion made from luxardo cherries. To acknowledge WandaVision's 'Outstanding Fantasy/Sci-Fi Costumes' award win at the Emmy Awards, we bring Agatha All Along into play. You may call it a witch's brew because it contains the magical properties of Empress 1908 Gin. Dark blackberry notes linger in the background while you sip on this purple delight.
Ingredients:
2 oz Empress 1908 Gin
1/2 oz simple syrup
1 oz fresh lime juice
1/2 oz crème de mûre (blackberry liqueur)
Crushed or pellet ice to serve
Blackberries to garnish
1 oz luxardo maraschino cherry juice
Fill a cocktail shaker with regular ice, then add gin and simple syrup. Shake until well-chilled. Strain into a glass filled with crushed or pellet ice. Or little hexagonal ice cubes as shown (if you know, you know).
This is the magic part! Gently pour the lime juice over the gin and watch as it transforms! Empress 1908 gin gets its purple-blue pigmentation from the butterfly pea blossom, which naturally reacts to acidic ingredients and changes into a pink or fuchsia color. Some might even say... scarlet *wink*.
Slowly drizzle the crème de mûre over the top so that it seeps down into the glass (kinda like Agatha's smoky-black-purple magic). Garnish with blackberries.
Cobra's Fang
Recipe by Liquor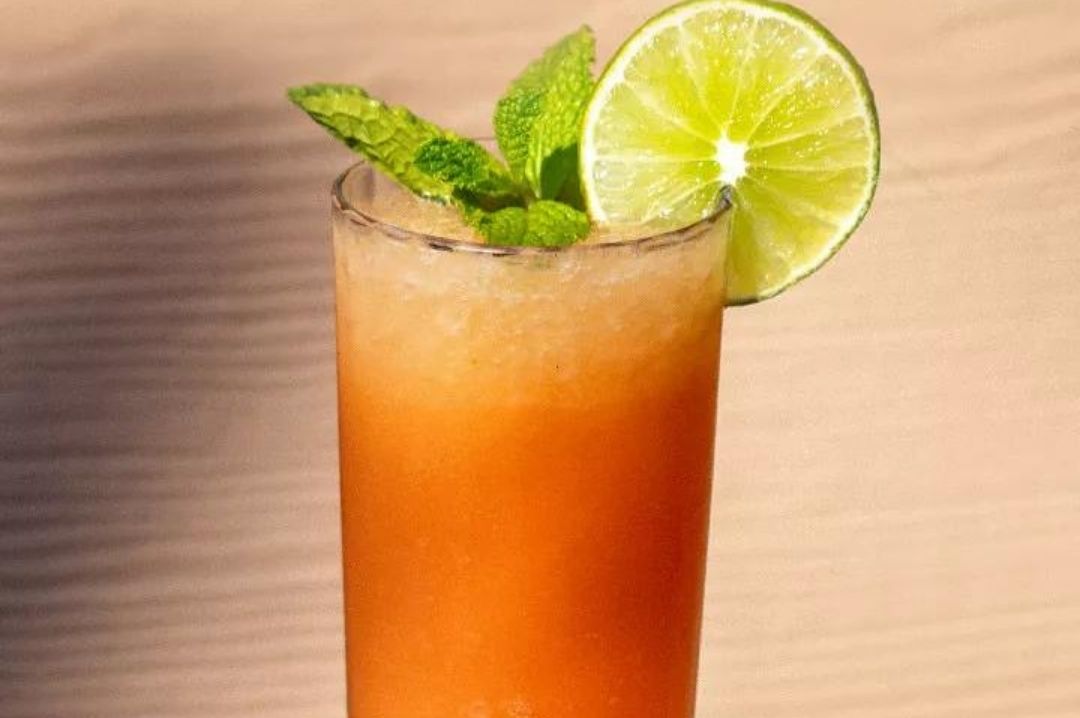 Cobra's Fang, Source: Website, image by Tim Nusog
Cobra Kai was in the running for the 'Outstanding Comedy Series' and 'Outstanding Stunt Performance' Emmy awards. We couldn't leave a Cobra Kai-themed cocktail despite the show coming short on the winning podium. Infused with two different rums and zesty tones of orange and lime, Cobra's Fang packs a deadly punch. Cobra Kai fans are sure to fall in love with a cocktail that has the ability to deliver a one-hit KO.
Ingredients:
1/2 oz dark Jamaican rum
1/2 oz 151-proof demerara rum
1/2 oz lime juice, freshly squeezed
1/2 oz orange juice, freshly squeezed
1/2 oz falernum
1/4 oz fassionola syrup
1 dash of grenadine
1 dash of Herbsaint liqueur
1 dash of angostura bitters
Garnish: mint sprig
Garnish: lime wheel
Add all ingredients into a blender with 6 ounces of crushed ice and blend for 5 seconds. Pour into a highball glass or tall Tiki mug. Garnish with a mint leaf and a lime wheel.