7 must-have cocktails for your Labor Day weekend
Throw the towel down for end-of-summer celebrations with some bright and refreshing Labor Day cocktails.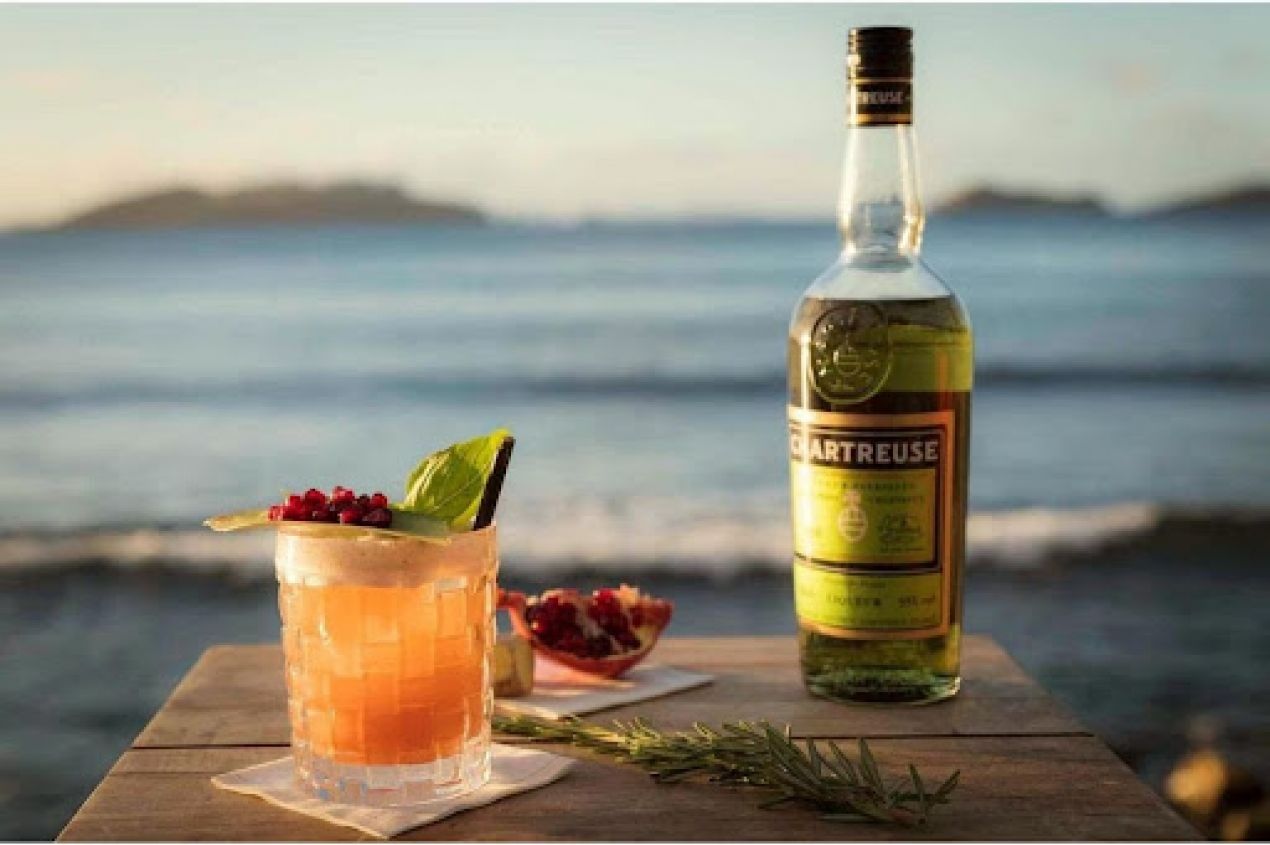 Sit back in the comfort of your coziest chair and make the most of the last bits of summer heat. Whether you are inviting a crowd or just relaxing by yourself, these cocktail recipes have you covered for an instant mix.
Blue Cenote
Recipe by The Manual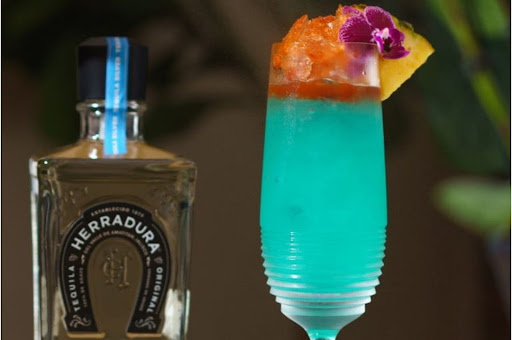 Blue Cenote cocktail made with Herradura Silver Tequila, Source: Website
Blue Cenote exudes summer vibes with its blue color and tropical flavors of pineapple, lime, and honey. All you need to do is put the ingredients together for a swim in the blue lagoon paradise.
Ingredients:
1.5 oz Herradura Silver Tequila
0.5 oz blue curaçao
1 oz lime juice
1 oz pineapple juice
0.5 oz honey syrup
5 dashes of aromatic bitters
Combine all the ingredients, except bitters, in a cocktail shaker with ice. Shake well. Fill a hurricane glass with crushed ice. Place aromatic bitters over the top of the cocktail and garnish with a pineapple slice.
Amber Dream
Recipe by Hotel Christopher Saint-Barth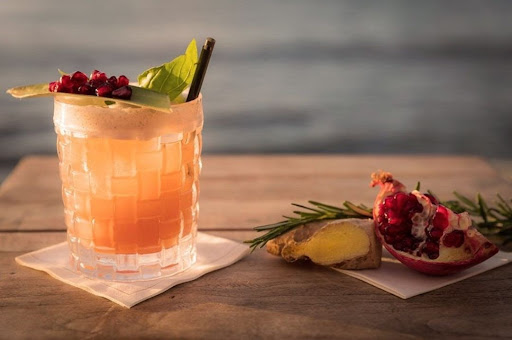 Cocktail with a herbaceous and spicy twist, Source: Instagram
With four ingredients in equal parts, Amber Dream has a perfect herbaceous and spicy twist given by the Green Chartreuse. Prepare this one on a fly with the award-winning Barr Hill Gin throwing honey sweetness into the mix.
Ingredients:
Fill a mixing glass with ice, add the liqueurs. Cool down using a mixing spoon and serve over ice in an old-fashioned or rocks glass.
Gins & Roses
Recipe by Town & Country Magazine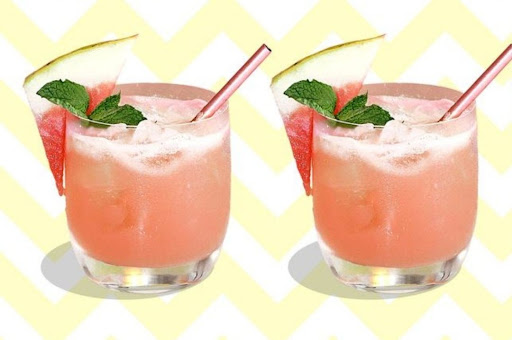 Gins & Roses cocktail, Source: Website
Glowing with herbs and juniper on the nose, Gins & Roses has an immensely soft and generous palate, thanks to The Botanist Islay Dry Gin. The cocktail is a bit frothy, finishing off smoothly.
Ingredients:
0.5 oz lemon juice
0.5 oz rose & peppercorn infused syrup
0.5 oz Aperol
1.5 oz gin (try The Botanist Islay Dry Gin, gold medal, 2021 USA Spirits Ratings)
Combine all ingredients into a shaker. Shake vigorously. Double strain into a rocks glass with cubed ice. Garnish with a rosebud and lemon slice.
Averna Limonata
Recipe by Liquor.com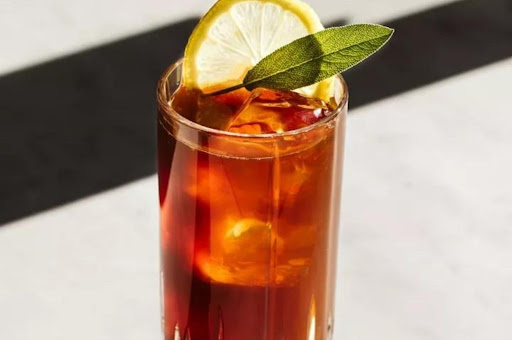 Averna Limonata, Source: Website, image by Tim Nusog
Perfect to sip on a summer afternoon, Averna Limonata is a zesty highball balancing bitter nuances of the Averna with zesty lemon flavors.
Ingredients:
2 oz Averna
4 oz lemon soda (such as San Pellegrino Limonata)
Garnish: lemon wheel
Garnish: sage leaf
Add the Averna and lemon soda into a Collins glass with ice and stir gently. Garnish with a lemon wheel and sage leaf.
Viking Weakness
Recipe by Helix Vodka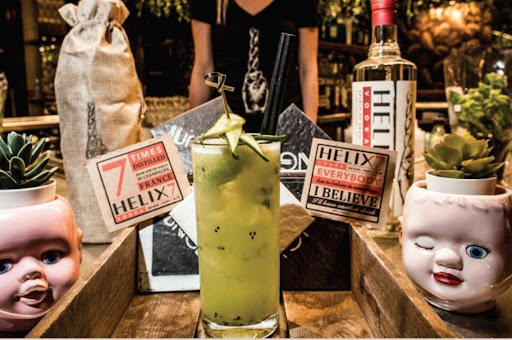 Fruity Viking Weakness cocktail, Source: Website
Infusing nuances of green fruits, Viking Weakness is a sumptuous summer cocktail. Blossoming with elderflower notes of the St. Germain liqueur, the drink will keep you hydrated in the heat.
Ingredients:
1 kiwi slice
1 cucumber slice
0.5 oz St. Germain
1.5 oz Helix Vodka
0.5 oz lime juice
0.5 oz simple syrup
Top with lime soda
Muddle the kiwi and cucumber together before adding Helix Vodka, St. Germain, lime juice, and simple syrup. Shake together and pour into a tall glass with ice. Top with lime soda.
Red Raspberry Lemonade
Recipe by New Amsterdam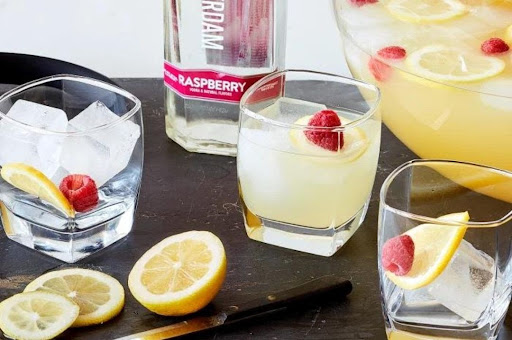 Raspberry flavored lemonade, Source: Website, image by Jason Varney
Lemonades were made to beat the summer heat, and Red Raspberry Lemonade does so with style. Easy to make, easy to drink, and easily a must-have in your summer drinking list.
Ingredients:
4 oz lemonade
Drizzle of grenadine
Add all ingredients over ice in a Collins glass. Stir together to combine. Garnish with a lemon wheel and fresh raspberries.
Blue Moon Mango Margarita
Recipe by Tipsy Bartender
Blue Moon Mango Margarita
Balancing the palate with its crisp citrus notes, the award-winning Teremana Reposado adds vanilla essence to the fruitful mango cocktail topped with beer. Tipsy times call for a boozy mango blast.
Ingredients:
1 oz tequila (try Teremana Reposado, Tequila of the Year, 2021 USA Spirits Ratings)
½ oz triple sec
½ sweet & sour mix
1 cup frozen mangoes
Blue Moon beer
Combine ice, mango, tequila, triple sec, and sweet and sour in a blender. Pour the mix into a large glass and add a bottle of blue moon beer.
Header image - Christopher Saint-Barth, Source: Instagram