Bars with fireplaces: Scofflaw, Moody's and more
From Scofflaw to Moody's and The Fireplace Inn, here are some of our favorite bars in Chicago with roaring fireplaces.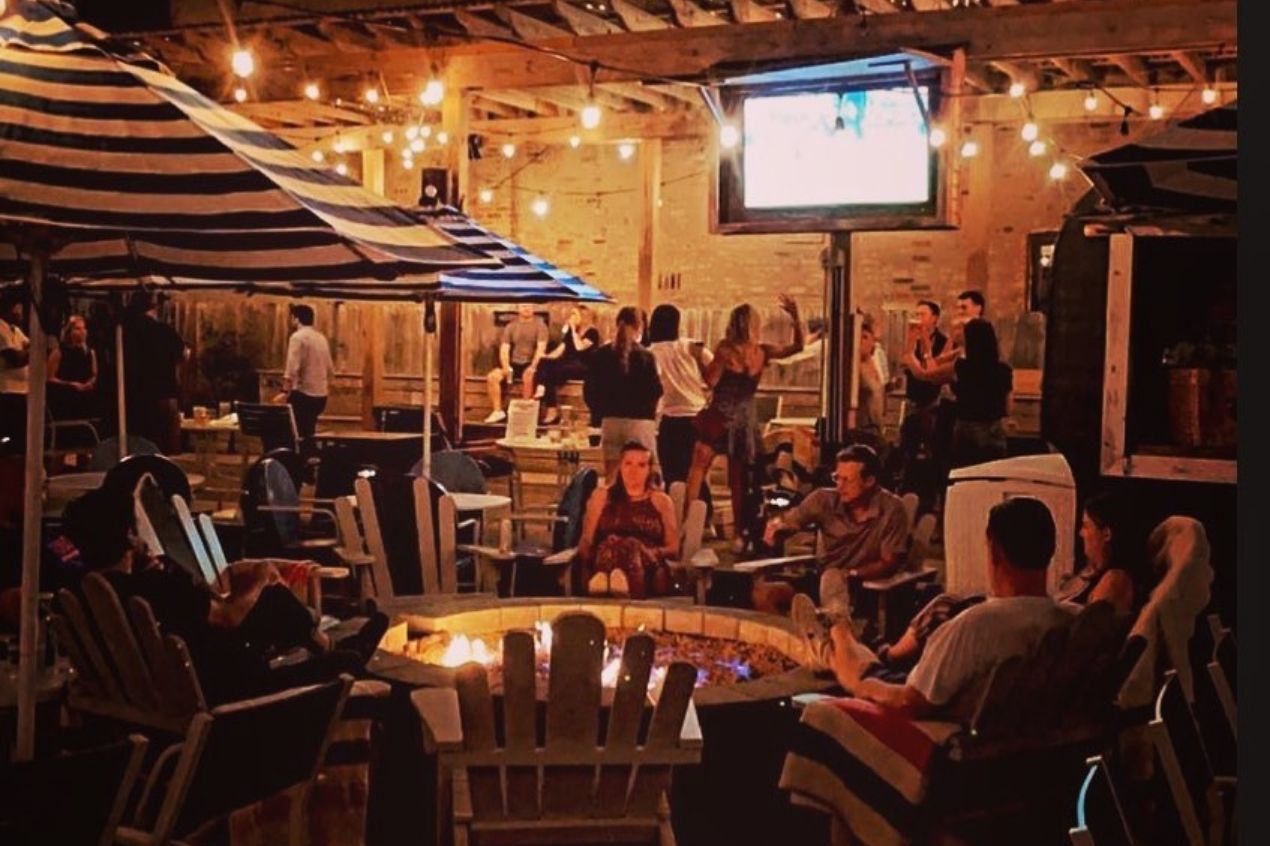 Baby, it's cold outside! And our favorite way of warming up is by the fireplace, with good company, and perhaps a glass of whiskey(or more). From brick fireplaces, heated patios, and bonfires, grab a table near the flames, order a round of drinks and snuggle up for the night.
The Fireplace Inn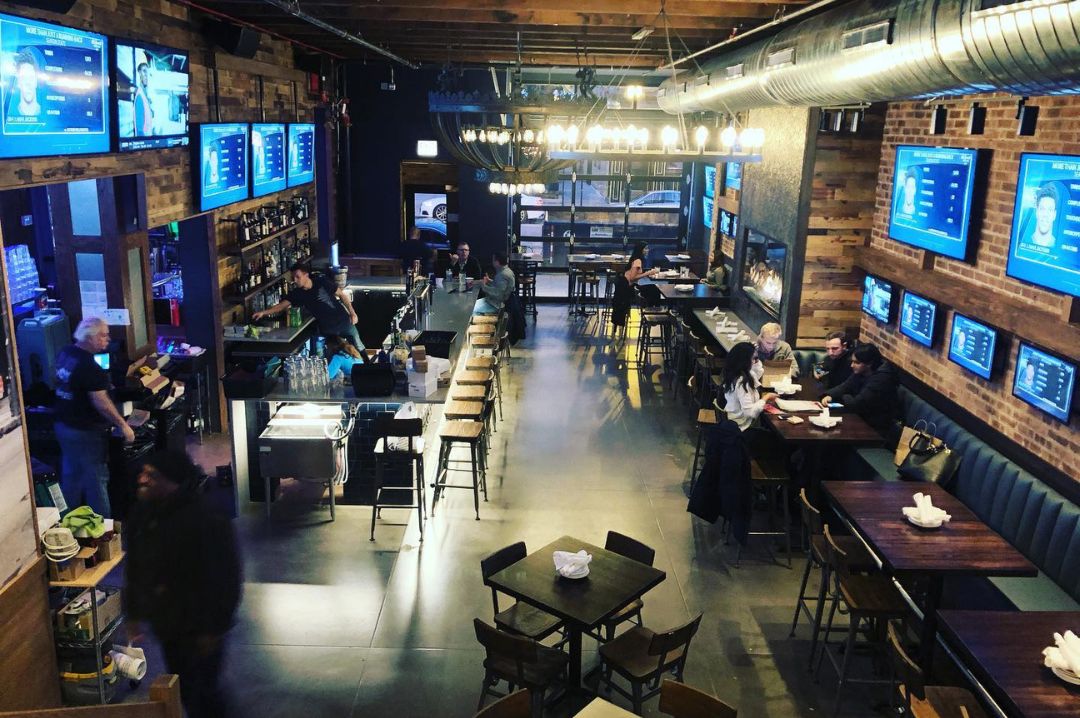 The Fireplace Inn, source: Facebook
Since 1969 The Fireplace Inn has been nestled in Chicago's historic Old Town neighborhood and is known for some of the city's best Baby Back Ribs. The place features a cozy fireplace and over 40 HD televisions so you don't miss out on your favorite sports game. The kitchen offers American fare like steaks, seafood, ribs, and gourmet burgers, but the real draw here is the drinks.
The Fireplace Inn offers patrons an extensive list of draft beers, bottled and canned beers, a great selection of white, red, rose, and sparkling wines, and creative house cocktails. We recommend trying their Famous BBQ Baby Back Ribs or the Certified Angus Beef Ribeye Steak with one of their classic cocktails like the Fireplace Inn Boulevardier, made from sweet vermouth, Campari, and Maker's 46.
Where - 1448 N Wells St, Chicago, IL 60610
Hours - Tue-Wed (4:30 pm - 12 am)
Thu-Fri (4:30 am - 2 am)
Saturday (10:30 am - 3 am)
Sunday (11:30 am - 1 am)
The Grafton Pub & Grill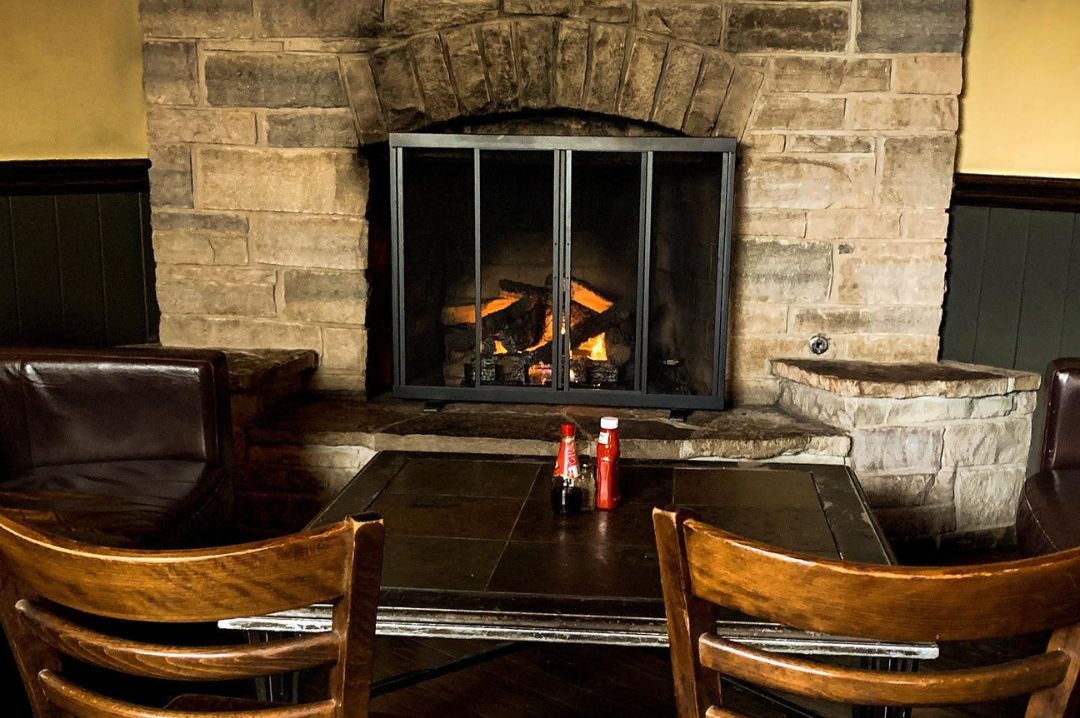 The Grafton Pub and Grill, source: Facebook
Named after Dublin's world-famous Grafton Street, The Grafton Pub and Grill is an Irish pub located in the heart of Lincoln Square. The place is known for its great craic and of course live music, food, and drinks. Inside The Grafton, the decor is not of a typical Irish pub. You won't find any Celtic symbols, shamrocks, walls full of TVs, it's just a cozy bar with a laid-back vibe and a little fire pit placed in a brick wall and covered with metal bars.
The kitchen prepares classic pub fare like burgers, sandwiches, fish and chips, wings, and more. The bar offers 12 beers on tap, house cocktails, and a concise wine list. There's a little something for everyone here.. Don't leave the place without trying their special Grafton SmashBurger, made with two 4oz patties, red onion, red cheddar, lettuce, tomato, slaw, and their secret sauce served on a brioche bun. Since it's probably going to be quite chilly outside, we also recommend the Trad-Irish-Nal Coffee, which includes sugar in the raw, coffee, Irish whiskey, and whipped cream.
Where - 4530 N Lincoln Ave, Chicago, IL 60625
Hours - Wed-Thu (5 pm - 10 pm)
Friday (5 pm - 11 pm)
Saturday (1 pm - 11 pm)
Sunday (1 pm - 10 pm)
Scofflaw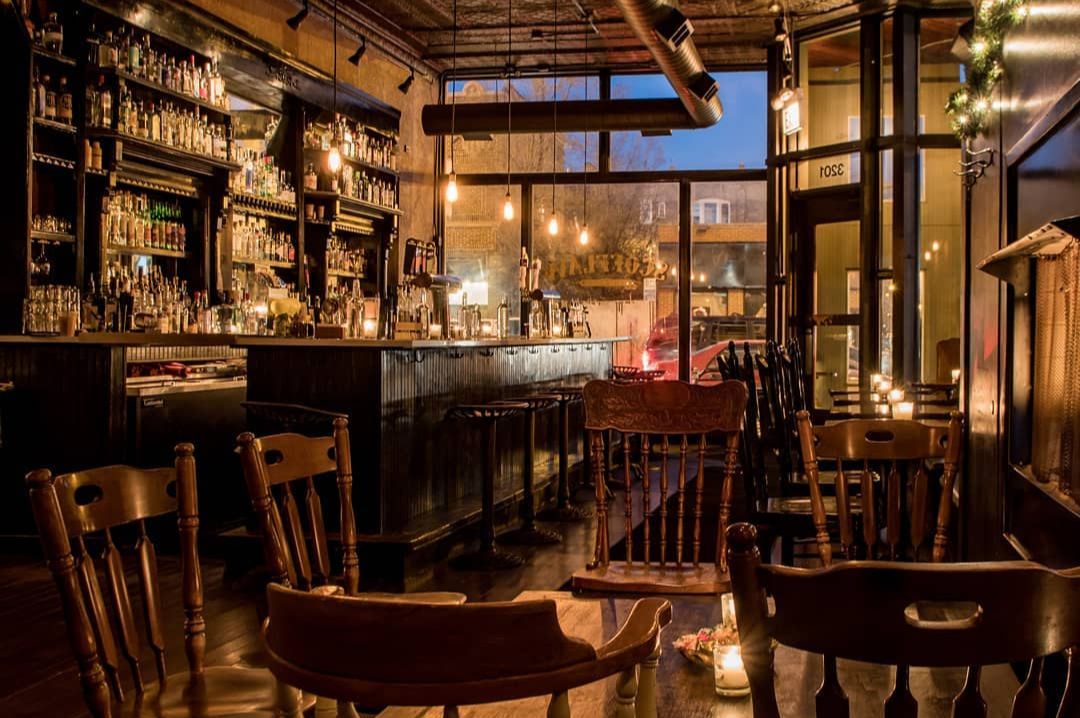 Scofflaw, source: Facebook
You probably already know about Scofflaw (who doesn't?), but we can't give a mention to one of the best bars in Chicago. Two things that make winter more viable are gin and rum-based drinks and a flickering fireplace, and Scofflaw offers both. The cocktail bar has Victorian-style seating, exposed bricks, and dim lights.
While the bar is mostly gin-focused, they also offer a range of American craft beers, whiskey and rum cocktails, and more. If you're not a gin fanatic, then we recommend the Paradise cocktail, made with Mexican rum, Angostura bitters, lime, pisco, Ramazzotti, and soursop.
Order a Scofflaw Burger, made from the double patty, American cheese, griddled onions, dill pickle, house sauce, and buttery bun. For the gin fiends, the Ruby Thief is a must-try. It is a herbaceous blend of American gin, Chartreuse, and apple juice. P.S stay till midnight and grab one of their freshly baked cookies.
Where - 3201 W Armitage Ave, Chicago, IL 60647
Hours - Mon-Fri (5 pm - 12 am)
Sat-Sun (12 pm - 12 am)
The Moonlighter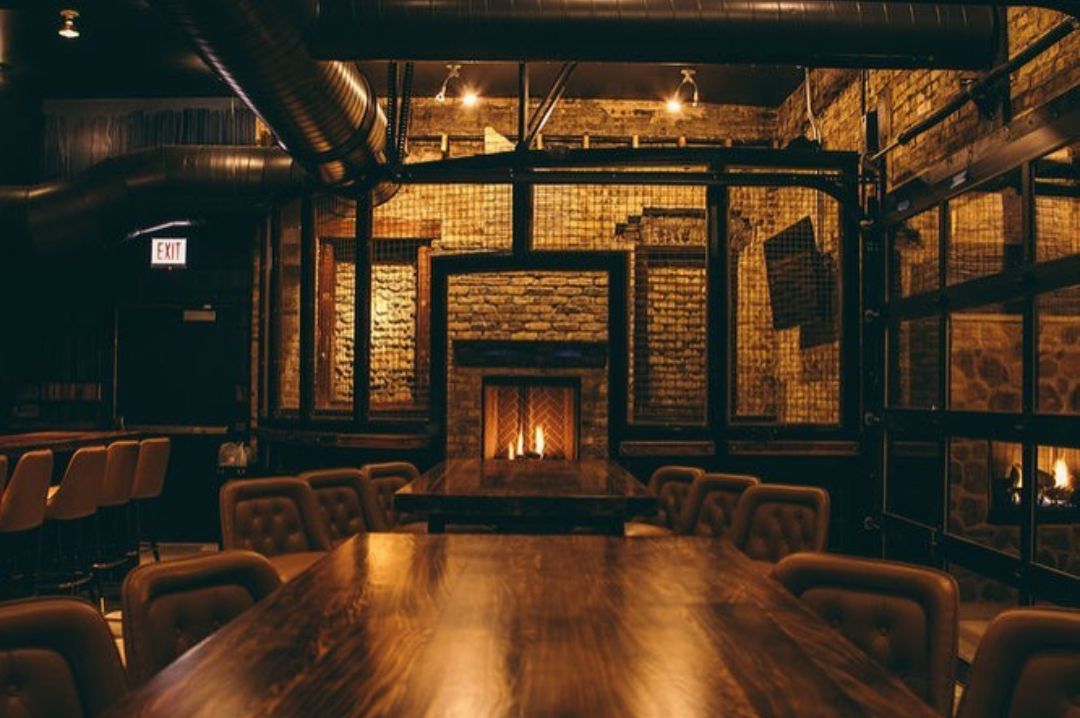 The Moonlighter, source: Facebook
The Moonlighter is a sibling sports bar to Scofflaw, bordering Chicago's Logan Square and Humboldt Park neighborhoods. The interior of the bar is anchored by a wood bar, displaying 20 rotating craft and local beers on draft and several TVs to catch a game for the night. You can have a seat in the main lounge or grab the coveted nook by the fireplace. Don't worry if it is occupied as The Moonlighter is equipped with two fireplaces during the winter.
The Moonlighter offers a menu of tasty house-made burgers, salads, late-night eats, along with a creative cocktail program and a wide list of craft beers. Try out the Buffalo wings or the blue cheese-topped Pittsburgh burger with Hot Spiced Cider, made with country cider, spices, and a choice of whiskey or rum.
Where - 3204 W Armitage Ave, Chicago, IL 60647
Hours - Mon-Fri (5 pm - 12 am)
Sat-Sun (11 am - 12 am)
Moody's Pub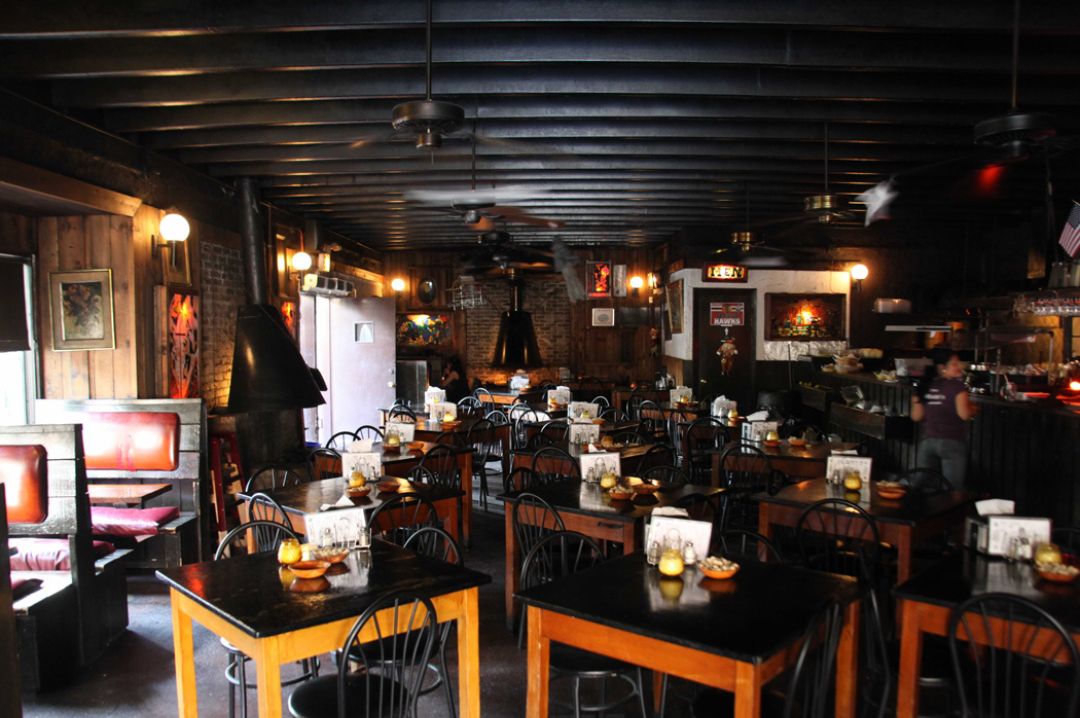 Moody's Pub, source: Website
Moody's Pub is a ski lodge-style tavern with charbroiled burgers as the spotlight and an outside beer garden that dates back to 1959. Inside this watering hole, the interior features two roaring fireplaces, a beamed ceiling with overhead fans, brick and stucco walls, and stained glass. Find a spot near one of the fireplaces, order a burger and a beer, and enjoy your evening to the max.
Named as one of the most romantic spots in the city, Moody's is the perfect place for a winter date. Go for the Moody Burger and pair it with Moodymama, made with rum, coconut, orange & pineapple juices, triple sec, and grenadine float.
Where - 5910 N Broadway, Chicago, IL 60660
Hours - Mon-Sun (11 am - 11 pm)
Park & Field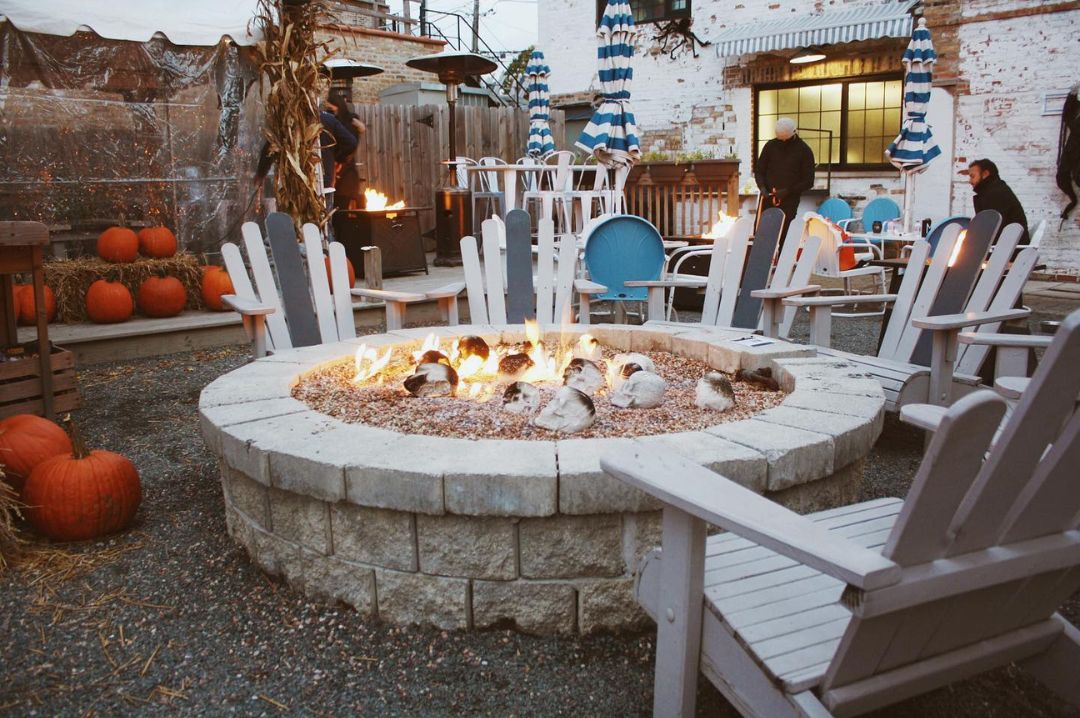 Outdoor patio with fire pits at Park and Field, source: Facebook
Located in Logan Square, Park and Field is a vintage sports club serving seasonal and local farm-focused menus. Their award-winning interior includes vintage images of 1920s' boxers, a pommel horse, sun-soaked hammocks, an old-school pop shop, dozens of flatscreens for game days, and most importantly, fire pits. The place features a couple of large fire pits, some heaters, and a place for a bonfire in their 6000 sq. ft. backyard patio. Enough to get you toasty on a chilly day.
Regulars go for Buffalo nuggets, mini steak sandwiches, and beer. There is a complete lineup for house-crafted cocktails and over 50 craft beers to sip on. If you wish to drink something hot, try the Hey Butter, which is crafted with hot buttered rum, Kraken rum, creme de banana, and butter batter.
Where - 3509 W Fullerton Ave, Chicago, IL 60647
Hours - Monday (4 pm - 11 pm)
Tuesday (4 pm - 10 pm)
Wed-Thu (4 pm - 11 pm)
Friday (11 am - 1 am)
Saturday (10 am - 1 am)
Sunday (10 am - 10 pm)
Fireside Restaurant & Lounge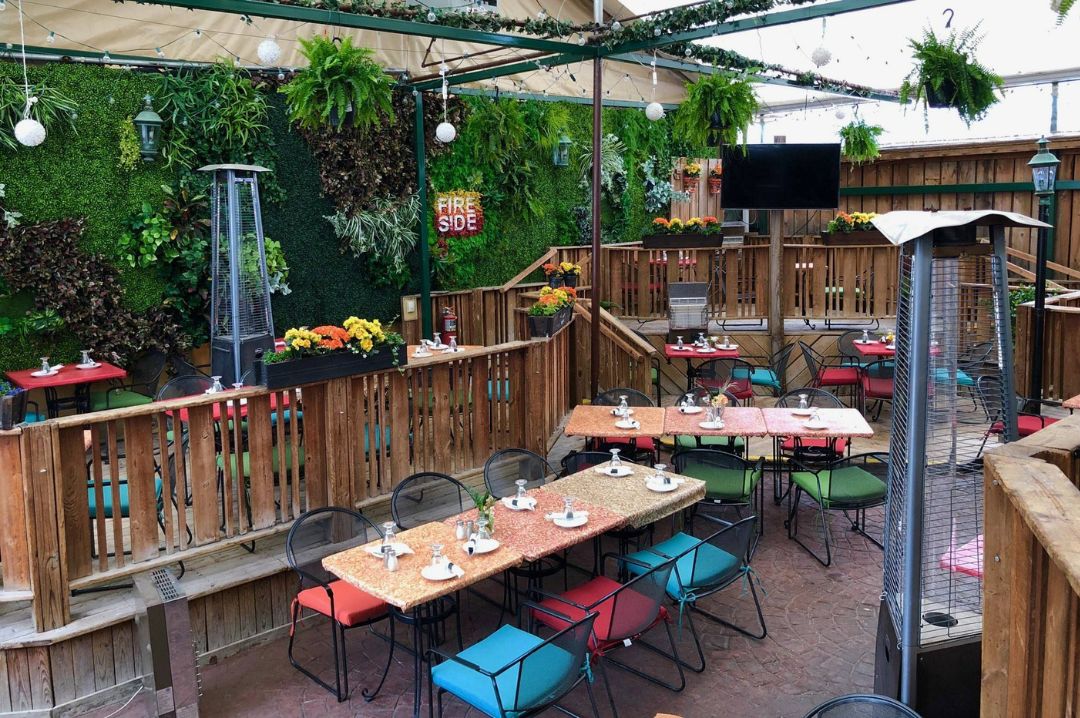 Fireside Restaurant and Lounge, source: Facebook
Fireside is a friendly neighborhood lounge serving great food and fun 365-days-a-year. At Fireside, you can grab a seat at their all-weather patio with a retractable roof, or can get cozy next to the fireplace in their dining room.
Their bar features an amazing selection of 130 craft beers, a versatile wine list, and creative cocktails which compliment your cuisine. Plus, Cajun-spiced food is the highlight of Fireside! Look for the Bang Bang Shrimp (tempura shrimp tossed in their signature sweet & spicy bang-bang sauce), or their house special Cajun Meatloaf (spicy meatloaf generously laced with andouille sausage topped with homemade marinara sauce). Pair your dish with the Pumpkin Spiked Latte, made from Tito's vodka, Kahlua, and Fulton's pumpkin creme.
Where - 5739 N Ravenswood Ave, Chicago, IL 60660
Hours - Mon-Wed (11 am - 1 am)
Thu-Fri (11 am - 4 am)
Saturday (11 am - 5 am)
Sunday (11 am - 4 am)
Header image, source: Park and Field Facebook