Make an egg-cellent cocktail
your bartender adds eggs to your cocktails, so you should too!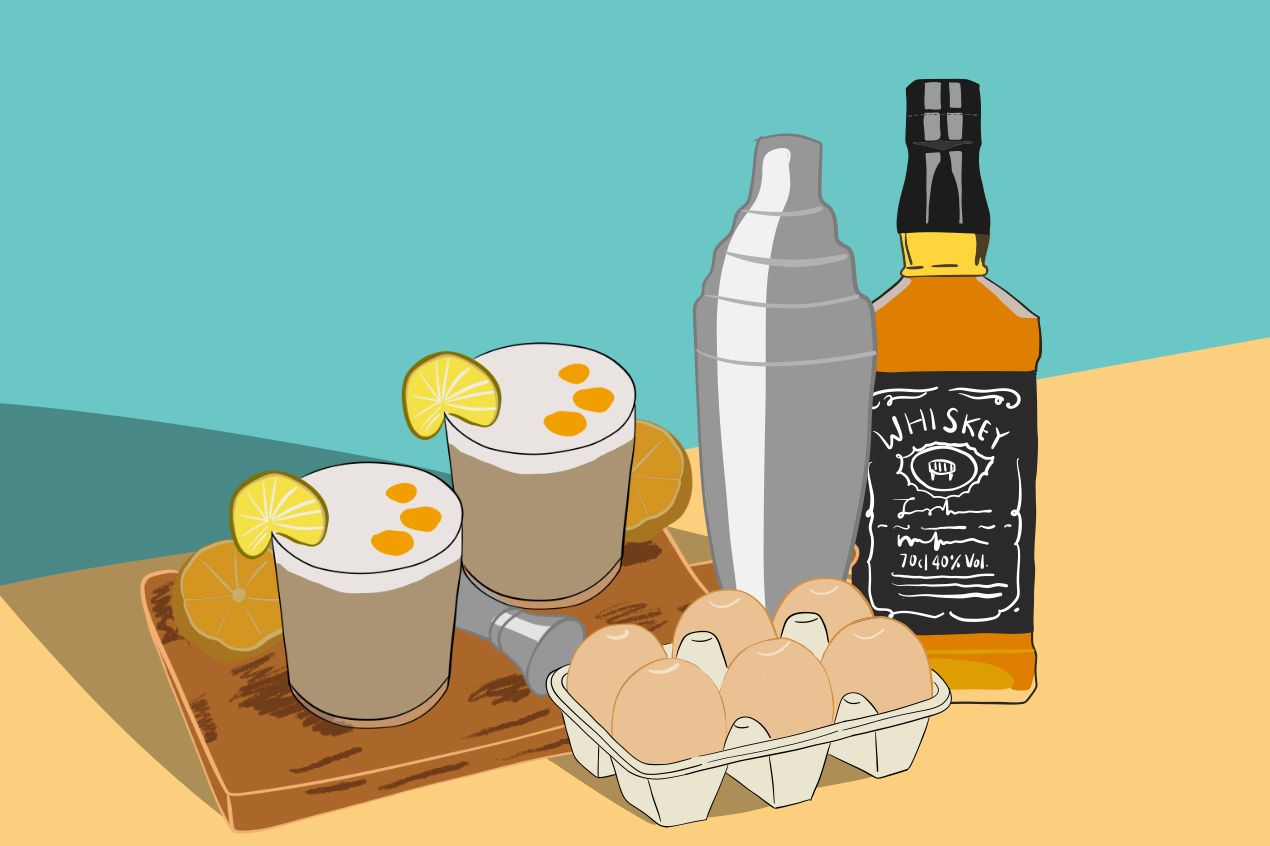 If you're not already aware, a lot of our favorite cocktails have egg whites in them, especially anything with an Instagrammable foam on top of it, like the whiskey sour, gin fizz, pisco sour, the clover club, to name but a few.
Egg whites in cocktails are not only for the presentation of a drink but also adds mouthfeel and viscosity to a cocktail. In fact, sours taste their best with egg whites. Adding egg whites to a cocktail makes little to no difference to its taste though
However, whenever working with egg whites in a cocktail, there are a couple of things you need to be careful of. The reason being, the risk of salmonella is a major concern for many. So when using eggs, bartenders and mixologists follow some simple steps to make sure that the drink is safe to drink.
If you're looking to try out making a cocktail with egg whites at home, here's what you should keep in mind:
Always buy your eggs out of refrigerated cases.
The USDA recommends using pasteurized eggs in the shell for any drink that includes raw eggs.
Try the water test. For drinks, it's best to use those eggs that sink to the bottom, as those are the freshest.
If the egg looks bad, or it's cracked, don't use it.
Avoid using the yolk of the egg and make sure the separation of the white and yolk is done properly. We recommend using an egg separator. Our favorite is the Tovolo Silicone Yolk Out. There are cocktails that require the yolk, but egg whites are the safest form of incorporating eggs into a cocktail.
Many states do not allow the use of raw eggs in food or drinks! Bartenders must check for state laws before adding eggs to their drinks.
Our favorite 'eggy' cocktails
To add a bartender's touch to your at-home cocktails, use egg whites and keep these few thumb rules on hand:
Always dry shake and then shake again. Eggs in cocktails are best when shaken, not stirred. Shake your ingredients in a shaker without ice, then add ice and repeat.
You can also make an egg foam by whipping the egg whites until they have light peaks.
Whiskey Sour
Recipe by BBC Good Food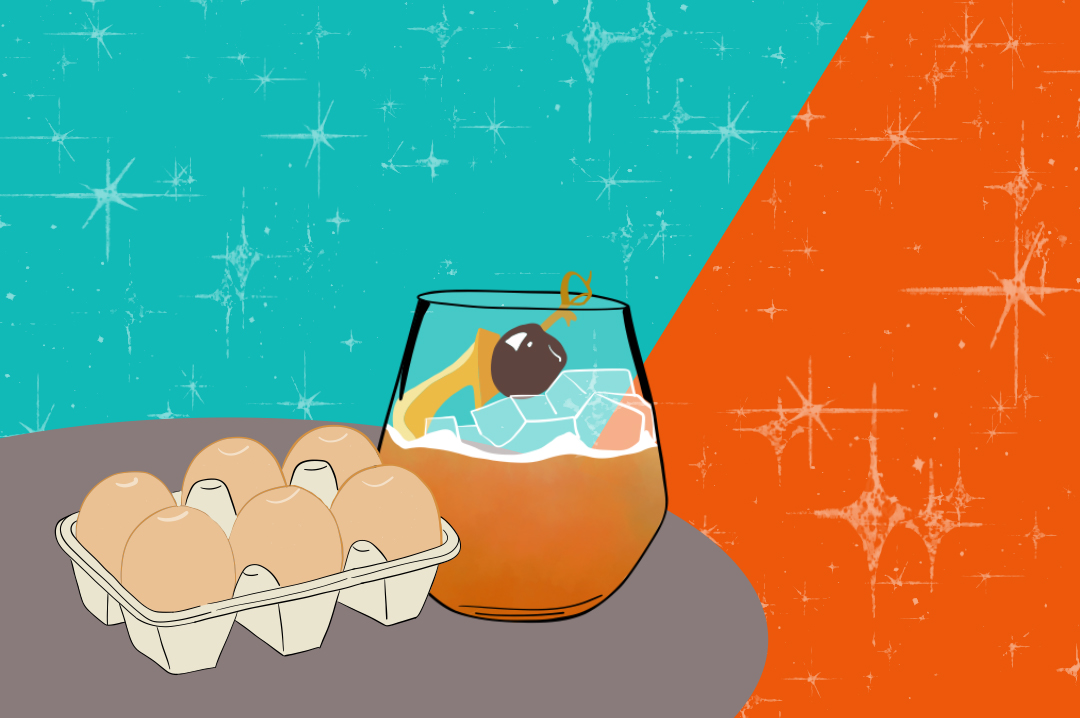 Ingredients:
50ml bourbon (Try Sir Winston Bourbon, 93 points, USA Spirits Ratings 2020)
35ml lemon juice
12½ml 2:1 sugar syrup
2 dashes of Angostura bitters
½ fresh egg white
ice
50p-sized piece of lemon zest
For the garnish
slice of orange and a cherry on a stick
Shake all of the ingredients (except for the lemon zest) hard with ice and strain into an ice-filled rocks glass. Squeeze the lemon zest, shiny side down over the drink so the scented oils spray across the surface. Discard the zest, add the garnish and serve.
Clover Club
Recipe by Liquor.com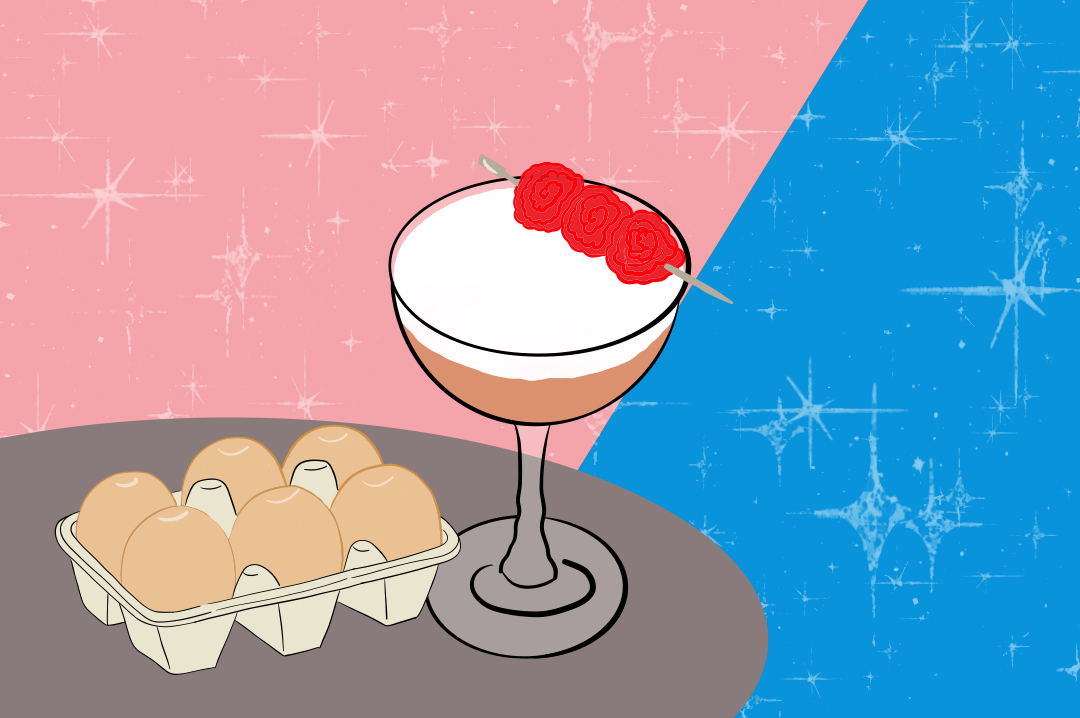 Ingredients:
2 ounces gin (Try Bar Hill Gin, Spirit of the Year, USA Spirits Ratings 2020)
1/2 ounce lemon juice, freshly squeezed
1/2 ounce raspberry syrup*
1 egg white
Garnish: 3 raspberries
Add the gin, egg white, lemon juice, and raspberry syrup into a shaker with ice and shake vigorously until well-chilled. Strain into a chilled cocktail glass. Garnish with 3 speared raspberries.
For the raspberry syrup: Add 1 cup sugar and 1/2 cup water to a pot. Stir over medium heat until the sugar has dissolved. Bring heat to low, add 1/2 cup fresh raspberries, and macerate into a pulp. Fine strain to remove the berry's tiny seeds. Optionally, add 1/2 oz vodka as a preservative. Refrigerate in a jar until ready for use.
Gin Fizz
Recipe by A Couple Cooks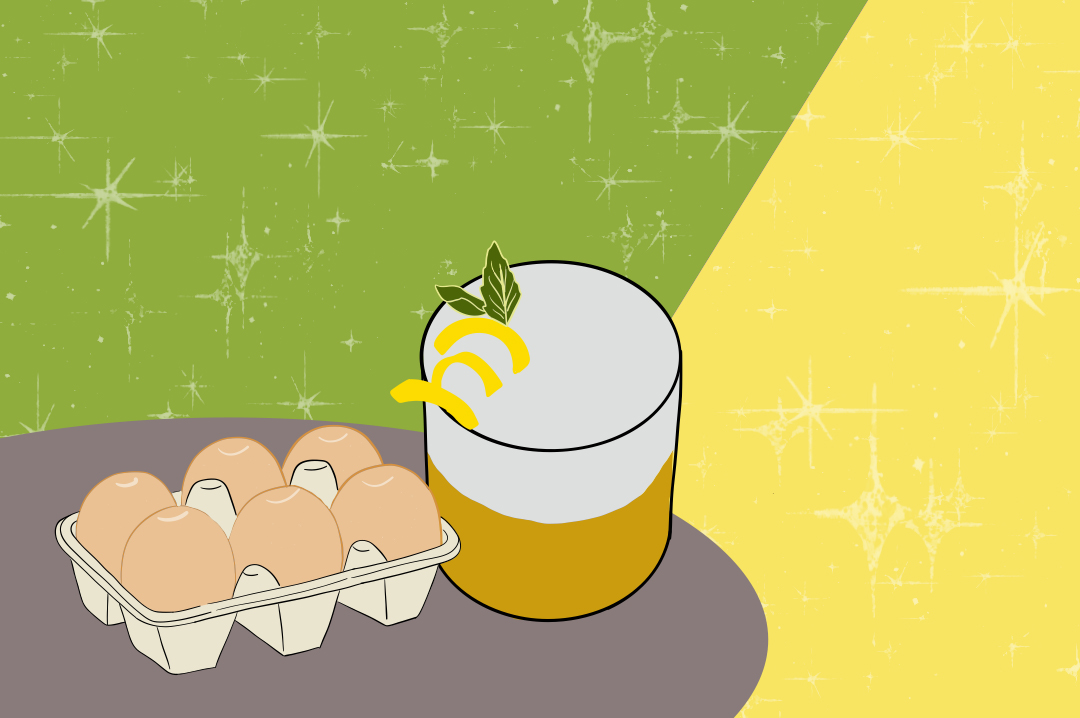 Ingredients:
2 ounces gin (Try Bumbu The Original, 95 points, USA Spirits Ratings 2020)
3/4 ounce lemon juice
1/2 ounce simple syrup or maple syrup
1 egg white
Garnish with a lemon twist
Soda water
Place the gin, lemon juice, syrup, and egg white in a cocktail shaker. Shake vigorously for 15 seconds. Fill the shaker with ice and shake for 30 seconds until cold. Strain the drink into a glass and top with soda water; the egg white foam will form on top. If desired, garnish with a lemon twist. Serve immediately.
Flower Power
Recipe by Love To Know
Ingredients:
1 egg white
1 ounce freshly squeezed lemon juice
1-ounce simple syrup
¾ ounce pineapple juice
3 dashes aromatic bitters
1½ ounce white rum (Try White Squall Coastal Moonshine, 89 points, USA Spirits Ratings 2020)
Ice
In a cocktail shaker, combine the egg white, lemon juice, simple syrup, pineapple juice, bitters, and rum together. Dry shake for about ten seconds. Add ice and shake until chilled. Strain the mixture into a cocktail glass and serve.
The Bitter Swagger
Recipe by Nick Talerico, adapted by Punch Drink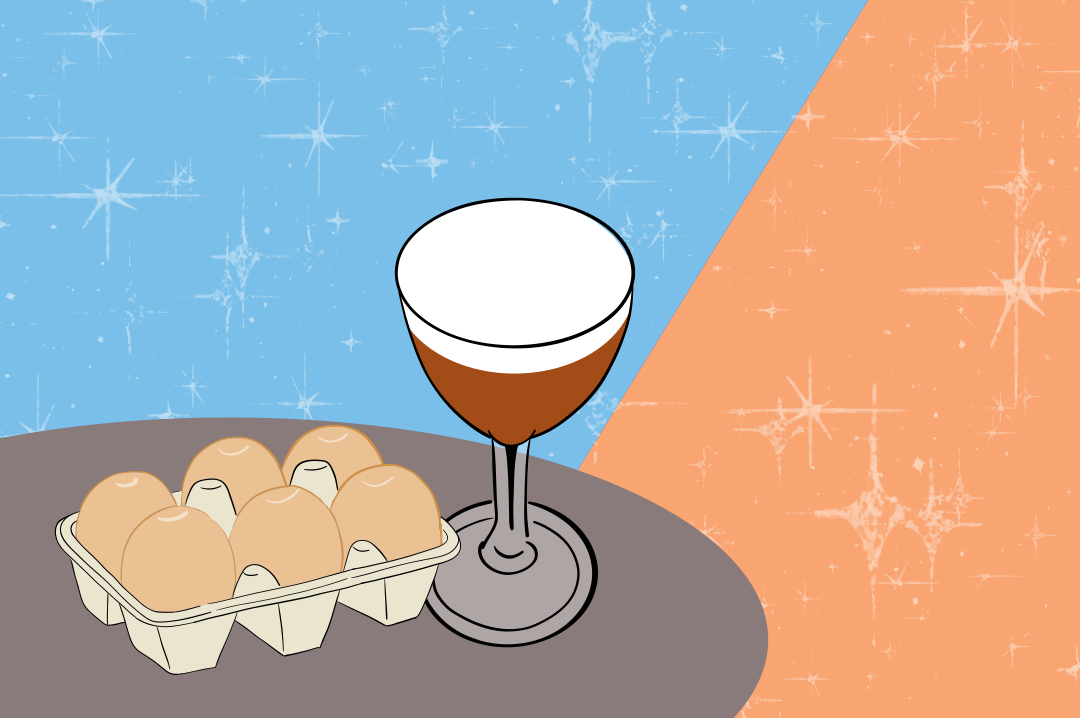 Ingredients:
1 1/4 ounce Amaro Nardini
3/4 ounce pisco
1/4 ounce Cocchi Americano
1/2 ounce lemon juice
1 egg white
Combine all ingredients in a cocktail shaker and dry shake (without ice) for at least 10 seconds to fully incorporate the egg white. Add ice and continue shaking until chilled and then double-strain into a chilled coupe or cocktail glass.
Prairie Oyster
Recipe by Difford's Guide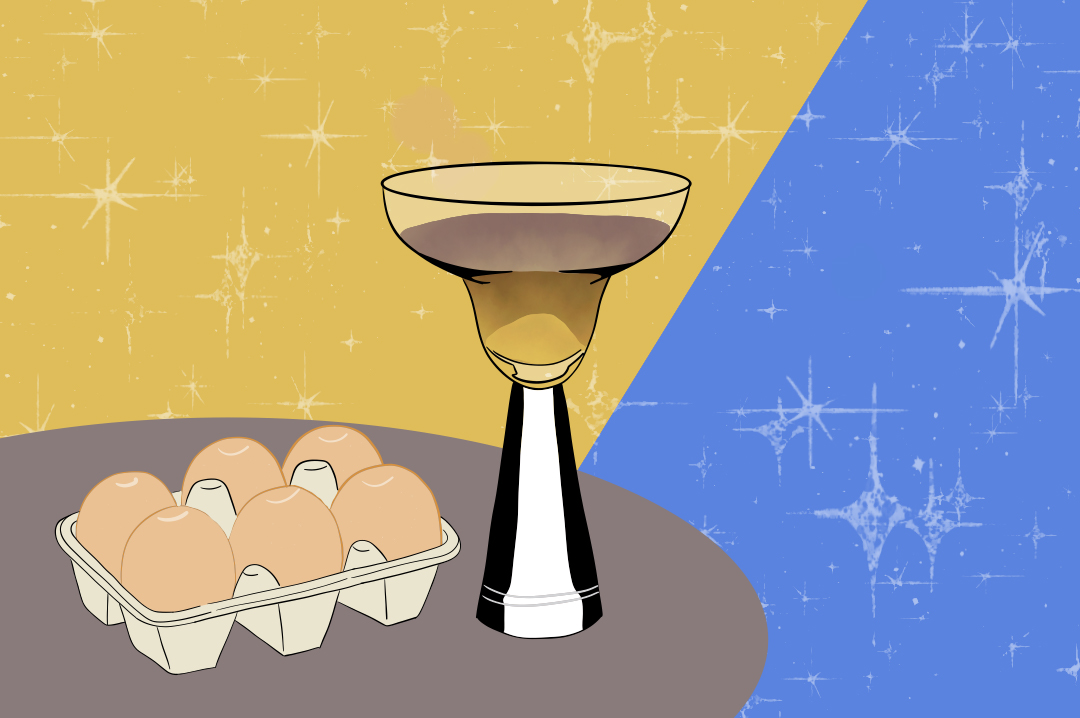 Ingredients:
1 fresh Egg yolk
1 shot Cognac (Try XO - Ulysse, 94 points, USA Spirits Ratings 2020)
1⁄4 shot Worcestershire sauce
1⁄4 shot Tomato juice
5 drop Hot pepper sauce (red)
2 pinch Salt
2 grind Black pepper
1⁄2 shot Malt vinegar
Taking care not to break the egg yolk, place it in the center of the hollow in the glass. Shake the rest of the ingredients with ice and strain over the egg. Down in one shot.
Whiskey Flip
Recipe by Epicurious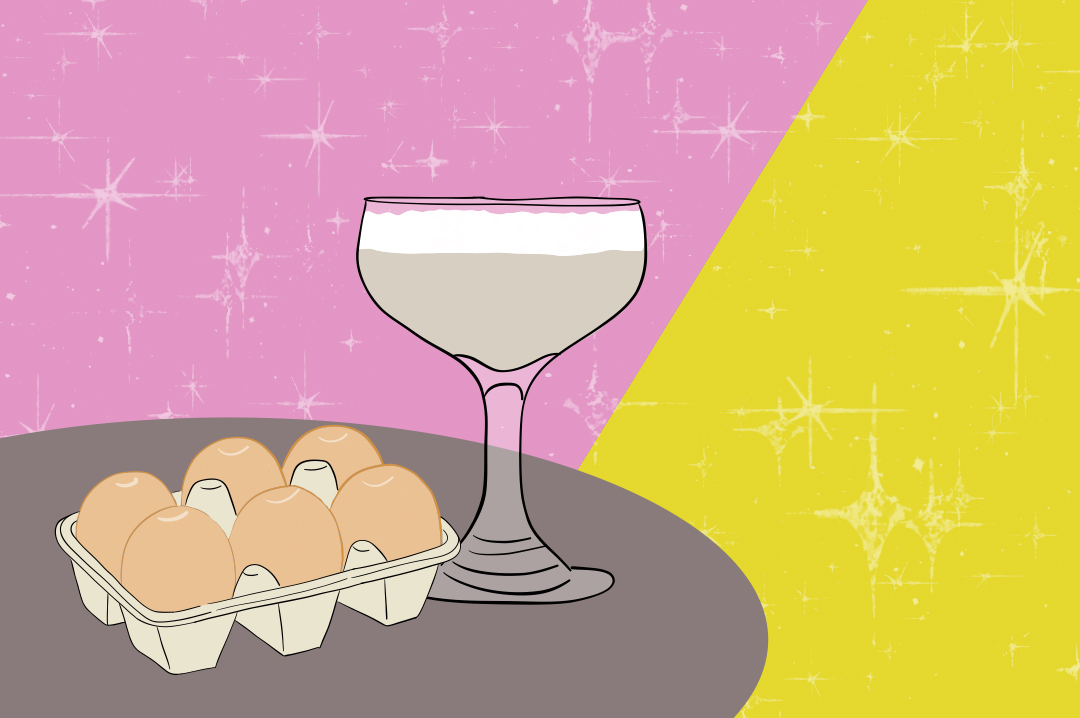 Ingredients:
3 ounces whiskey (Try Devil's Share Bourbon Whiskey, 95 points, USA Spirits Ratings 2020)
1 whole egg
1 teaspoon superfine sugar
2 teaspoons heavy cream (optional)
1/2 cup crushed ice
Nutmeg
Combine all ingredients except the nutmeg in a cocktail shaker and shake vigorously. Strain into a 5-ounce stemmed glass, and grate a little nutmeg on top.