Where to Watch your Favorite Big Ten Matches in Chicago?
There are many pubs in Chicago, but if you're a dedicated fan of a particular sports team and want to hang out with others who share your interests visit these top bars!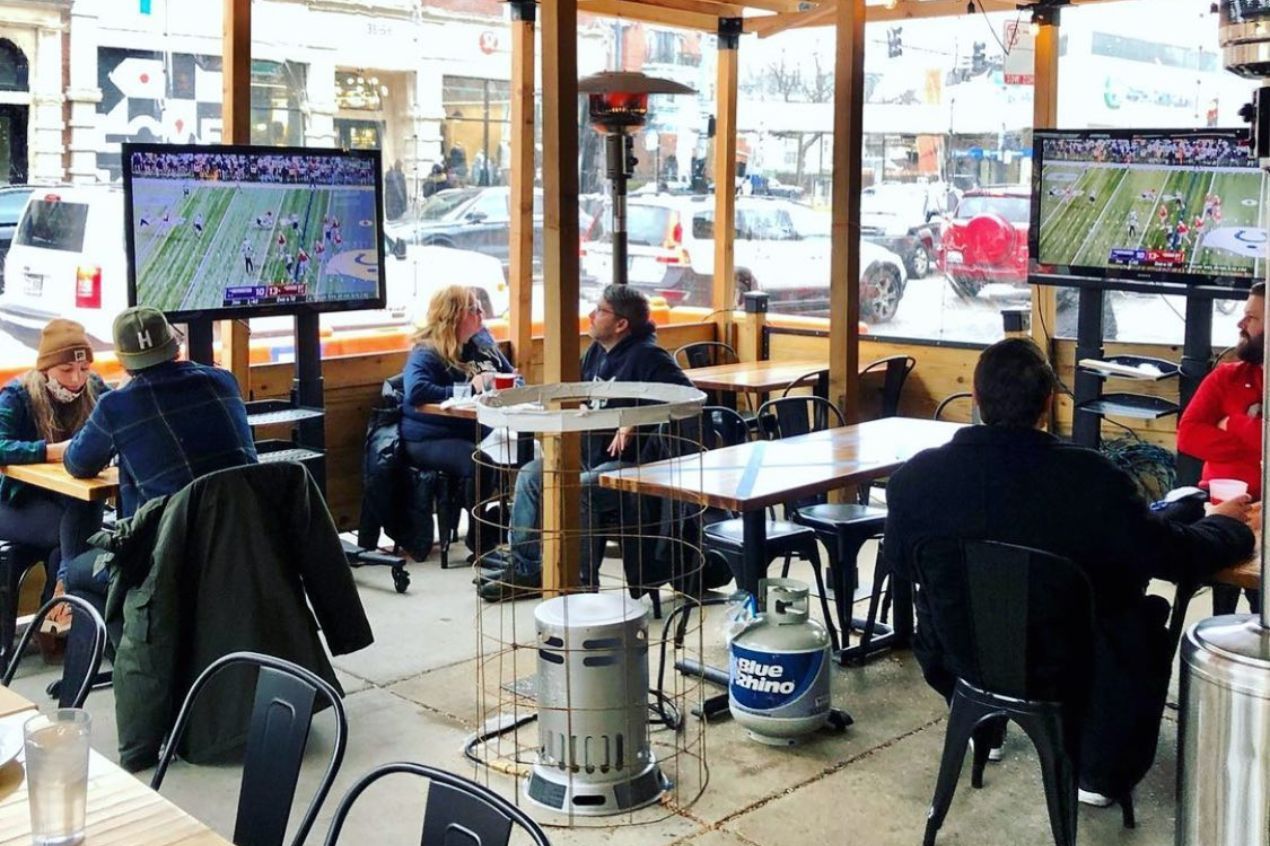 The arrival of fall signals the beginning of college football, sweater weather, and pumpkin spice lattes. Chicago, the center of the Midwest, is unquestionably in the Big Ten country. Several of the numerous alumni who reside here don their school colors every Saturday from September to November and go to a bar to support their alma maters.
The greatest sports bars in Chicago are always excellent, but sometimes you just want to be with other sports enthusiasts so that you can share your enthusiasm. Because of this, there are several locations throughout the city that are dedicated to each Big Team team. They provide the ultimate game day experience by showing the games with the sound on, playing the school fight songs, and more. You can count on having fun whether you win or lose.
Illinois: Budweiser Brickhouse Tavern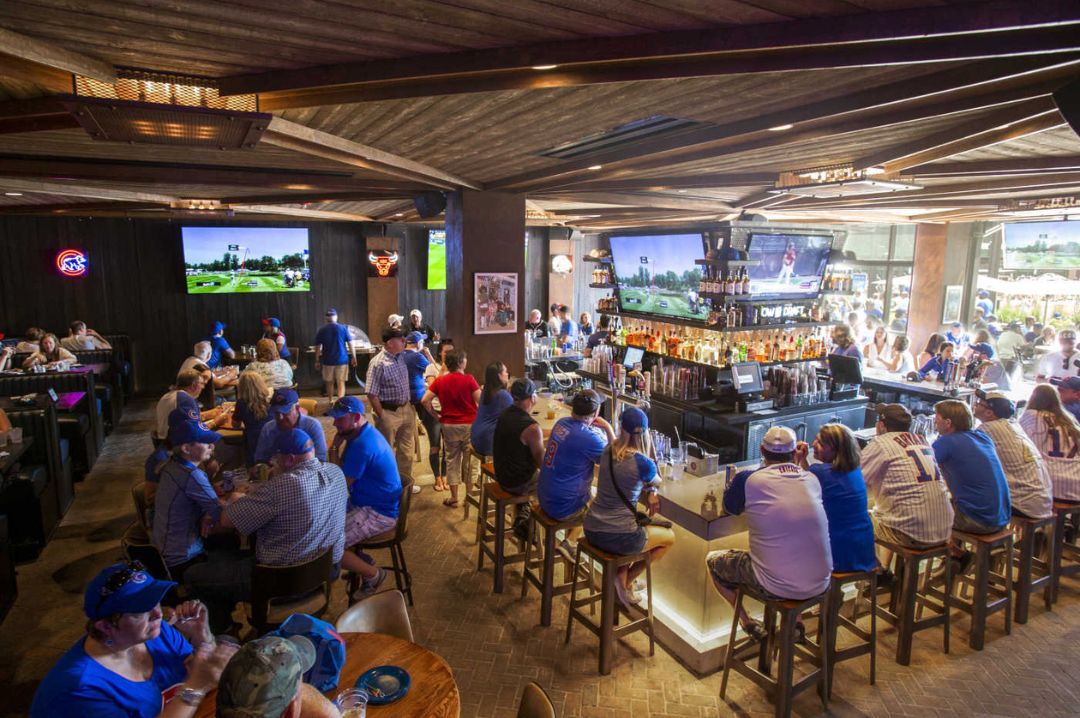 Image Source- Budweiser Brickhouse Tavern
The Budweiser Brickhouse pub, which is close to Wrigley Field, is Champaign North for supporters of the Fighting Illini. The establishment has 35 televisions, four bars, and two outdoor terraces with an amazing view of the historic Wrigley Field and the Chicago skyline.
A Wrigleyville bar must make you feel that you are actually watching the match at Wrigleyville. Every day of the year, we try to recreate the entire gameday experience. They also have a large menu with refined sports-bar fare and fresh twists on tavern fare that go great with your favorite craft beer. On game days, customers can get $10 mini sliders and fries, $10 nachos or potato twists, or $20 domestic buckets.
Address:
3647 N Clark St
Chicago
60613
Indiana: Joe's on Weed St.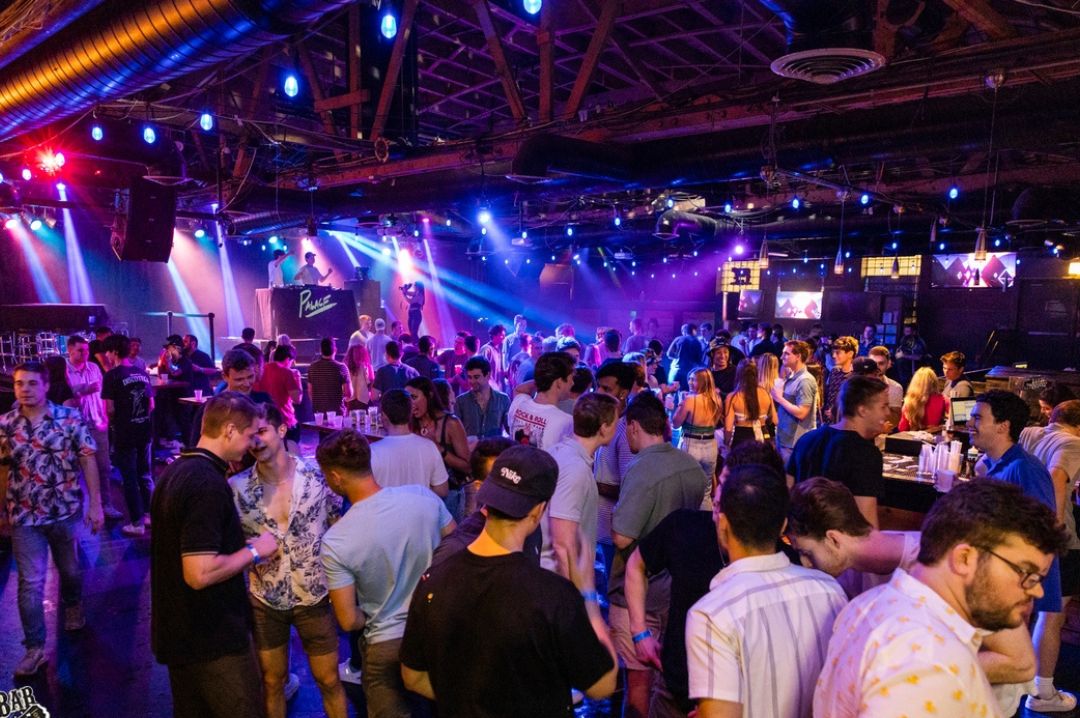 Image Source- Joe's on Weed St.
Joe's on Weed St. serves as both the home away from home for Hoosiers and a rite of passage for Chicago college students. The 20,000-square-foot Lincoln Park venue can hold a huge crowd on fall Saturdays.
Joe's is sure to have your game on TV with over 120 plasma televisions and high-definition projector screens! They are home to five different college alumni organizations, like the Fighting Illini, Indiana Hoosiers, and Arkansas Razorbacks. In Chicago, there isn't a bigger or better place to watch all the NFL, NCAA, NBA, or NHL action because they can broadcast all of the games simultaneously using 14 satellites. You will also get game day specials like $6 Hoosier bombs, $40 High Noon or White Claw buckets, and $19 domestic buckets.
Address:
940 W Weed St
Chicago
60622
Iowa: Theory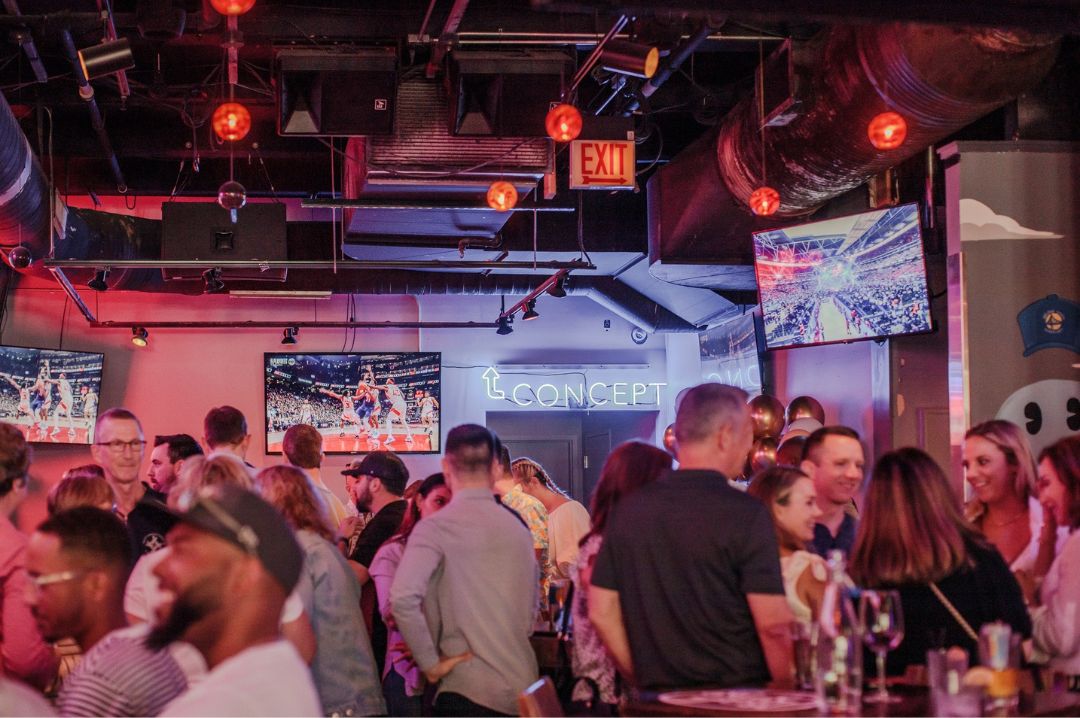 Image Source: Theory
Sports lounge and bar in River North Many Hawkeyes love going to Theory, a River North sports bar and lounge. Fans always enjoy a front-row seat thanks to the more than 35 televisions.
The Theory has a personality of its own that fits the energy of River North. They provide the ideal setting for any occasion, whether it's grabbing a bite to eat during your lunch break or getting together with friends for weekend brunch. Options on the food menu include tacos, wings, and nacho bites. On game day, enjoy 22-ounce stadium cups of mimosas and bloody marys for $6 or $8.
Address:
9 W Hubbard St
Chicago
60654
Michigan: Duffy's Tavern and Grille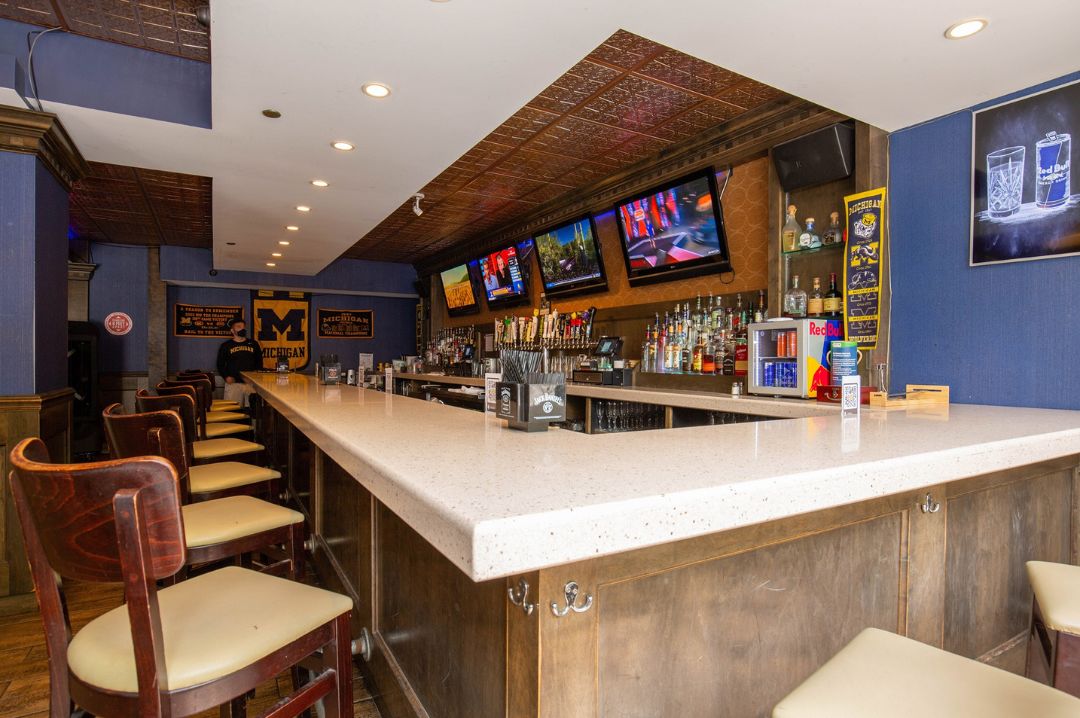 Image Source- Duffy's Tavern and Grille
The Big Ten's 2021 football champions will try to defend their title this fall, and Duffy's is the best alternative for Chicagoans who can't get it to the Big House. You won't miss a second of the action thanks to the more than 40 televisions spread out across the Michigan bar.
For more than 15 years, Duffy's has been providing excellent cuisine and refreshing drinks to residents of Lincoln Park and Michigan transplants. Every day of the week, Duffy's is a fantastic place to watch a game and get a bite because they take pride in providing you with beautiful food and service at reasonable costs. And because it's crucial to keep energized throughout the game, a brunch buffet with mimosas and Bloody Marys will be offered every Saturday from 11 am to 3 pm for $50 per person.
Address:
420 W Diversey Pkwy
Chicago
60614
Minnesota: The Other Side Bar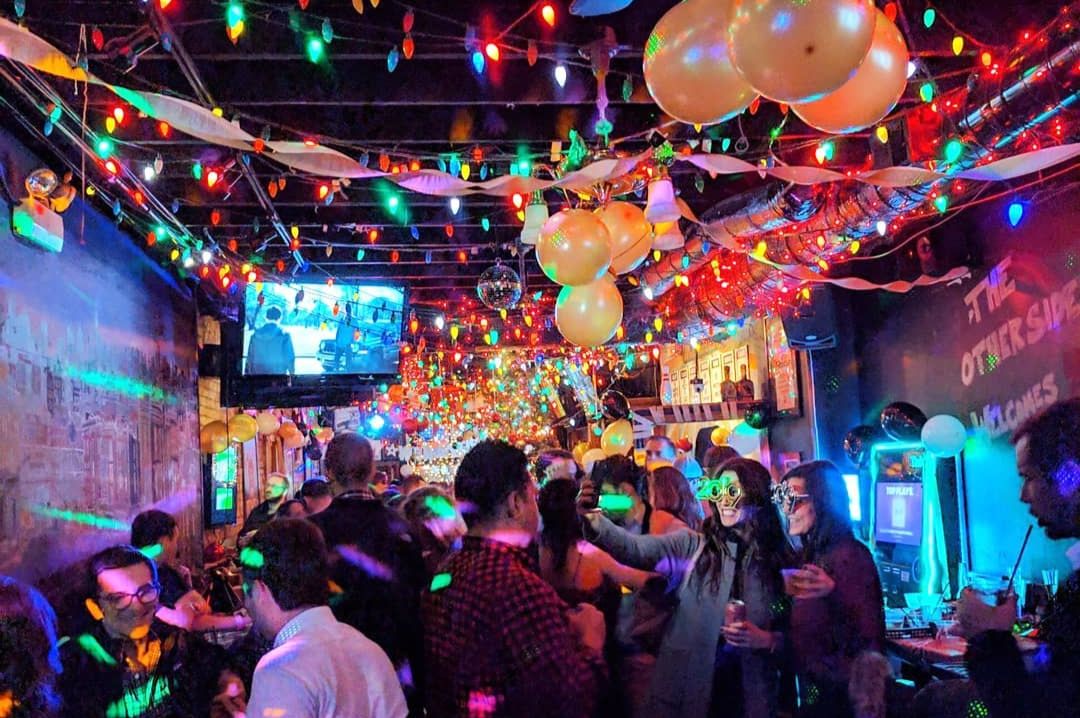 Image Source- The Other Side Bar
There aren't many havens for Gophers supporters, in comparison to many of their Big Ten opponents. However, they can tunnel their way to the Other Side Bar to watch the team with other alumni of Minnesota.
The bar has a relaxed setting with helpful service, a wide range of beers, daily specials, darts, pizza, wings, burgers, a jukebox, board games, and several TVs. The ideal tavern in the neighborhood. You can order a round of cheese curds, wings, burgers, or pizzas to get the ultimate game day experience.
Address:
2436 N Clark St
Chicago
60614
Nebraska: Kirkwood Bar and Grill
Image Source- Kirkwood Bar and Grill
Huskers supporters are among the most devoted in the world, win or lose. You can attend the weekly watch parties held at Kirkwood by the Chicago branch of the Nebraska Alumni Association to witness this passion firsthand.
The neighborhood sports bar KIRKWOOD in Lakeview serves delicious cuisine, and drinks, and has a huge beer garden that can hold any size group, from intimate gatherings to sizable private events. Kirkwood is available for delivery, carryout, and dining seven days a week. During games, the bar will offer stadium cups of $6 Bud Light or Miller Lite, but if you want something stronger, the gallon fish bowls will be your thing, hangover can be damned.
Address:
2934 N Sheffield Ave
Chicago
60657
Ohio State: The Butcher's Tap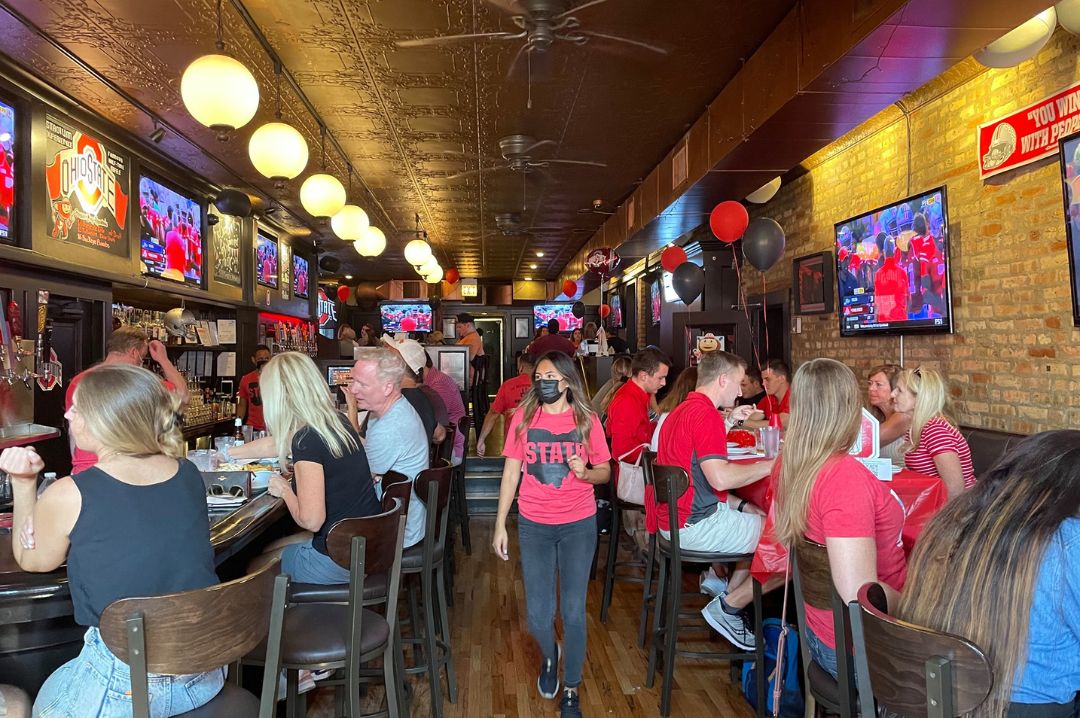 Image Source- The Butcher's Tap
Buckeye fans can go to the Butcher's Tap to support the conference's most successful football team in the last few decades as it begins its quest for a national championship. The Ohio State Alumni Club of Chicago will use the Lakeview bar as one of its official game-watching spots this season.
The gastropub pays homage to the butcher shop that once stood where it now stands and was established in 1932 with its customized wood bar and butcher block tables. This location is a farm-to-table, family-friendly sports bar with 80 taps, over 150 craft beers on draft, a full liquor bar, a fantastic wine list, and a seasonal cocktail menu. You will get some of the tastiest burgers, fried chicken, gourmet sandwiches, and mouthwatering meals from their scratch kitchen. You can watch your favorite sports teams play on their TV-equipped outdoor patio and as it is dog-friendly you can take your pooch along with you.
Address:
3553 N Southport Ave
Chicago
60657
Written by Aparna Dutta, Beverage Trade Network
Header Image Source : The Butcher's Tap