Visit the local distilleries in Chicago for some unique liquor
Explore these local distilleries in Chicago and try the excellent liquors produced to take your craft cocktails to the next level.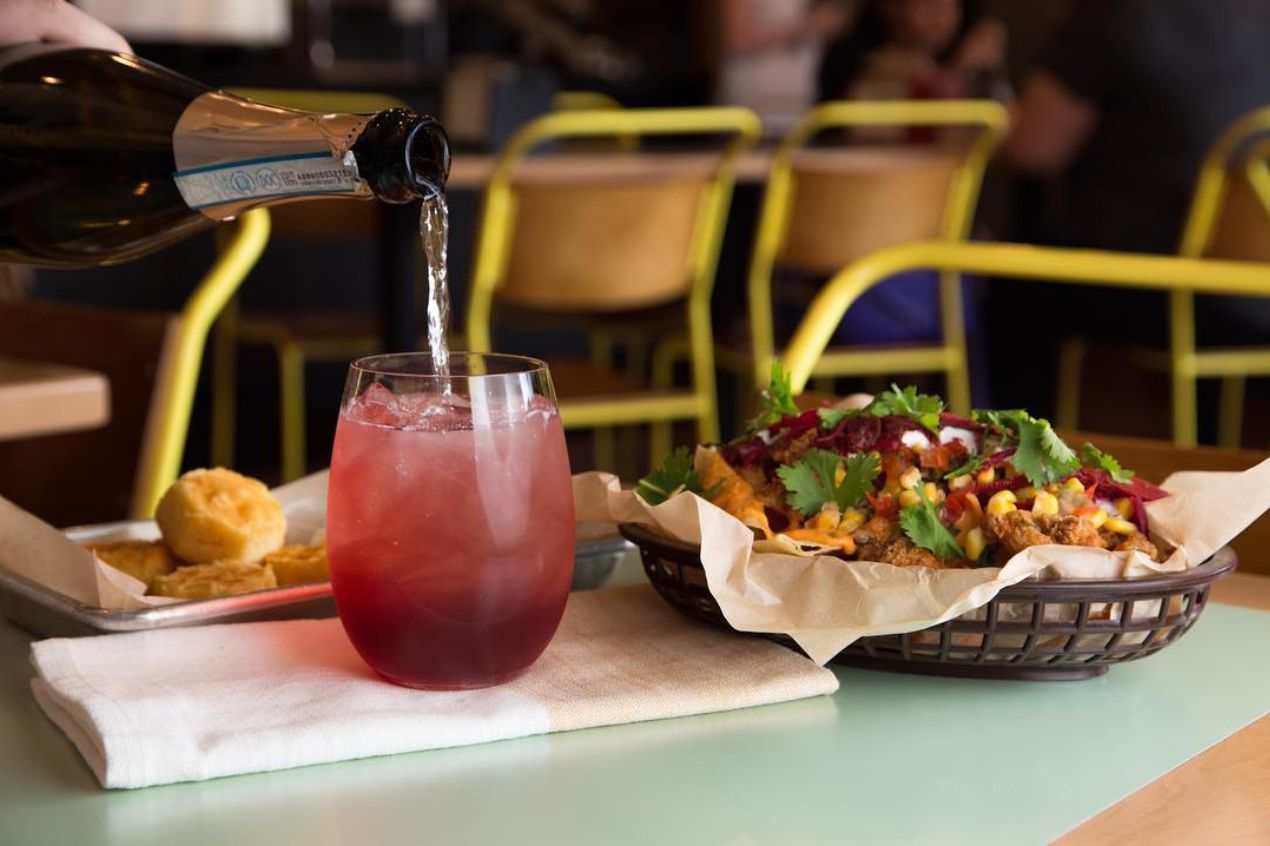 Chicago is a large metropolitan area and home to numerous sports teams, including the Blackhawks, Bears, Bulls, and White Sox. You might not be aware that Chicago served as a focal place for the temperance and prohibition movements. Its close proximity to Canada made it an ideal rum-running location and established a distillation mentality throughout the city.
Due to this history, visiting the best distilleries in Chicago is one of the most enjoyable things to do.
Many provide tours and tastings, which are the ideal ways to sample craft cocktails and premium ingredients. Up your weekend brunch game at these distilleries in Chicago
KOVAL Store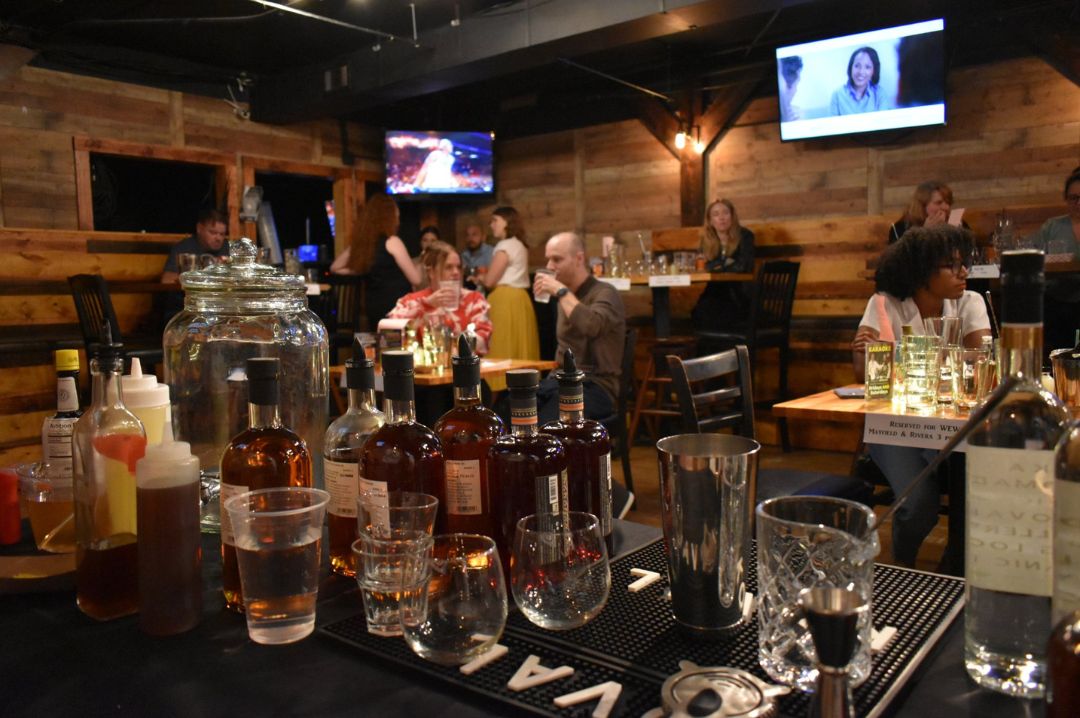 Image Source- KOVAL Distillery
KOVAL Store is located to the north of North Ravenswood Avenue, just west of Graceland Cemetery. The KOVAL Store was established by two doctors in 2008 and produces whiskey, gin, and other specialized alcoholic beverages using unique stills. You can celebrate your special days in KOVAL distillery as they allow guests to arrange private parties, along with offering tours and private parties.
The most popular distilled liquor at KOVAL Store is whiskey, which comes in a variety of flavors such as bourbon, barrel-aged whiskey, and white whiskey. KOVAL Store also makes different types of gins like dry gin, cranberry gin, and barrel-aged gin. And you can taste all of these. Isn't it amazing! You will also get a line of specially distilled spirits such as Chrysanthemum & Honey, Rose Hip, Ginger, and Coffee Liquor. To give the best flavors to the liquors and apply responsible sourcing they only use organic ingredients for their liquors.
Visit the KOVAL tasting room for customized cocktails, flights, perfect pairs, light bites, and many more.
Regular Hours
-Monday-Friday
3-10 pm
-Saturday
12-10 pm
-Sunday
12-8 pm
-Address:
4241 N Ravenswood Ave, Chicago, IL 60613
-Phone: 312-878-7988
Rhine Hall Distillery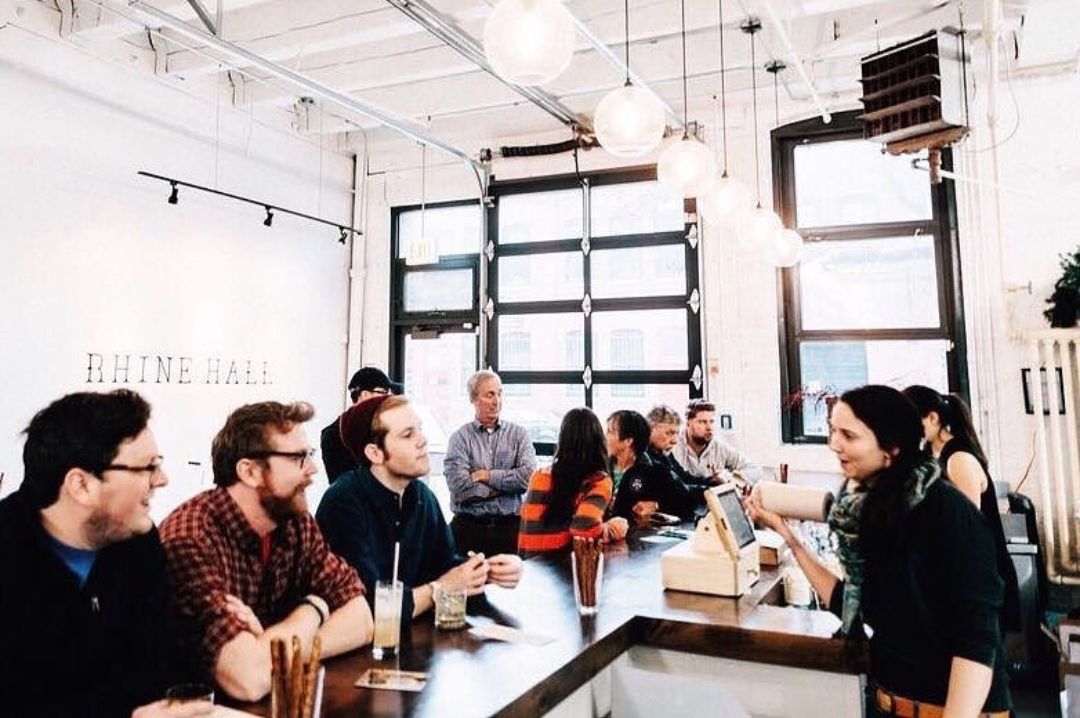 Image Source- Rhine Hall Distillery
The Rhine Hall Distillery is located near the United Center on Fulton Ave. The name is inspired by the Rhine River that flows across Germany and Austria. The Rhine Hall is also popular for their premium fruit brandies that you can taste in the distillery while visiting. You can enjoy the distillery's private tastings and tours. And if you are interested in making cocktails then this is the right place for you as they even conduct cocktail classes which you can join.
The Rhine Hall Distillery also focuses on fruit Eau de vies or schnapps that come in flavors like apple, banana, cherry, mango, pineapple, and even beer. The best way you can these fruit brandies is in cocktails and Rhine Hall loves cordial cocktails with a wide selection of menu that uses their spirits as a base. Enjoy some of the best cocktails in one of the most incredible distilleries in Chicago. Cheers!
Join Rhine Hall Distillery for a cocktail like RH Old Fashioned, Apple Sour, Cherry Negroni, and Rosey Cheeks or a flight! They encourage reservations but walk-ins will be welcome based on availability
-Thursday - Friday
6:30 pm
-Saturday - Sunday
4:30 pm
Tasting Room Hours
-Thursday - Friday
4pm - 8pm
-Saturday
2pm - 8pm
-Sunday
2pm - 6pm
-Address:
2010 W Fulton St, Chicago, IL 60612
-Phone: 312-243-4313
Chicago Distilling Company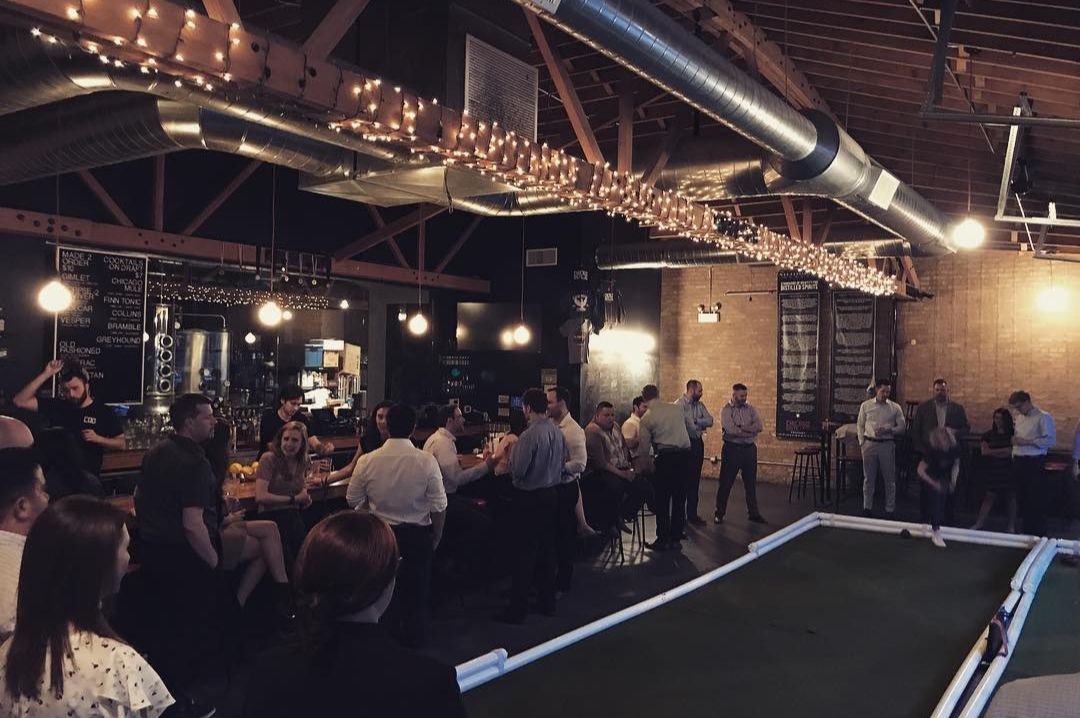 Image Source- Chicago Distilling Company
The Chicago Distilling Company is situated at the unusual corner of Milwaukee and Fullerton. It is located in one of the many buildings that line Milwaukee Avenue and is close to Palmer Square Park. The Chicago Distilling Company is located in Logan Square and is run by a family and operated by women.
They offer the ideal setting for private gatherings in their distillery. The building's industrial style reflects the innovative liqueurs that are produced there. You can see different types of liquors produced by the Chicago Distilling Company like absinthe, bourbon, rye, gin, and even vodka. You can enjoy some of the delicious handcrafted cocktails at the distillery that highlights the liquor. Don't forget to taste their most popular cocktails the Bees Knees made from Barrel Aged Finn's Gin or the Sazerac made with Blind Tiger Rye and Absinthe. You can also have some of the classic cocktails in the comfort of your home because they even produce ready-to-make cocktails like Chicago Mule, Collins, Half-sies, and Greyhound with their liquors as a base.
Visit Chicago Distilling Company for a cocktail, or tasting, or to purchase spirits and cans to go.
Hours of Operation
-Thursday
4 pm - 11 pm
-Friday & Saturday
4 pm - Midnight
-Address:
2359 N Milwaukee Ave, Chicago, IL 60647
-Phone: 872-206-2774
Maplewood Brewery and Distillery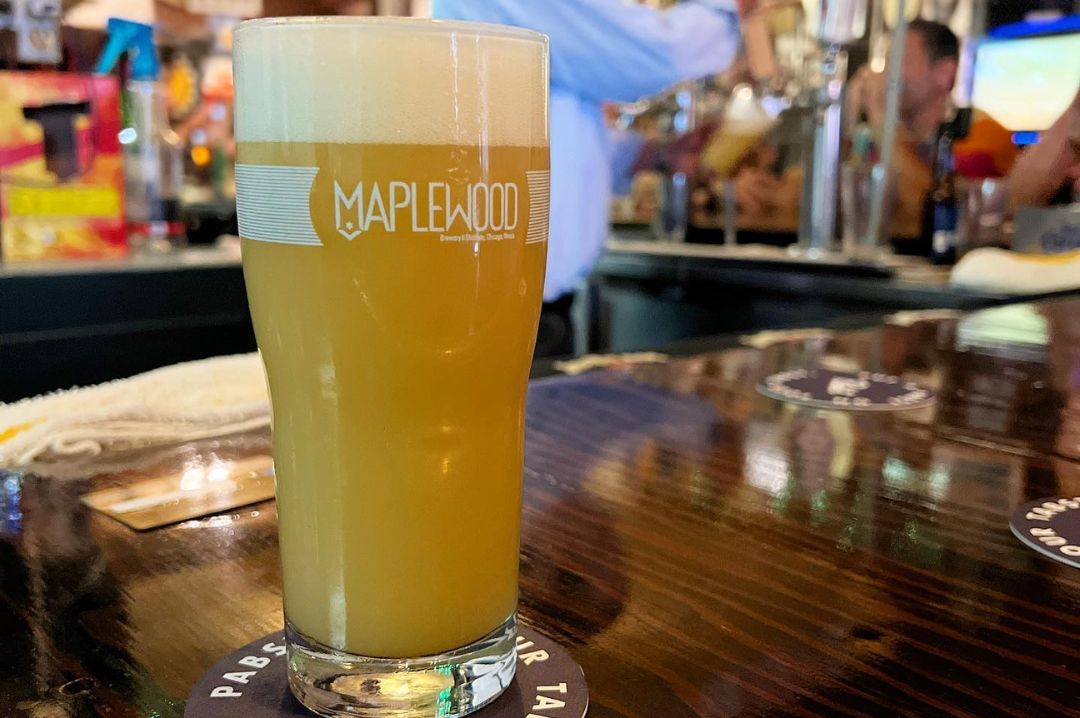 Image Source- Maplewood Brewery & Distillery
Most of Chicago is crossed by I-90, but if you blink between Diversey and Western, you'll miss Maplewood Brewery & Distillery, which is conveniently located next to the road. Maplewood Brewery & Distillery is a unique combination of a taphouse, a craft cocktail bar, and a gathering spot all under one roof. It is an amazing place for adult dates because of its close proximity to Regal Cinemas. This weekend watch a movie with your friends or your special person and then visit the distillery to treasure an amazing experience. You will get a wide selection of draft beers from which you can choose to start your adventure at the distillery.
The distillery offers some of the best craft-aged spirits like whiskey, rye, and gin. All of them have amazing flavors that blend nicely with cocktails or if your want you can sip it on the rocks. Try cocktails like Blue Bug Juice, Coffee Old Fashioned, and Patio Squeeze. You will also get some classic canned cocktails like Rum Punch, Whiskey Sour, Whiskey Highball, and many more. If you are not a big fan of cocktails you will also get a wide range of clear spirits like rum, spruce, gin, and brewers gin. You can also enjoy some of their flavored distilled beverages like chocolate, bitter orange, and pistachio. There are high chances of you missing out on the beer because the liquors are extremely flavorful.
HOURS to Visit
-Monday:
3pm-9pm
-Tuesday- Wednesday:
3pm-10pm
-Thursday:
3pm-12am
-Friday:
1pm - 12am
-Saturday:
11am- 12am
-Sunday:
12pm-10pm
-Address:
2717 N Maplewood Ave, Chicago, IL 60647
-Phone: 773-270-1061
Wild Blossom Meadery & Winery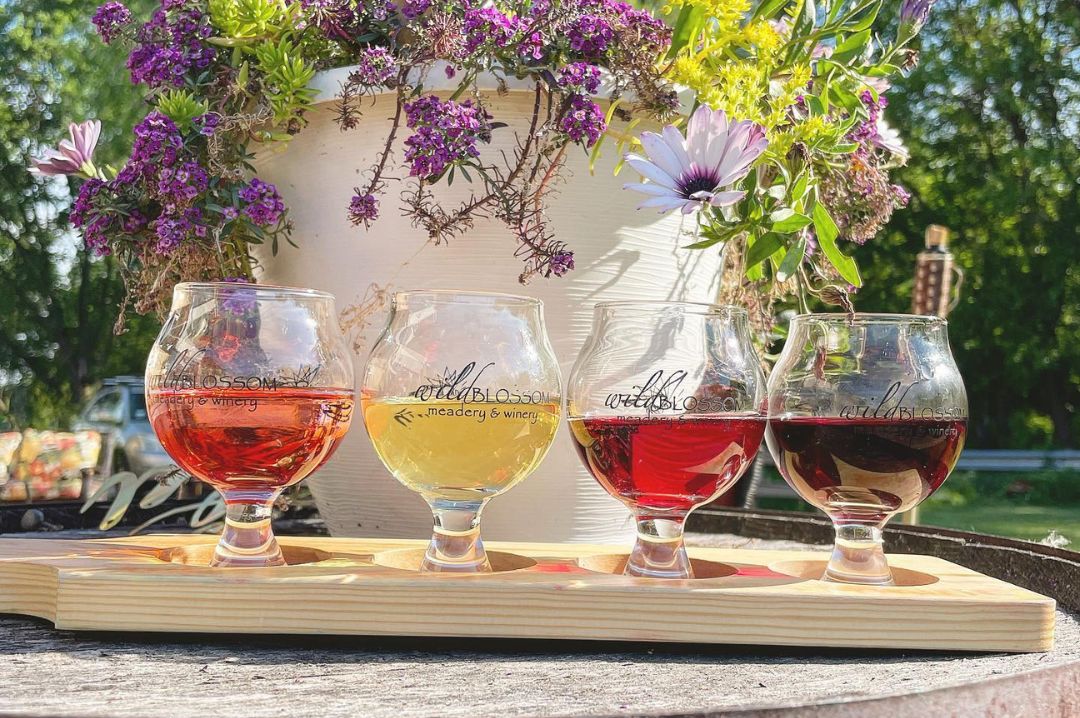 Image Source- Wild Blossom Meadery
The Wild Blossom Meadery and Winery is located on the east side of Dan Ryan Woods of the 91st and Hermitage. Located in a giant building Wild Blossom, hosts regular tours, exclusive gatherings, mead clubs, and tastings. Mead is an old beverage made with honey and yeast that is the main product of this unique distillery.
The delicious flavors and bottle designs of Wild Blossom's mead and wine are among the best in Chicago. The Chicago Bull's Blood wine is made by the Meadery and Winery and is available in Cabernet, Merlot, or Syrah mixes. Although this establishment does not distill spirits, the use of wine and mead is as old as time!
Visit Wild Blossom Meadery & Winery if you would love to try some of their wonderful meadery and wine along with cold local beer on top and cocktails.
Hours to Visit
-Monday - Thursday
3 pm - 9 pm
-Friday
3 pm -11 pm
-Saturday
12 pm - 11 pm
-Sunday
12 pm to 9 pm
-Address:
9030 S Hermitage Ave, Chicago, IL 60620
-Phone: 773-840-4642
Written by Aparna Dutta, Beverage Trade Network
Header Image Source : Koval Distillery