Holidays in Chicago: Christkindlmarket, skating and more
From the magnificent Christkindlmarket to vibrant Millennium Park, the city is buzzing with seasonal activities and holiday traditions.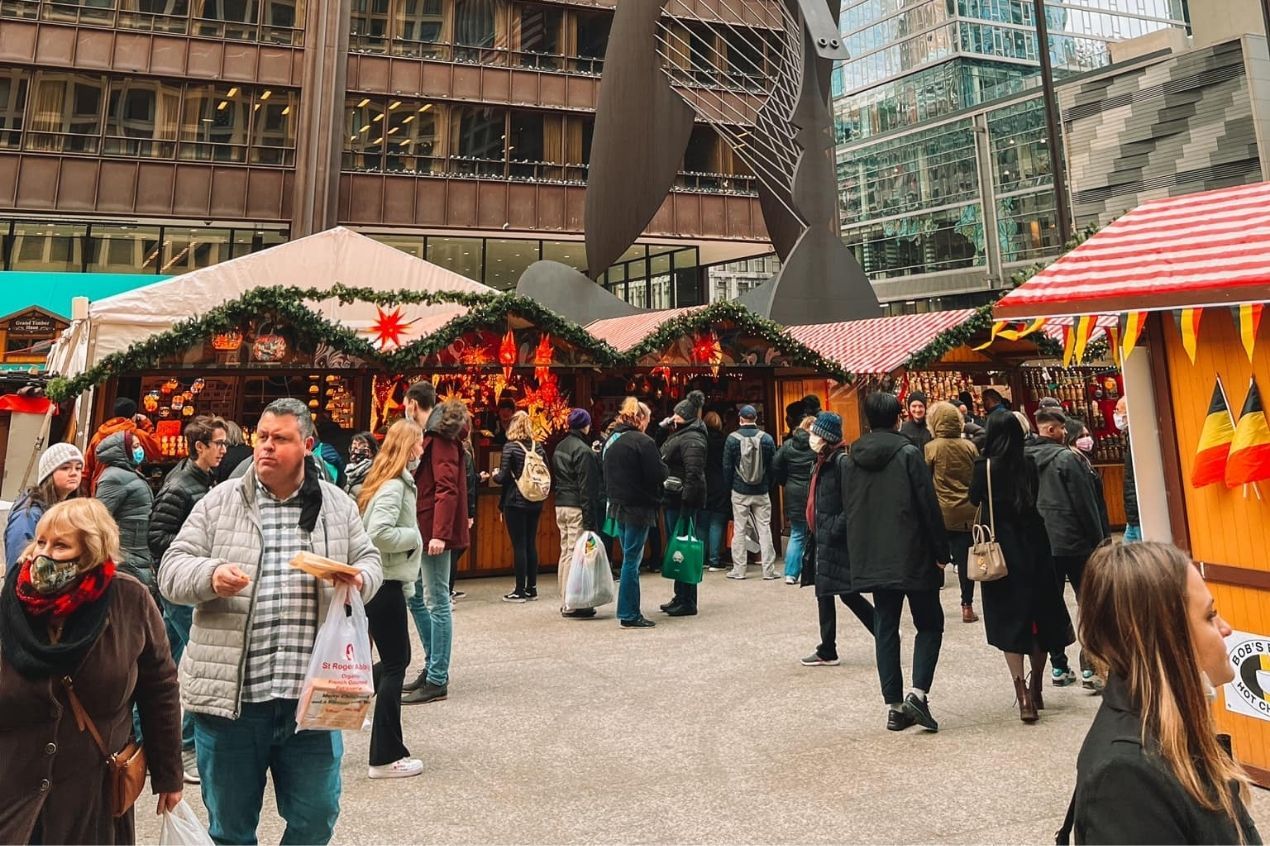 Chicago knows how to spread the festive spirit. From admiring the twinkling light displays of the Morton Arboretum, to slightly overspending at the Christkindlmarket, here's what you can do in Chicago during the holidays.
Christkindlmarket Chicago
(November 19 2021 to December 31 2021)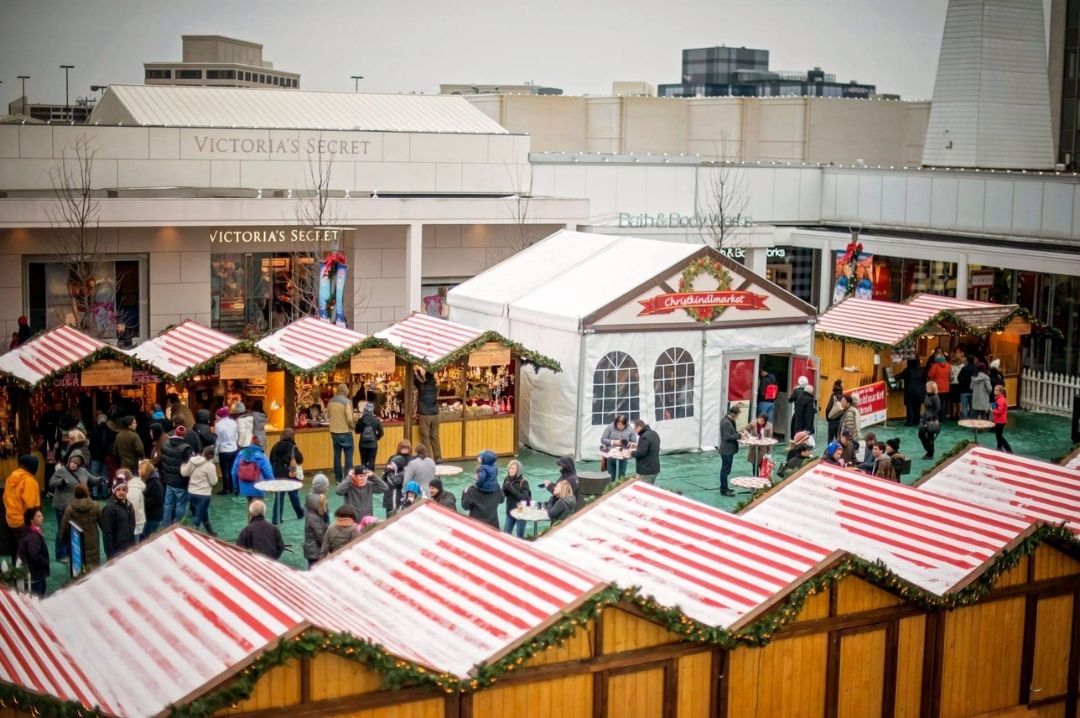 Christkindlmarket Chicago, source: Facebook
Featured in many 'best Christmas markets around the world' lists, Christkindlmarket has been the highlight of the holidays since 1996. Vendors from all across the country gather to showcase their crafts, while bars and restaurants set up some killer festivities, with delicious food and drinks.
This year, the market also has a Wrigleyville location - at Gallagher Way, which is open till December 31. This German-inspired market is donned with ornaments, wooden fixtures, and other crafts from around the world. Pro-tip, if you smell something inviting - it's the mulled wine, which you've got to have.
Where - Daley Plaza, 50 W Washington St, Chicago, IL 60602
Randolph Street Market
(11-12 December 2021 and 18-19 December 2021)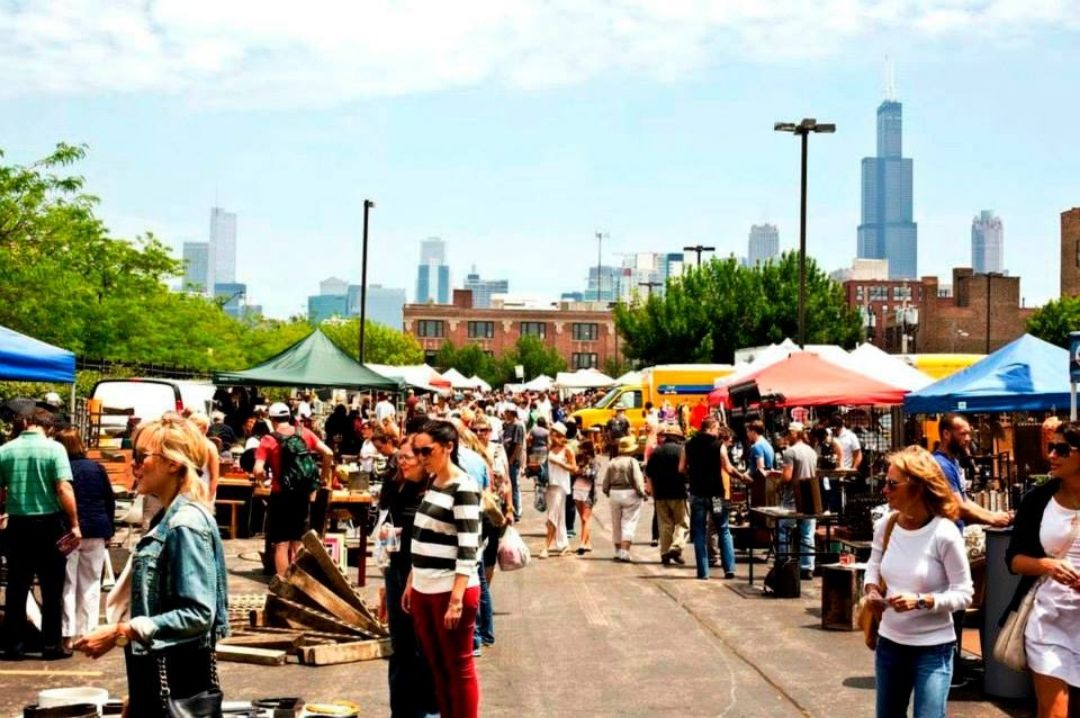 Randolph Street Market, source: Facebook
The world-famous Randolph Street Market, located in Chicago's historic Fulton Market, is probably one of the fanciest flea markets you'll ever see. Style setters, fashionistas, and Hollywood set decorators, as well as lovers of antiques, vintage & decorative arts, furniture, fashion, jewelry, global goods, and vinyl, will love this site. There are also indie designer fashion accessories, crafts, artisanal meals, spirits, beer, wine, and bloody mary's, as well as live music and a DJ.
There are over 300 merchants from across the country who set up piles of furniture and tented mini-boutiques, as well as several bands, food trucks, and other attractions. Face painters, a petting zoo, and a treasure map to win prizes are among the children's activities.
Where - 830 N Michigan Avenue Chicago, IL 60611
Visit the city's Christmas Tree
(19th November 2021 to 9th January 2022)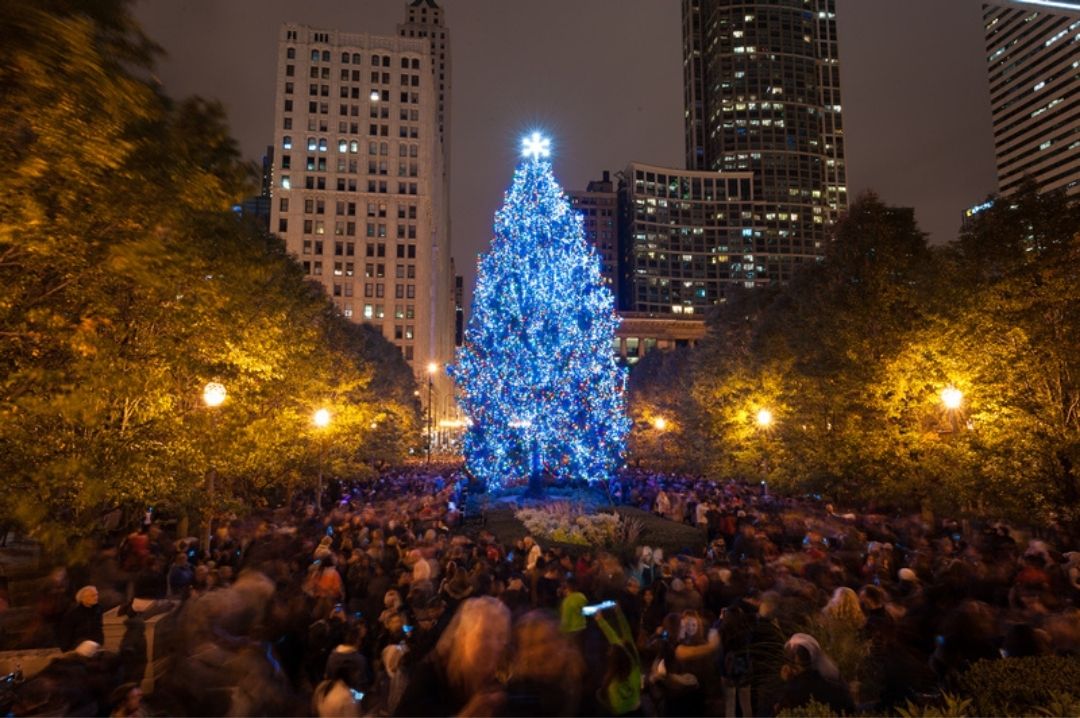 Chicago's official Christmas tree, source: Website
You can't take a chance to miss out on the city's Christmas Tree. It is currently in its 108th year and is one of Chicago's biggest and brightest holiday traditions.
The gigantic tree, which is lit up Millennium Park's center, is decked out in dazzling lights and provides for a great holiday photo opportunity. From Nov. 19, 2021, until Jan. 9, 2022, the tree will illuminate brightly near the junction of Michigan Avenue and Washington Street. While you're there, you can also pop into one of the skating rinks to show off your moves!
Where - 201 E Randolph St, Chicago, IL 60602, United States
Holiday Exhibition at the Museum of Science and Industry
(17th November 2021 to 3rd January 2022)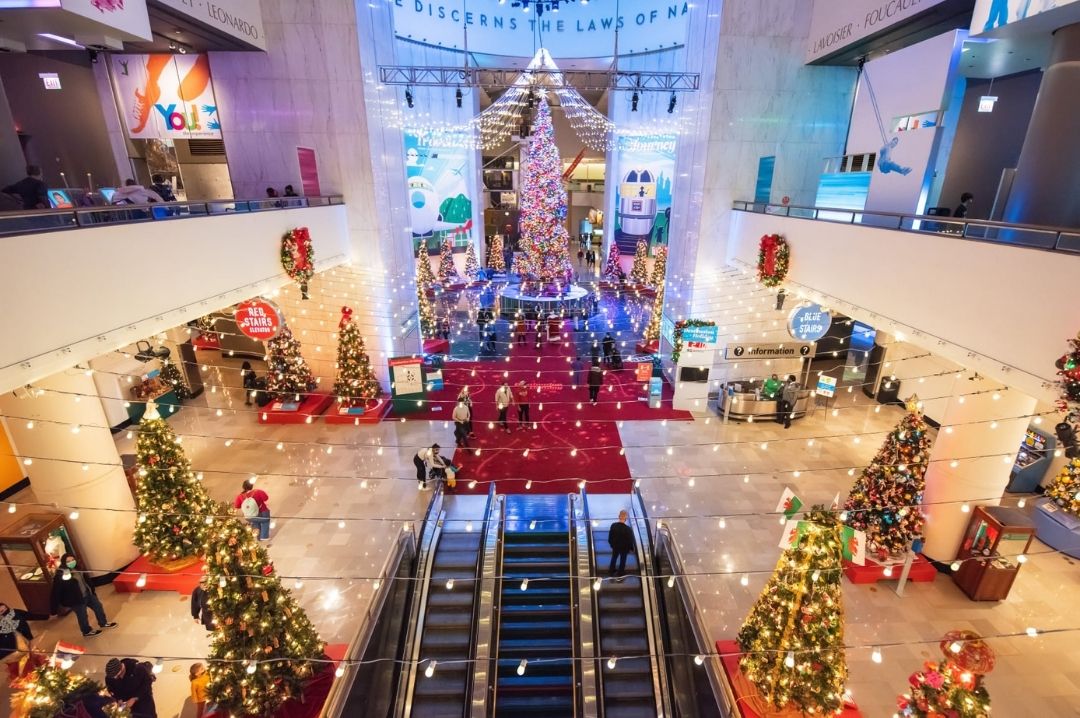 Museum of Science and Industry, Chicago, source: Facebook
Museums in Chicago love to join in the Christmas festivities. From Nov. 17 through Jan 3, 2021, the Museum of Science and Industry holds its annual Christmas Around the World and Holidays of Lights, which features 50 lavishly decorated trees representing holiday traditions from around the world.
This year, the theme is the golden age of travel, which will shine the spotlight on the Pioneer Zephyr train and Take Flight 727, which have been newly reimagined.
Don't forget to visit Santa in his festive studio for a photo op, either with Santa himself, or gather for a group picture in front of the iconic 45-foot-tall Christmas Tree.
The museum also celebrates Chinese New Year, Diwali, Kwanzaa, Ramadan, Hanukkah, Visakha Puja Day, and St. Lucia Day during the Holiday of Lights.
Where - 5700 S. DuSable, Lake Shore Drive, Chicago, IL 60637
Ice Skating at McCormick Tribune Ice Rink
(19th November 2021 to 6th March 2022)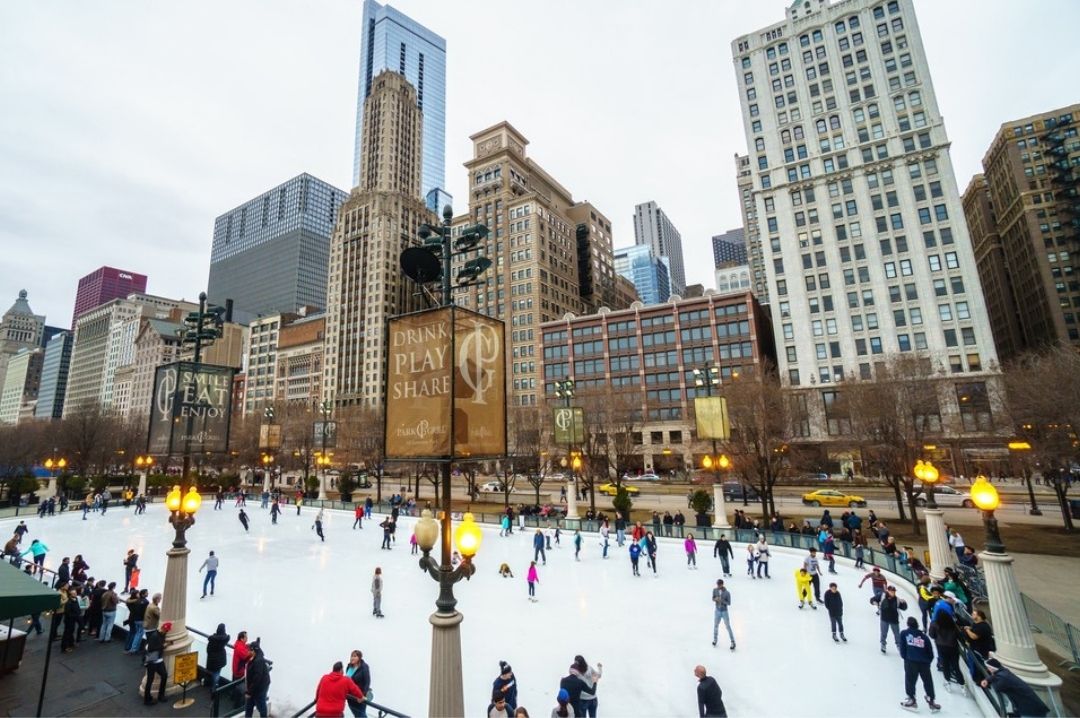 McCormick Tribune Ice Rink, source: Facebook
Come enjoy a Chicago winter tradition that is now in its 20th year. The McCormick Tribune skating rink in Millennium Park is a must-see destination for ice skating. You'll be surrounded by stunning winter views of Chicago, including the downtown skyline, the city's enormous Christmas tree, and all the holiday lights reflected on the gleaming surface of Cloud Gate, aka "The Bean."
The McCormick Tribune Ice Rink in Millennium Park will reopen for its 20th anniversary season on November 19 and will be open every day until March 6. (weather permitting). The event is free to attend, but tickets must be reserved in advance online. Momentum Coffee will be serving snacks and hot beverages. From November 20 through March 6, 2022, DCASE will offer free skating classes (reservations necessary) from 8–9 a.m. on most Saturdays and Sundays, teaching beginner and intermediate ice skating and hockey skills.
Where - 1 N Michigan Ave, Chicago, IL 60602
Explore the Holiday lights at Morton Arboretum
(20th November 2021 - 2nd January 2021)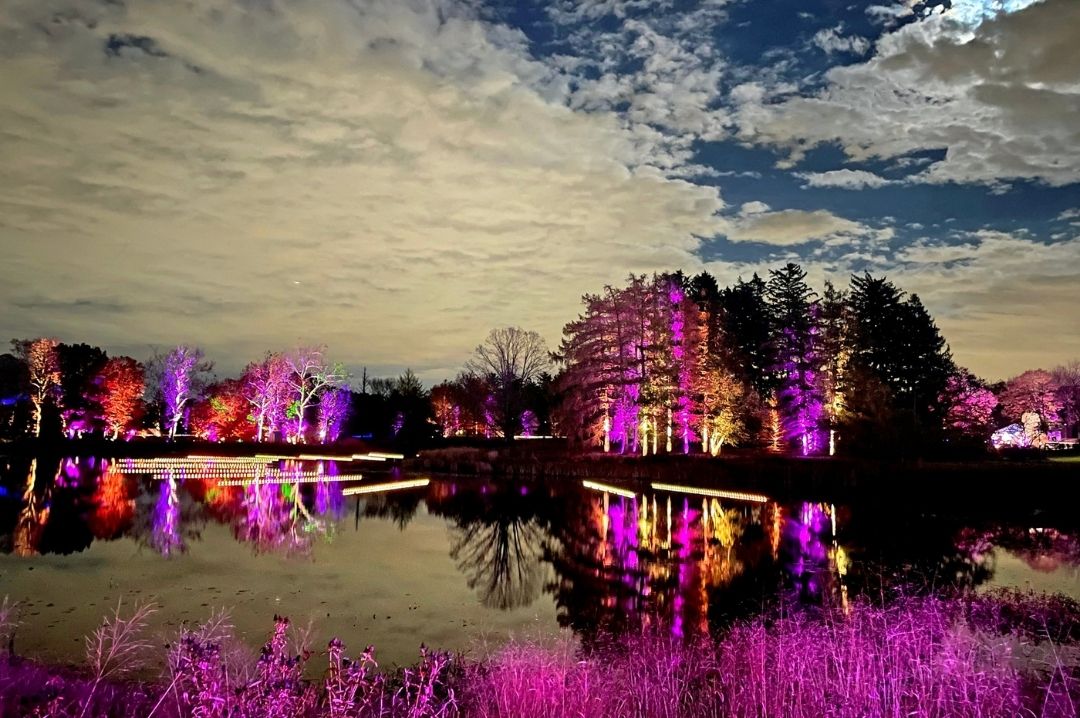 Holiday lighting at Morton Arboretum, source: Facebook
The Morton Arboretum's ninth annual Illumination: Tree Lights returns as a strolling experience. During this one-of-a-kind display of color, light, and sound, explore 50 acres of the Arboretum's beautiful trees. Returning favorites and unexpected new sights, such as a spectacular Human+Nature exhibit and an experience with 150 colorful lanterns, will be a delight.
Enjoy Christmas music and lighting displays as you stroll along a one-mile paved walking path that highlights the beauty of trees in the winter. Warm-up by a roaring fire and roast some s'mores along the way, or stop at one of the concession tents for food and drink. The illumination will draw attention to the various benefits of trees, including greater emotions of serenity and tranquility, wildlife habitat, and the air we breathe.
P.s - As the tickets are selling fast, it is recommended that you book your tickets in advance through their website.
Where - 4100 Illinois Route 53, Lisle, IL 60532
Header image, source: Christkindlmarket Facebook