Chicago's Christmas bars: Frosty's, Santa Baby, and more
Raise your festive spirit with Chicago's whimsical Christmas pop-ups such as the Reindeer Room, Elf'd Up, Jingle Bell Square, and many more.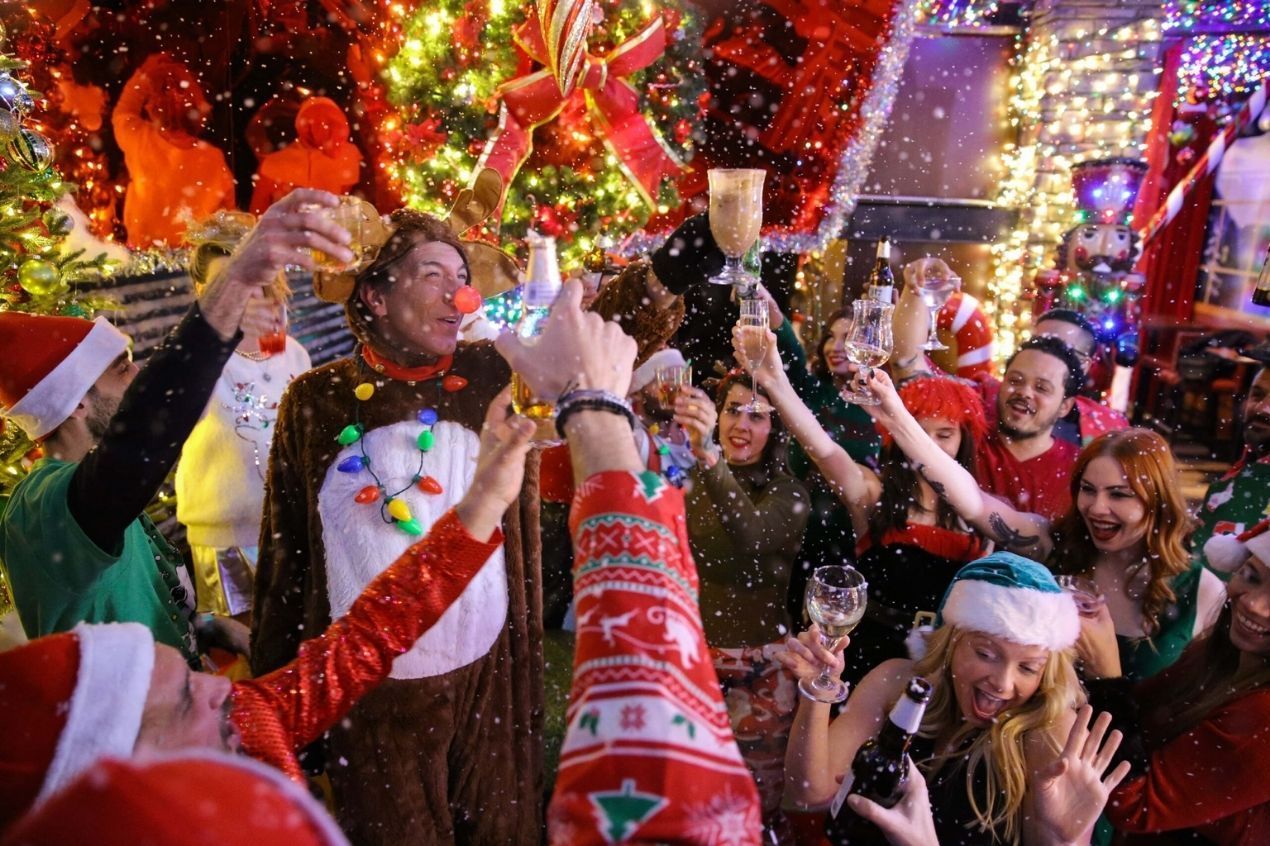 We do really enjoy an old fashioned drink in the pub when the Holiday Season spruces into action. But, what fun is it without the glittery Christmas decor that makes merrymaking a lot more, well, merry. From elfs, reindeers, and Santas, all have popped into Chicagoland, separated by venues but united by the festivities.
So what are you waiting for? Make your way to these electric bars dressed up in their Christmas costumes, serving festive food and boozy drinks.
Elf'd Up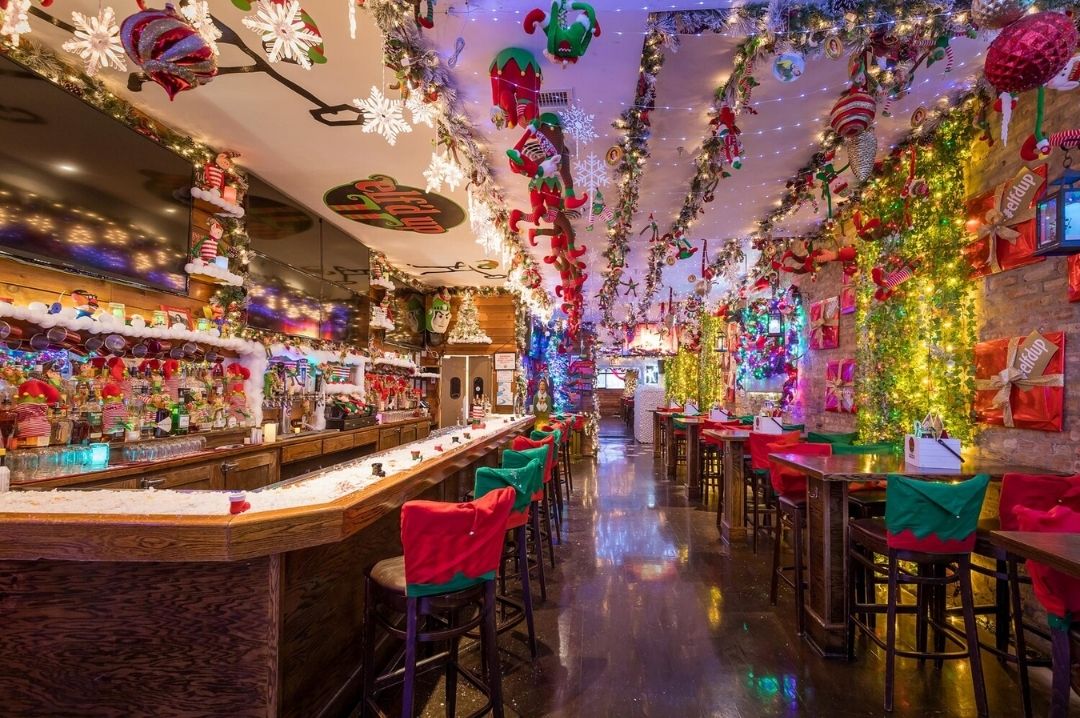 Elf'd Up at Stretch Bar & Grill, Source: Website
One of the biggest elf parties in town, Elf'd Up at Stretch Bar & Grill steals the limelight with its elaborate Christmas decorations that range from over 1000 elves of all shapes and kinds, tinsels, lit up Christmas trees, colorful festive lights, and wreath chandeliers.
For food and drinks, festive dishes like the Buddy's Breakfast Cereal (spaghetti with chocolate fudge, maple syrup, pop tarts, and mini marshmallows) will keep you busy along with make your own boozy hot chocolate and other Christmas cocktails.
Also, you will be treated with complementary elf shaped cookies at the establishment at 10 pm, so stick around for the delicious bite.
Location - 3485 N Clark St, Chicago, IL 60657.
Timings - 4 pm to 2 am (Monday to Thursday)
11 am to 2 am (Friday to Sunday)
Frosty's Christmas Bar
Passing Christmas vibes inside out, Frosty's Christmas Bar is installed with 4 bars, 3 levels of infinite possibilities, 2 dance floors for getting in the Holiday groove, and one night full of overstuffed decorations and festive drinks.
From delicious Christmas cookies to fancy winter cocktails at the Holiday bar, the festive gala will continue to grow in strength with singing Santas and dancing elves, as the night unfolds.
Ticket price: starts at $22 per person.
Location - 809 W Evergreen Ave, Chicago, IL 60642.
Timings - Closed (Monday to Tuesday)
7 pm to 4 am (Wednesday to Thursday)
5 pm to 4 am (Friday to Sunday)
Santa Baby Christmas Bar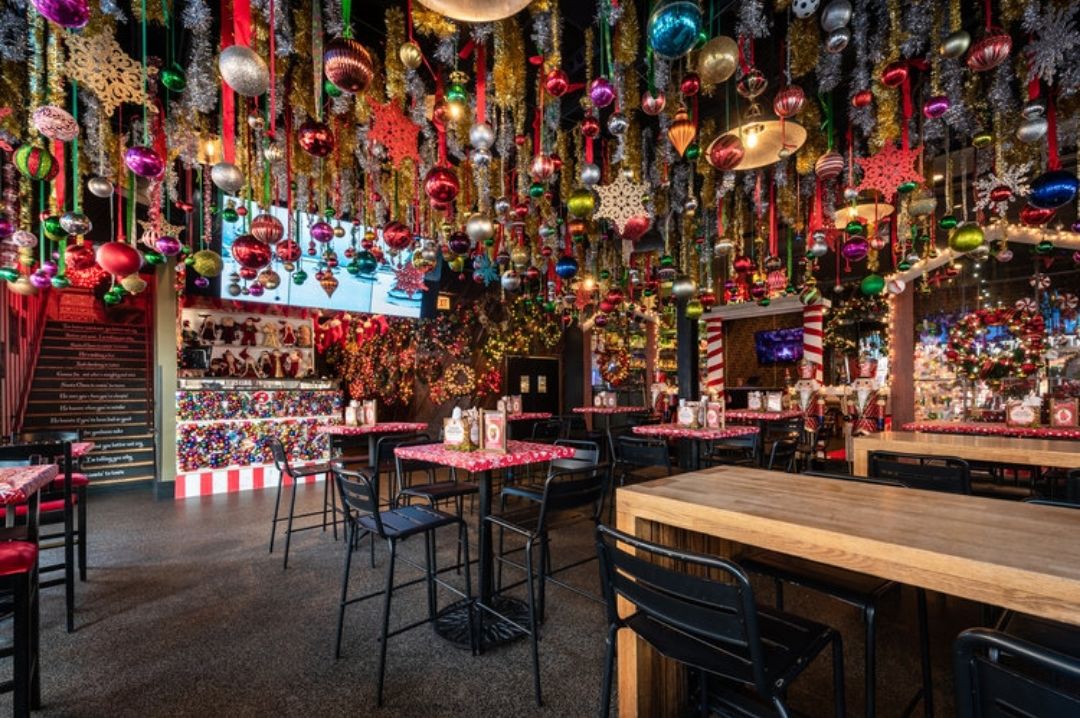 Santa Baby Christmas Bar, Source: Website
Festooned with Christmas decorations, Santa Baby Christmas Bar displays an extravagant Christmas theme with jingle bells, gingerbread statues, reindeer pulled sledges, and a garnish of jam packed sparkling objects.
For those wondering what to do in Chicago this December, Santa Baby Christmas Bar should be an inviting addition to your itinerary with its over the top creamy Christmas cocktails and oversized festive meals to remind you of the lavish Holiday Season.
Rumchatonic, Elf Fashioned, Merry Manhattan, Santa's Chimney, Reindeer Games, and Firenog are some classic Christmas cocktails you will be welcomed with, at the bar.
Location - 3505 N Clark St, Chicago, IL 60657.
Timings - book a time slot.
Reindeer Room
Reindeer Room at Tack Room, Source: Facebook
Tack Room dons a festive outfit in the look of Reindeer Room, brimming with a fresh seasonal radiance. The low lighted interiors will envelop you with its warmth, while you sip on a cocktail from the bar. The decorations are not overly done, as with some of the mentions on the list but they are enough to dip you into the holiday mood.
Try the La Folie brew while you're at it, a sumptuous wood aged sour brown ale from New Belgium, if you love your ales like we do!
Location - 1807 S Allport St, Chicago, IL 60608.
Timings - 7 pm to 1 am
Jingle Bell Square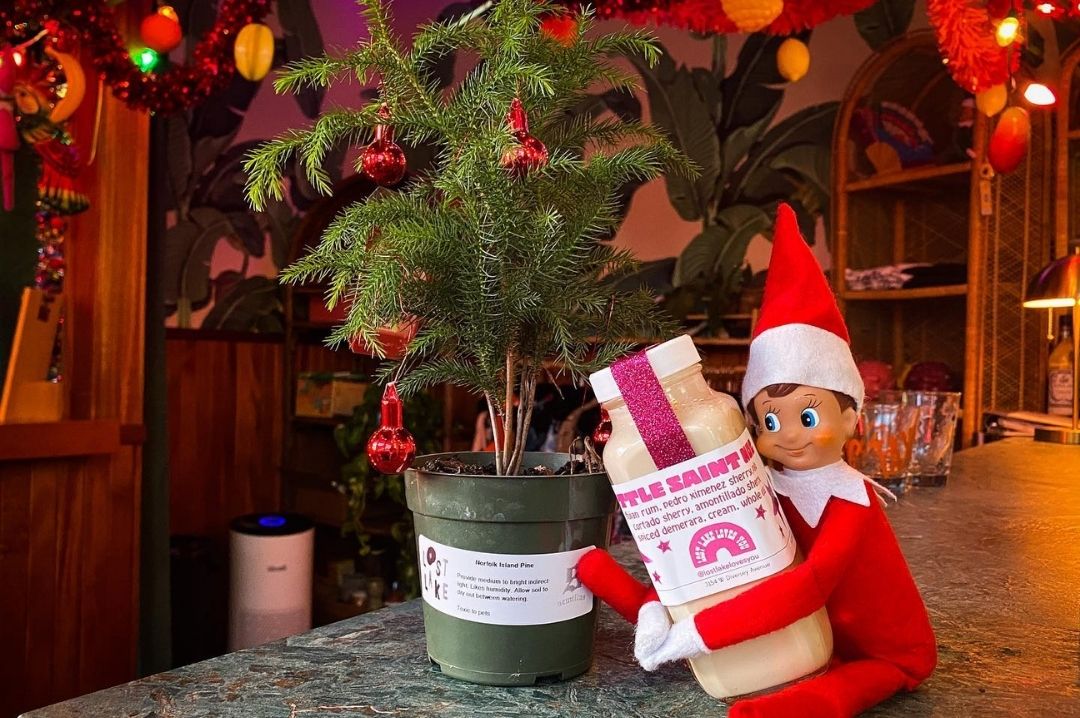 Jingle Bell Square at Lost Lake, Source: Facebook
With a more tropical Christmas vibe, Jingle Bell Square at the Lost Lake beautifully concords the cool tropical vibes with its warm and fuzzy winter cocktails. The bar is dressed in light Christmas trimmings that include a string of lights, wreaths, and colorful tinsels.
Some winter cocktails making their return this year include Down Through the Chimney, Little Saint Nog, No Good Reason, and more.
This spot is ideal for those looking to abstain from overly decorated pop-ups but still want to indulge themselves into the Christmas spirit with a seasonal cocktail.
Location - 3154 W Diversey Ave, Chicago, IL 60647.
Timings - Closed (Sunday to Tuesday)
5 pm to 12 am (Wednesday to Saturday)
Lou's Lights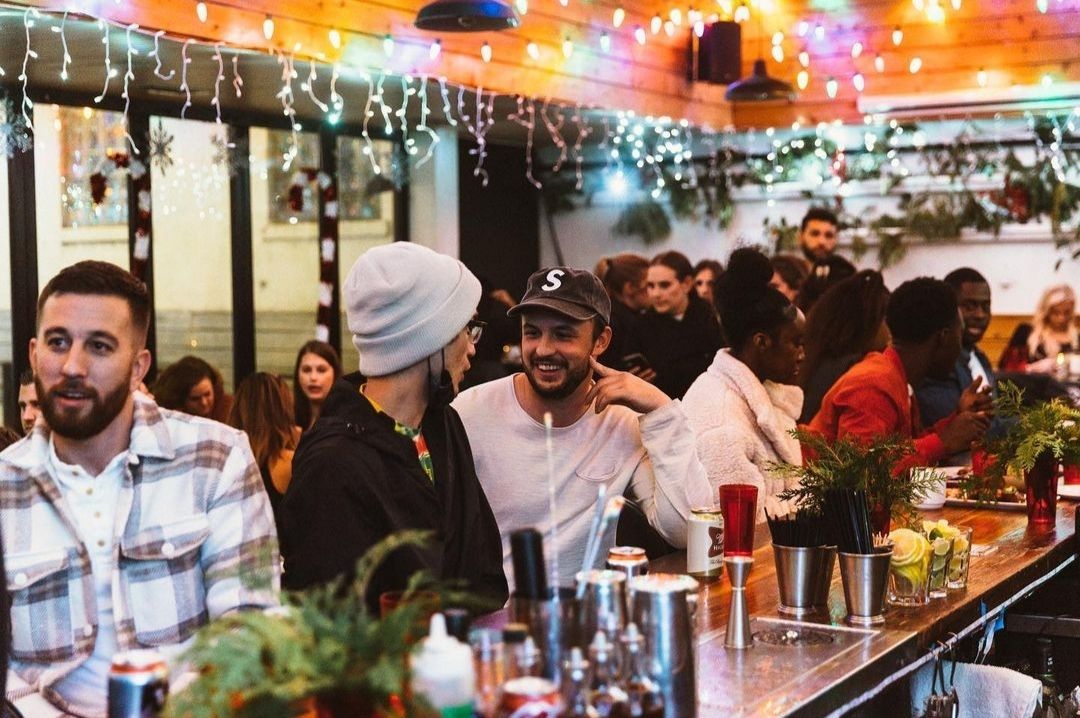 The bar at Lou's Backyard in Chicago, Source: Instagram
With an outdoor beer garden layered with multi-colored lights, inflatable snowmen, and Christmas trees, Lou's Lights at Lou's Backyard is one to watch out for this Christmas.
You can either bunk indoors to escape the cold or go full throttle at the outdoor patio for a frolicking affair. Be sure to try out one from their winter specials such as the Verte Chaud cocktail made with hot chocolate, green chartreuse, and mixed herbs.
Location - 664 W Lake St, Chicago, IL 60661.
Timings - Closed (Monday)
5 pm to 10 pm (Tuesday, Wednesday, Thursday, and Sunday)
5 pm to 12 am (Friday to Saturday)
Header image - Frosty's Christmas Bar, Source: Website