7 Chicago Restaurants with Waterfront Views
Dining at Chicago's best waterfront restaurants is the ideal way to experience both urban culture and riverfront views.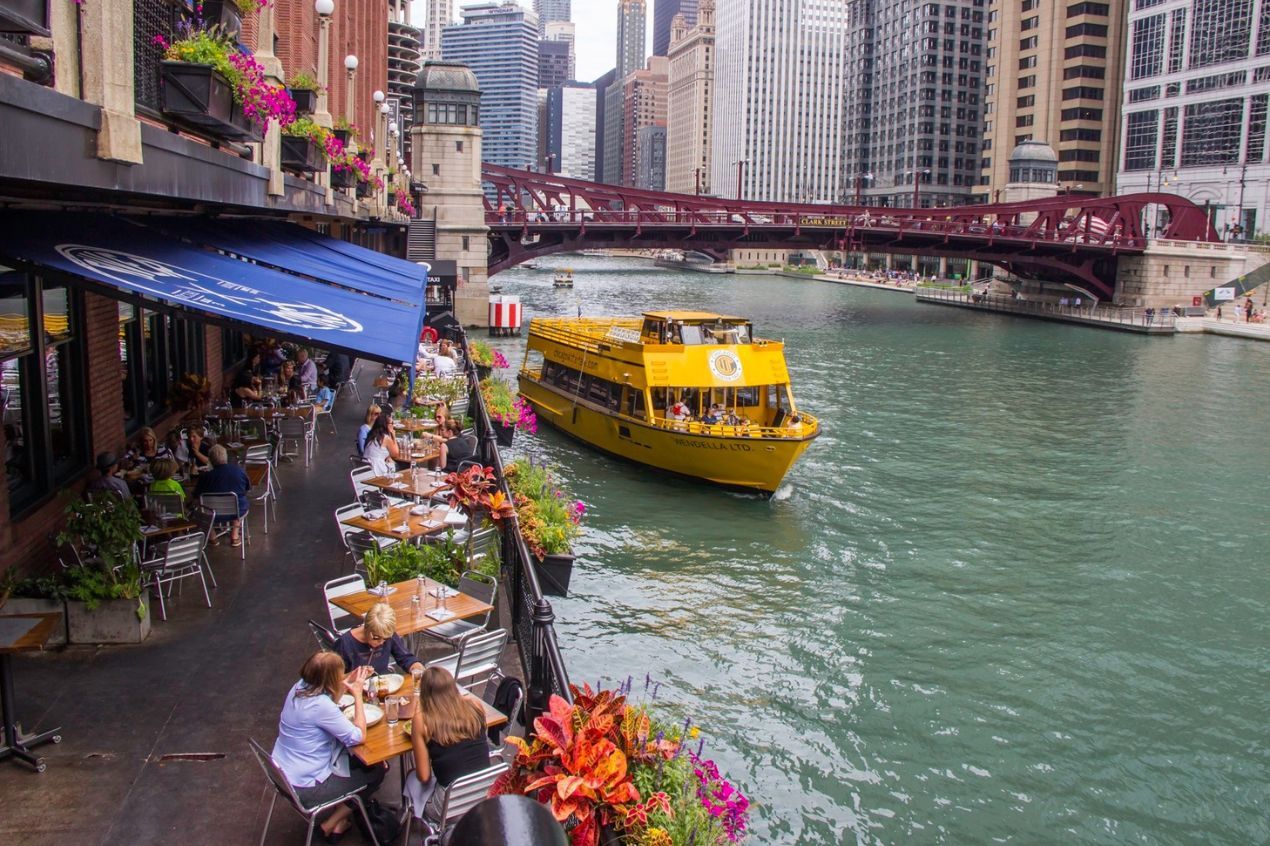 The most beautiful outdoor dining venues in Chicago showcase everything the area has to offer, from breathtaking skyline vistas to exciting chances for people-watching. Try dining beside the water to further improve your outdoor dining experience. There are several alternatives for waterfront dining in Chicago between the various Chicago River branches and Lake Michigan, whether you're searching for upscale seafood restaurants, laid-back burger joints, or even a brewery on the river where you bring your own food.
Confused about where to begin? You can choose from fancy spots along the Chicago Riverwalk or choose a spot with a drink close to one of the city's best beaches for lunch under the sun. If you want to eat indoors, there are even heated and covered alternatives for riverfront dining all year long. The best waterfront eating establishments in Chicago provide stunning views along with top-notch meals.
Pizzeria Portofino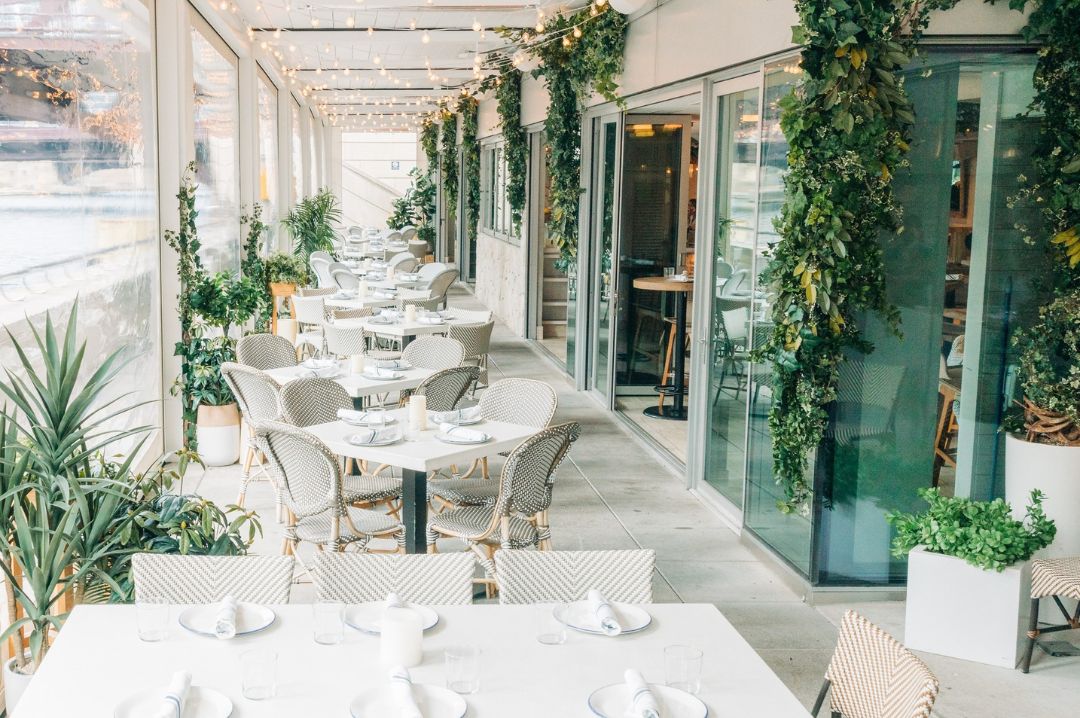 The casual, sun-drenched Pizzeria Portofino restaurant is located on the Chicago Riverfront. You can enjoy hand-stretched pizzas, Italian Riviera-inspired wines, a large patio, and breezy decor.
Start with Italian-inspired appetizers like fried zucchini flowers, spicy tuna bruschetta, and Parmesan fries. There are nine different types of pizza on the menu, all made from stone-ground Midwestern grains. You will get flavors like charred pepperoni, Margherita, and vongole bianco, which have small neck clams, roasted garlic, Parmesan, and Calabrian oregano on top. You can enjoy these delicacies with some cocktails or beer while watching the beautiful sunset.
Address:
317 N Clark St
Chicago
60654
RPM Seafood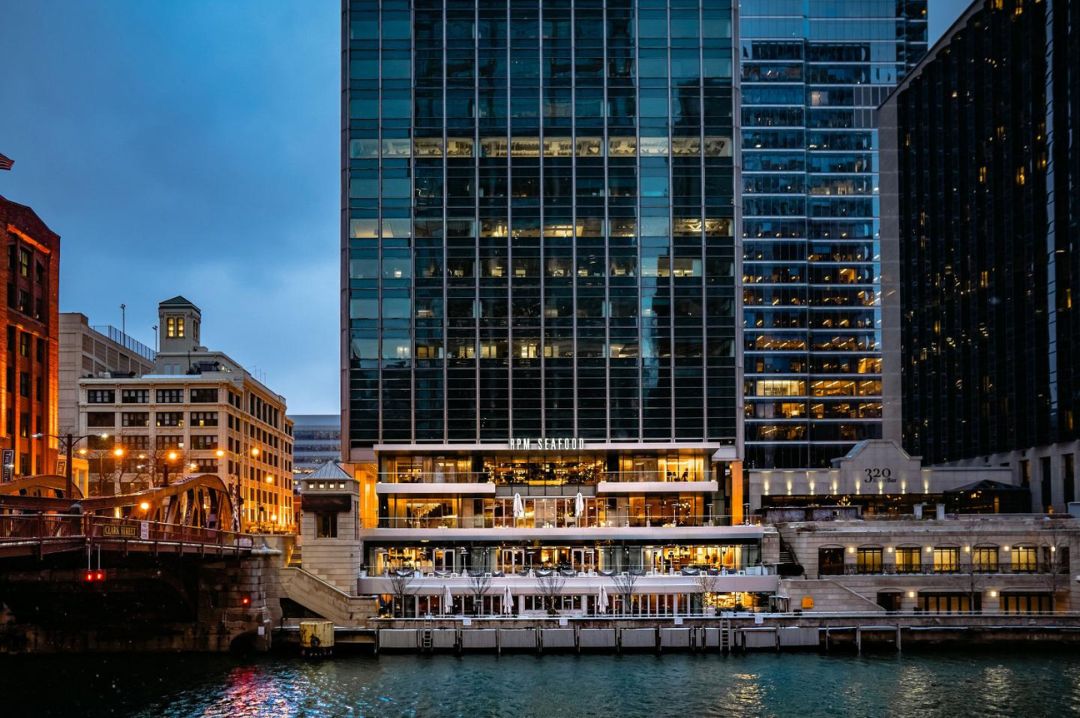 RPM Seafood, a trendy double-decker seafood restaurant that was launched as one of the most recent concepts in the RPM restaurant family, is located just above Pizzeria Portofino. Indulge in seafood towers and oyster platters while seeing the river from the restaurant's magnificent terraces.
The newest restaurant in the RPM chain offers floor-to-ceiling windows, a patio, and views of the Chicago River as you eat bone-in swordfish ribeye or charcoal-grilled black bass. A seafood tower with prawns, Maine lobster, Alaskan king crab legs, and East and West Coast oysters is a spectacular way to start your meal. However, save room for the banana cream Napoleon, which is served with sliced bananas dusted with warm caramel. Although the drink menu places a strong emphasis on tequila and mezcal cocktails, it also has plenty of sparkling wine available by the glass for special occasions.
Address:
317 N Clark St
Chicago
60654
Chicago Cut Steakhouse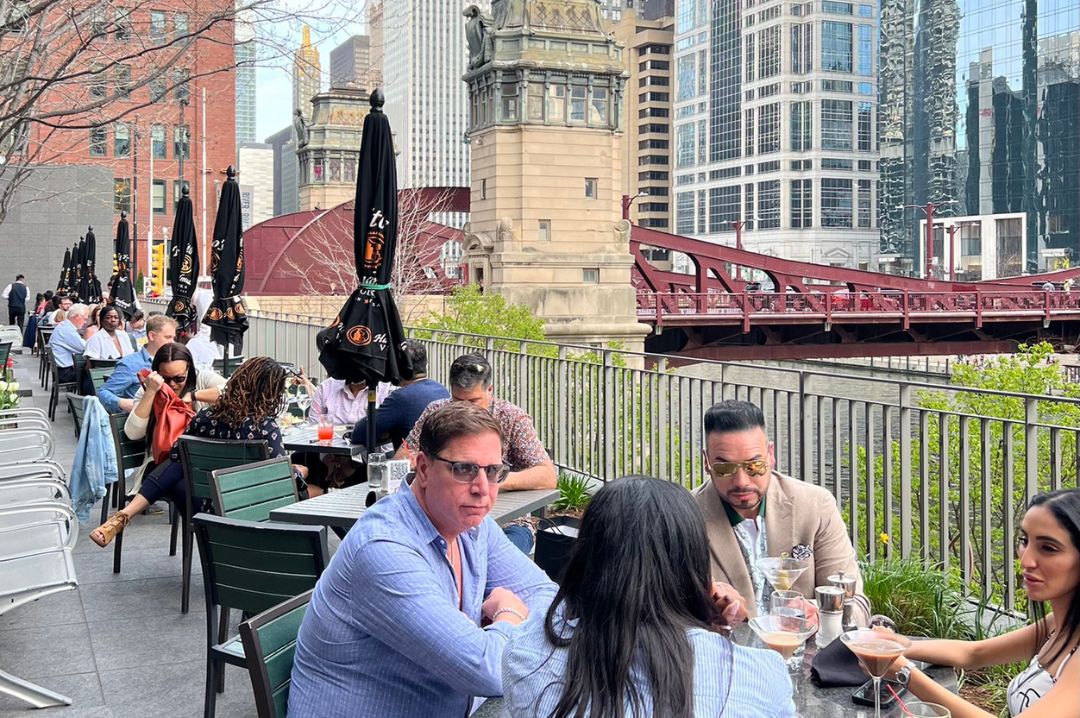 Chicago Cut Steakhouse, a fine-dining American steakhouse owned by seasoned restaurateurs David Flom and Mathew Moore, is situated right on the riverwalk in River North. They serve the best aged USDA beef and have a dry-aging room on site. This place is fantastic for a private party because they have one of the best wine lists in the city.
You can choose a steak from their traditional steakhouse menu that is cooked and prepared to your preferences. You can also have their most popular bone-in ribeye grilled medium-rare with lobster mac and cheese and bleu cheese fondue.
Address:
300 N LaSalle St
Chicago
60654
River Roast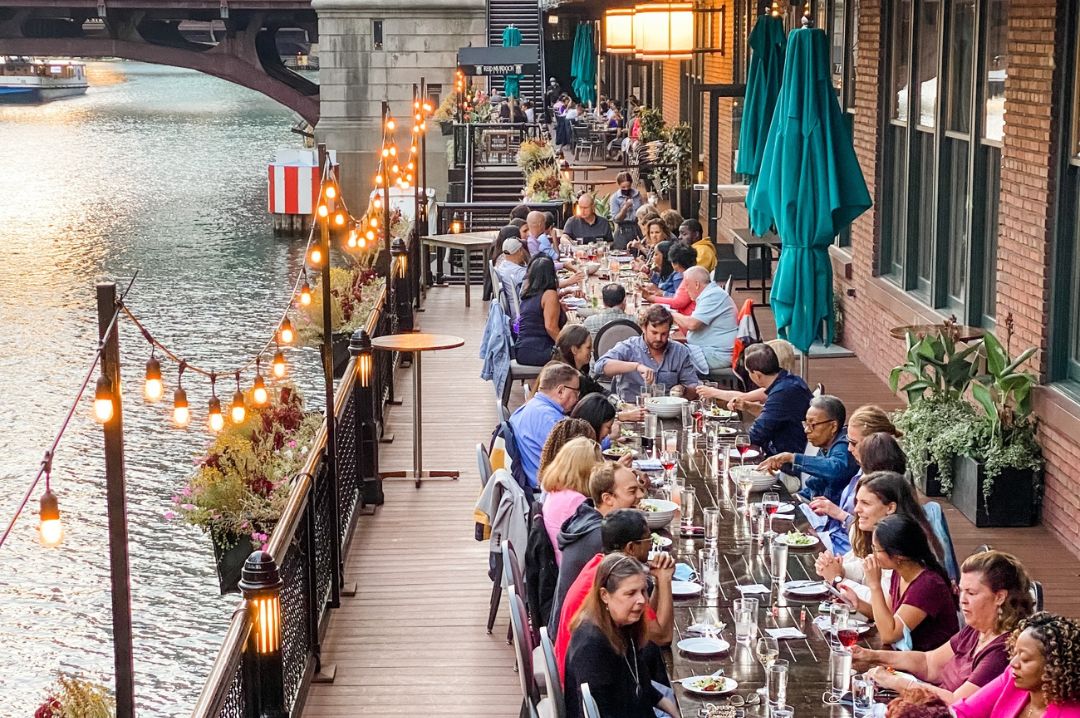 The vibrant social house and gathering spot, River Roast is located on the famous Chicago River with breathtaking views of downtown. This Tony Mantuano restaurant focuses on the riverside and delicious roasted meat.
This riverbank American restaurant offers a variety of roasted meat and vegetable options on its menu, including delicata squash, whole fish, and hog shank, all of which are cut at the table. Make a reservation and enjoy your meal or brunch on the beautiful terrace. They also have an extensive drinks menu of cocktails, beer, wine, and even summer spritz that you can enjoy with your food.
Address:
315 N LaSalle St
Chicago
City Winery Chicago Riverwalk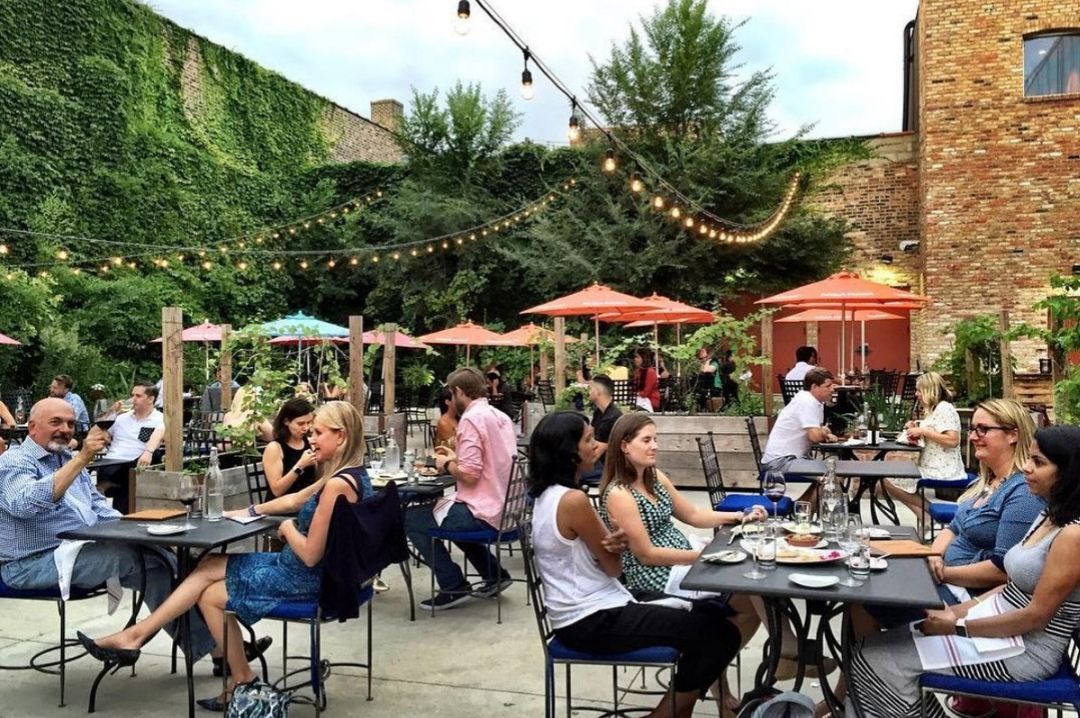 The Riverwalk Wine Garden by City Winery Chicago welcomes you to Indulge Your Senses in the center of Chicago. It is tucked away between Dearborn Street and State Street along the Chicago Riverwalk. Enjoy their dinning menu, which includes seasonal cocktails, local craft brews, and of course wine from their West Loop location, City Winery.
You can enjoy their locally produced wines through an amazing tap system by the glass or growler. Sit at the patio or the Wine Garden walk-up bar you can admire the scenic beauty of the Chicago River, the city skyline, and Midwest sunsets while sipping your drink.
Address:
11 W Riverwalk S
Chicago
60616
Beatnick on the River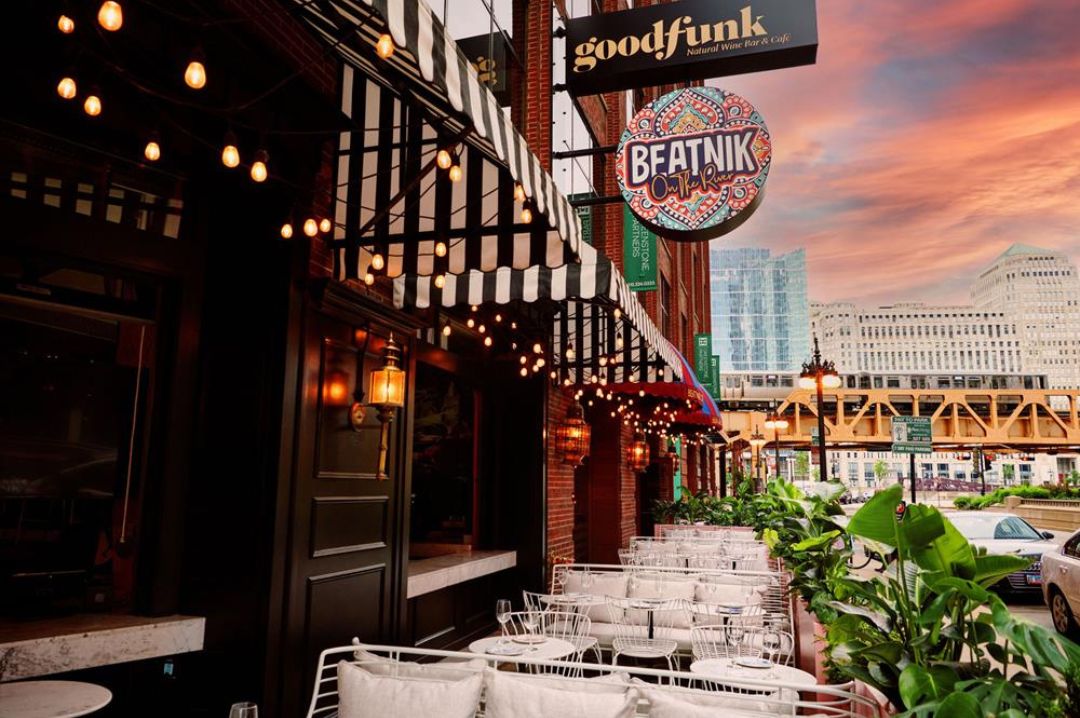 Beatnik On the River is a globally-inspired bistro modeled after the beatnik generation's elegance and cultural artisanry of Morocco, Italy, and France. It is arguably the most beautiful and free-spirited culinary destination in Chicago.
Beatnik on the River, just a few streets from City Hall and with a view of the Chicago River, will be an unforgettable event that will transport visitors through time and space. You will get delectable dish from every region of the world and a cocktail to accompany it on their impressive menu. You can have the patatas bravas with caviar during brunch. If you want to organize a private meal with friends, definitely consider this place.
Address:
180 N. Upper Wacker Drive
Chicago, IL, 60606
Metropolitan Brewing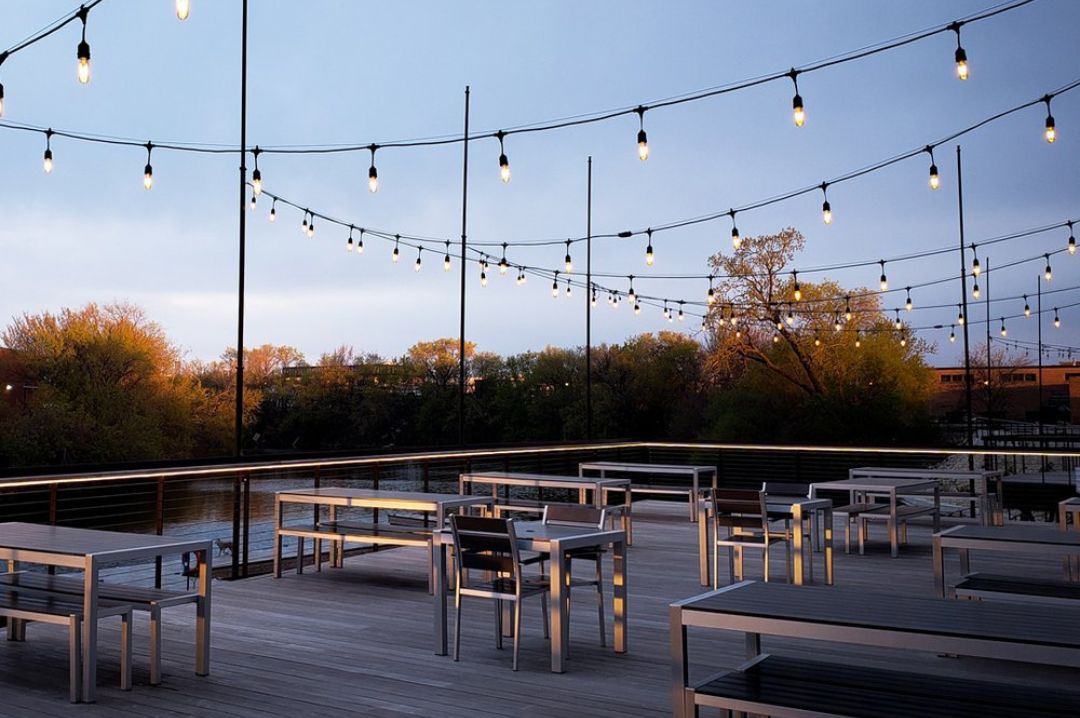 Metropolitan Brewing is a laid-back, family- and pet-friendly brewery and taproom with on-site food vendors, teetering between Lincoln Square and Roscoe Village. They have both indoor and outdoor seating with big ranch-style wooden tables where they held events like Bingo Night and yoga on Sunday morning.
You can enjoy their house-brewed beers, small-batch imports on tap along with gluten-free beers, and even non-alcoholic beverages. They even have a local food truck called Arigato Market where you will get a fusion of Mexican and Japanese dishes to pair with your ice-cold German lager.
Address:
3057 N. Rockwell St.
Chicago, IL, 60618
Written by Aparna Dutta, Beverage Trade Network