The Best Rooftop Bars in Chicago's River North
Get awed by the stunning views of the skyline and soak them in with some delightful drinks at the various rooftop bars in River North.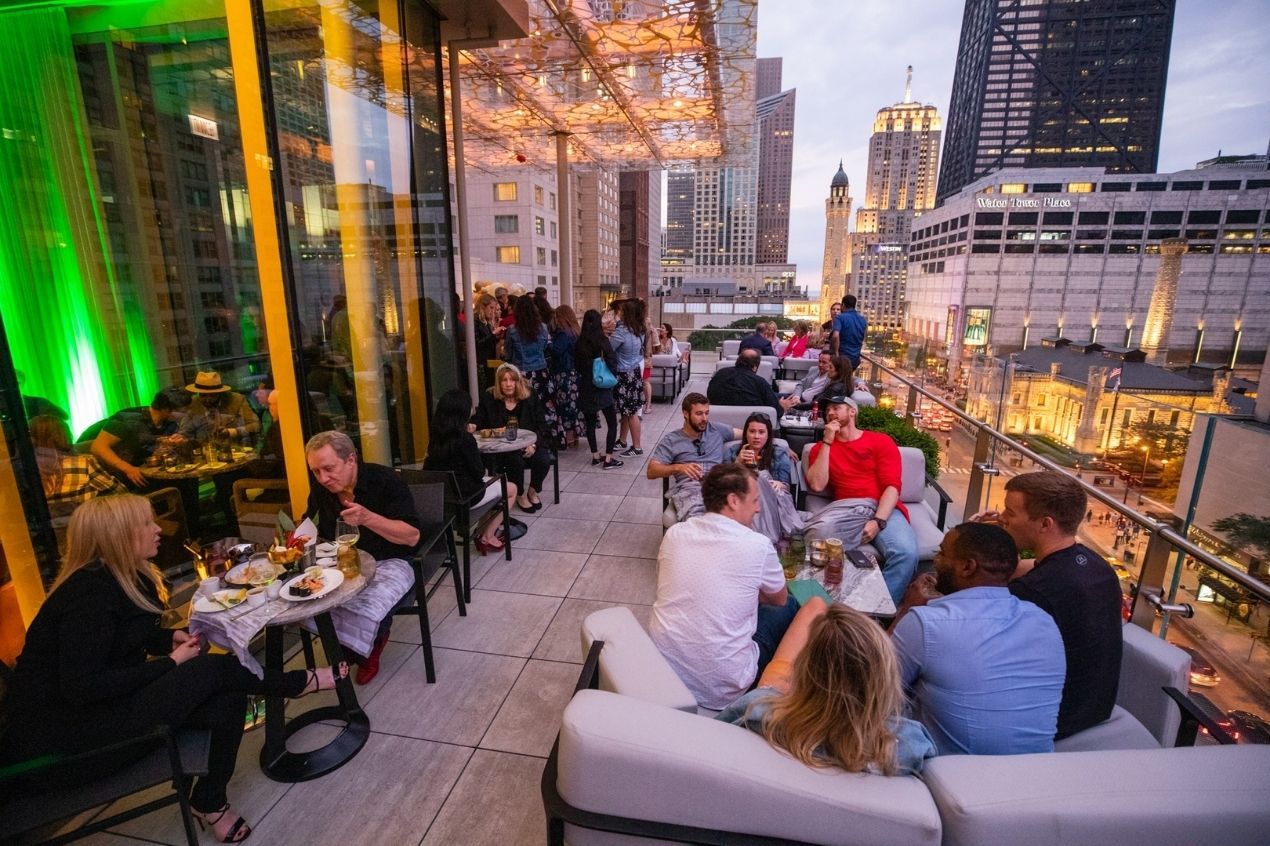 River North is known for quite a few things. From the cracking art galleries and studios that display impeccable art, several amazing bars and nightclubs that make it a prime area for celebrating the night's way into the wee hours, and a range of high rise buildings that offer spectacular views of Chicago's skyline. Ever faced with the question of where to drink in River North, turn to this list of the area's best rooftop bars!
Terrace 16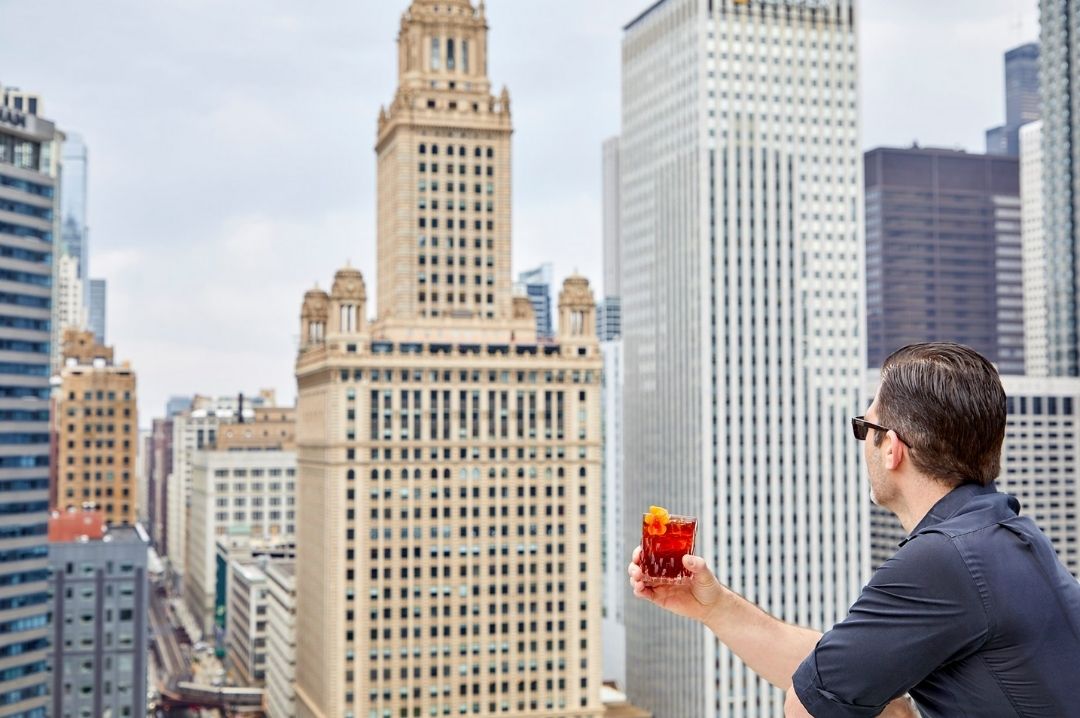 Stunning Views of Chicago from Terrace 16, Source Facebook
Trump Towers' resident 16th floor rooftop bar, Terrace 16 is a convivial bar, featuring an ever-changing menu with great ingredients and genuine hospitality. This rooftop restaurant and bar in River North include a bustling indoor bar, dining room, as well as a comprehensive outdoor seating all punctuated by breathtaking views of Chicago's iconic landmarks. The menu is extensive, whether one talks about the food or the drinks.
The vibrant food menu champions American flavors, allowing the ingredients to shine throughout all the dishes. The culinary experts at the bar know their way around dishes and can take care of any and all dietary needs. On the drinks side, there's an extensive craft cocktails menu paired with a thoughtful wine list that enhances the entire experience at Terrace 16. With the inviting outdoor patio, the detailed menu and the scenic views of Chicago's prized possessions, Lake Michigan and the Chicago River, Terrace 16 has captivated thousands of guests.
Location- 401 North Wabash Avenue, Chicago, IL 60611
Z Bar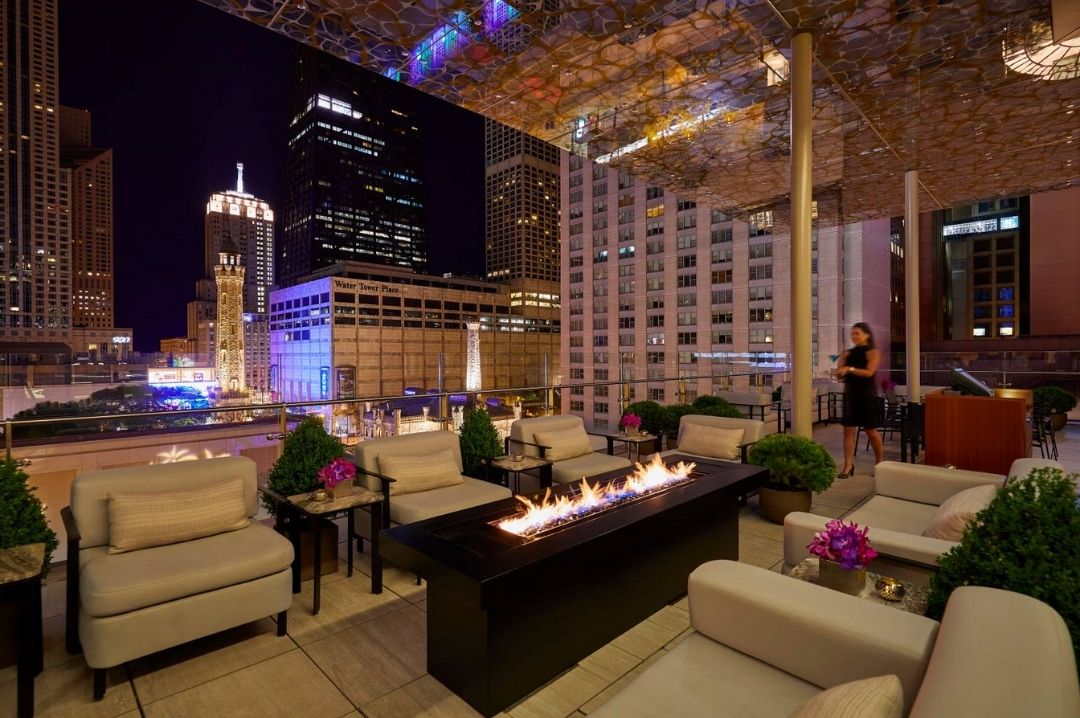 Drink under the bright lights at Z Bar, Source Facebook
Chicago crafted, globally inspired, Z Bar, set above Chicago's iconic Michigan Avenue is named after Maria Zec, The Peninsula Hotel's first female General Manager. Zec has a brilliant knack for creating memorable experiences for her hotel guests and patrons. Under her guidance, the team of chefs, mixologists, and specialists have made Z Bar a popular Chicago rooftop destination.
The menu at Z Bar is more than a handful. Every time you think you have found your drink, there's always something else that generates intrigue in your mind, possibly confusing you about what to drink. The Manhattan Royale, Disco Fever, Peach Ring Bling Bling will capture your attention much like Z Bar's interiors and decor. Easily a part of the best rooftop bars in Chicago.
Location- 108 East Superior Street, Chicago, IL 60611
IO Godfrey Rooftop Lounge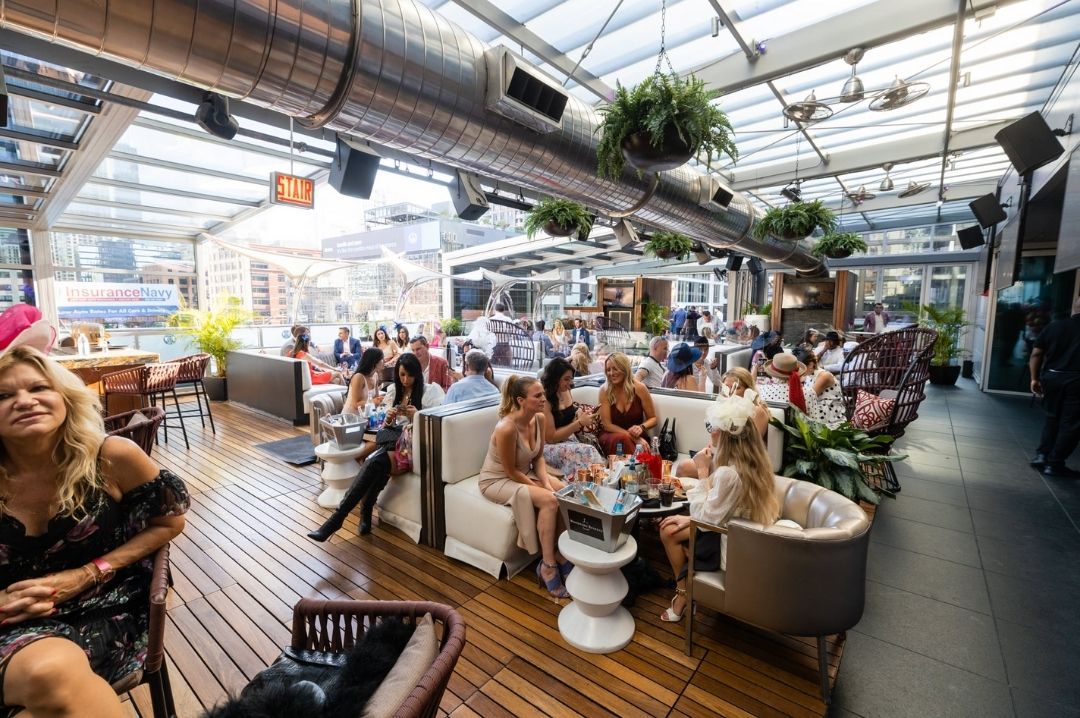 The Popularity is Through the Roof, Source Facebook
Just a few blocks away from the Magnificent Mile, stands this lovely Chicago rooftop avenue. The IO Godfrey Rooftop Lounge has a host of standout attractions that make it a loved Chicago rooftop bar. It is the only year-round rooftop lounge that offers a state of the art retractable roof. There are also some really cool rooftop igloos that are stationed during the winters at IO Godfrey Rooftop Lounge.
The other attraction is their awesome menu and the happy hours! Running from 2 to 5 pm from Monday to Friday, happy hours at IO Godfrey Rooftop Lounge consists of food specials like house-made hummus, blistered shishito peppers and wagyu beef sliders. Cocktail specials like trapiche malbec, Ketel one cocktails and more are available to sip.
Location- 127 West Huron and Lasalle, Chicago, IL 60654
Upstairs at The Gwen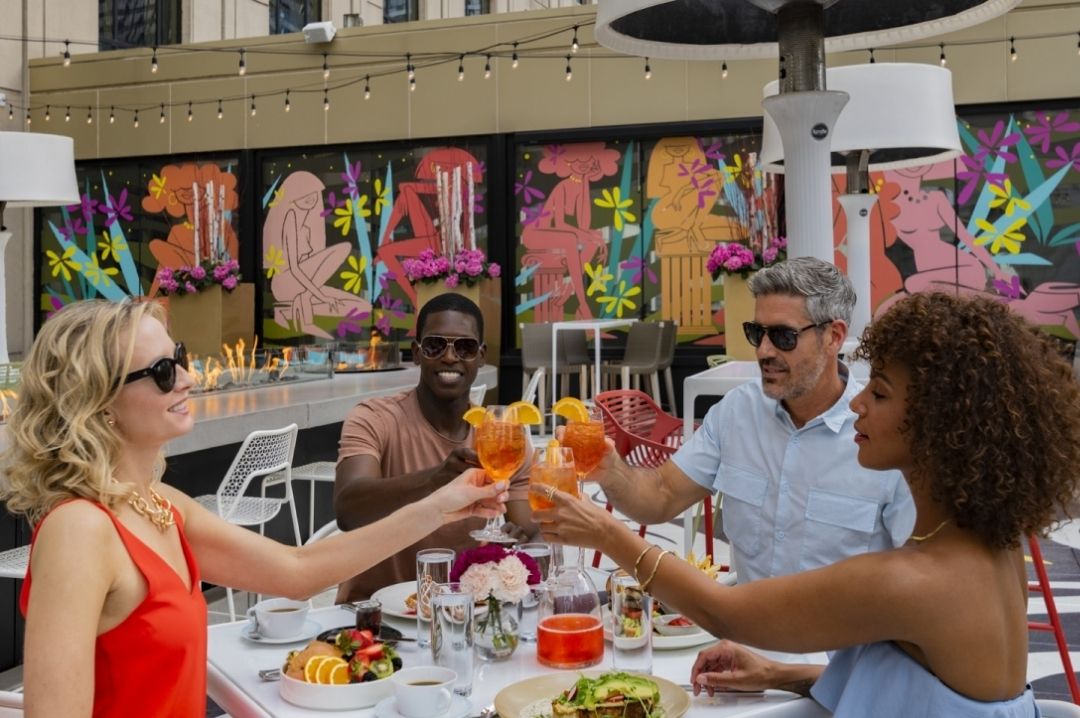 Sip on the Drinks and Gorge on the Food, Source Website
The art-deco inspired rooftop retreat is another gem on the best rooftop bars in Chicago list. The twinkle-lit atmosphere is in perfect sync with the beautiful mixology menu, sunrise to sundown dining menu and the seemingly endless views of the city's skyline. Upstairs at the Gwen is perfect for sunny summer evenings and cozy winter nights.
During the summers, sip on slushie concoctions and during the colder evenings, warm drinks and fire pits make the perfect combination to sit down and celebrate little moments and make new memories. Indulge in small dishes like grilled wings, Spanish octopus and cocktails like Gwen's Classics like Creole Maple Old Fashioned, Cadillac Margarita, Sweet Nothings and more.
Location- 521 North Rush Street, Chicago, IL 60611
Joy District Chicago
Joy District Chicago, Source Facebook
Another iconic River North rooftop bar, Joy District Chicago is another prime hotspot of the Chicago rooftop bar list. Bringing in a charming experience every day of the year, Joy District Chicago with the impeccable views of the Chicago skyline on offer, its comfortable lounge seating and a very Instagrammable atmosphere plays its part in making River North a proper place to throw down in Chicago.
The rooftop menu consists of pizzas, cheeseburger sliders, fried chicken sliders and other similar dishes which go well with the bar's bottle collection. The bar serves an array of beautiful brands from vodka, tequila, whiskey, gin, rum, scotch, cognacs and more. The menu is completed by a house wine collection and bottled and canned beers like the Miller Light, Modello, Corona and more.
Location- 112 West Hubbard Street, Chicago, IL 60654
Header Image- Z Bar, Source Facebook