Chicago's dazzling theme bars
Brace yourself for a non-stop buzz as the fun never stops at these themed bars in Chicago.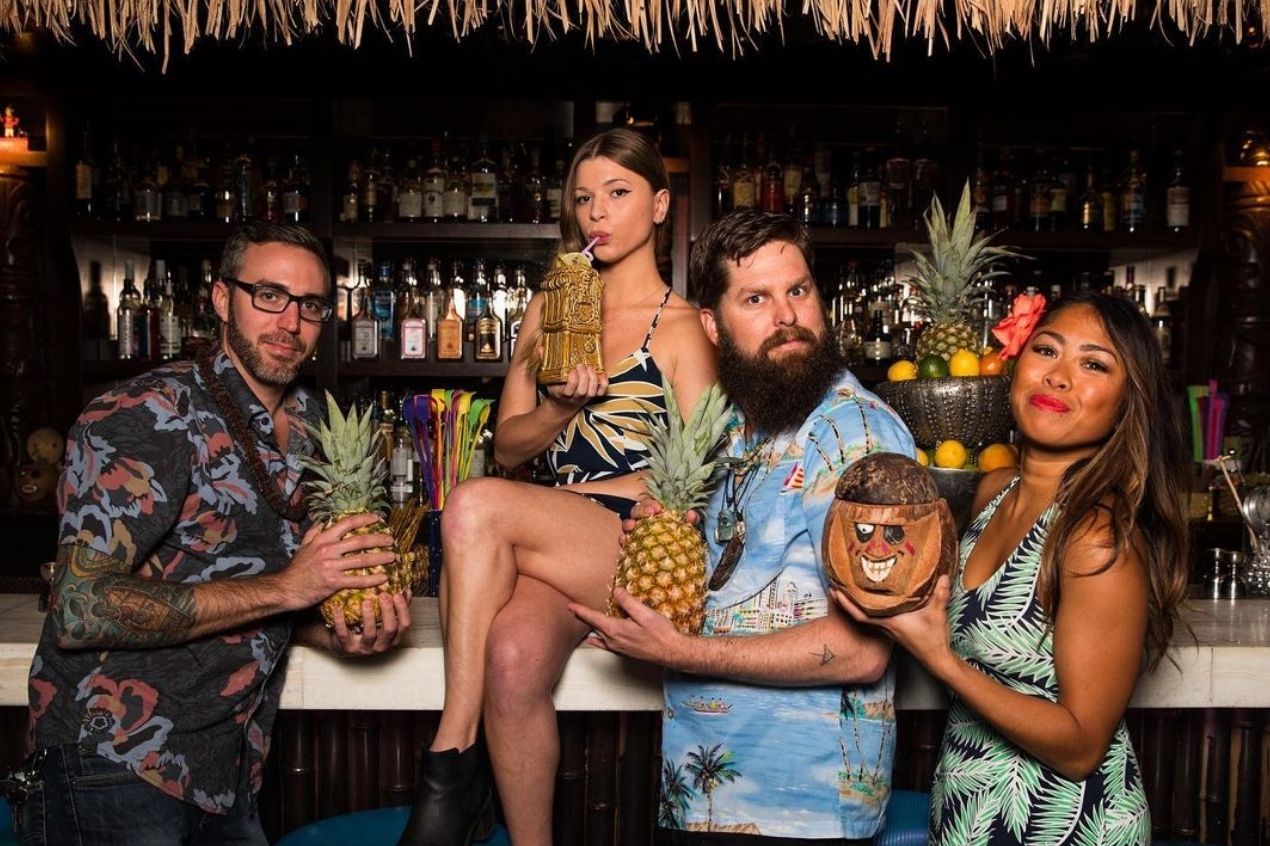 While Chicago boasts of an extensive range of drinking spots, it is also home to quite a few bars that run on a set theme. Dive into action packed bars with arcade games, karaoke nights, electric parties, and slurp on delicious cocktails while you're at it.
Three Dots and a Dash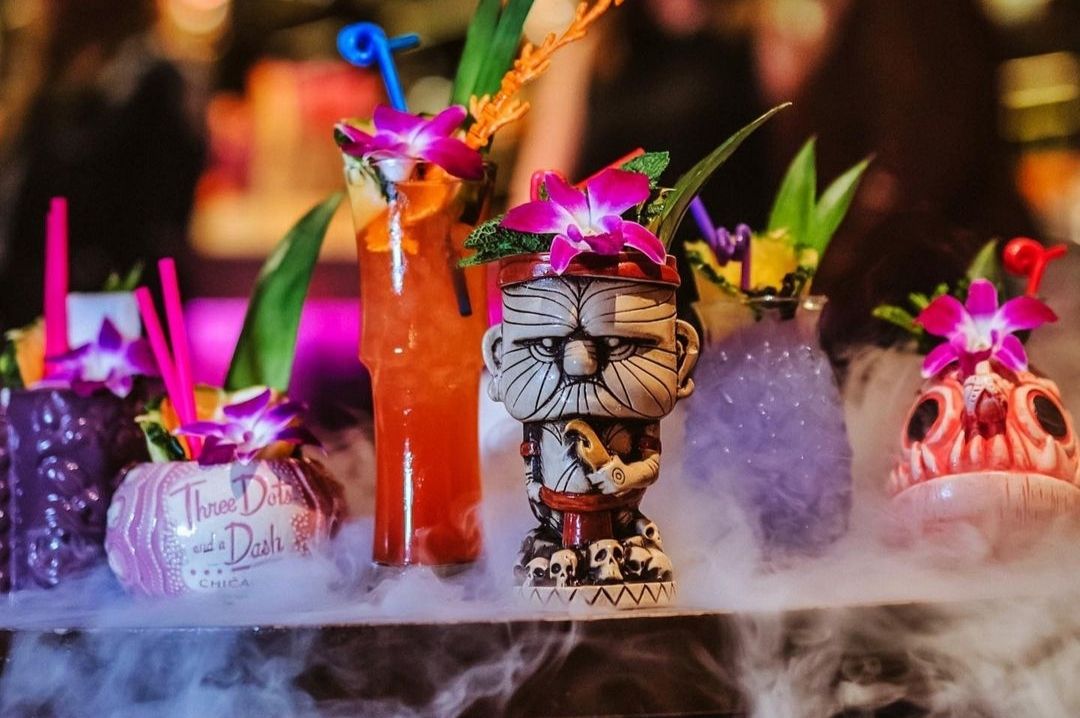 Tiki cocktails by Three Dots and a Dash, Source: Instagram
This premier tropical bar in Chicago has mastered the art of making sumptuous tiki cocktails. The Three Dots and a Dash sources exotic fruits, spices, and spirits to make sure the quality of cocktails is not compromised, while, at the same time taking the Hawaiian theme seriously with bartenders dressed in floral print shirts and garlands, serving cocktails in tiki glasses. Order from a list of cocktails like the Down Periscope made with Blanco tequila, mango brandy, pineapple, lime, almond orgeat, and guava for a tangy tropical punch. Otherwise, you can choose from one of the group drinks such as the Zombie made with aged jamaican and St. Lucia rum, overproof rum, lime, grapefruit, cinnamon, and falernum, serving a group of 4-6.
During the pandemic, the bar has been selling to-go cocktail kits and bottled cocktails consisting of classics such as margarita, negroni, daiquiri, martini, and more.
Timings- Mon- Sun (4 pm- 12 am)
Location- 435 N Clark St, Chicago, IL 60654.
Big Mini Putt Club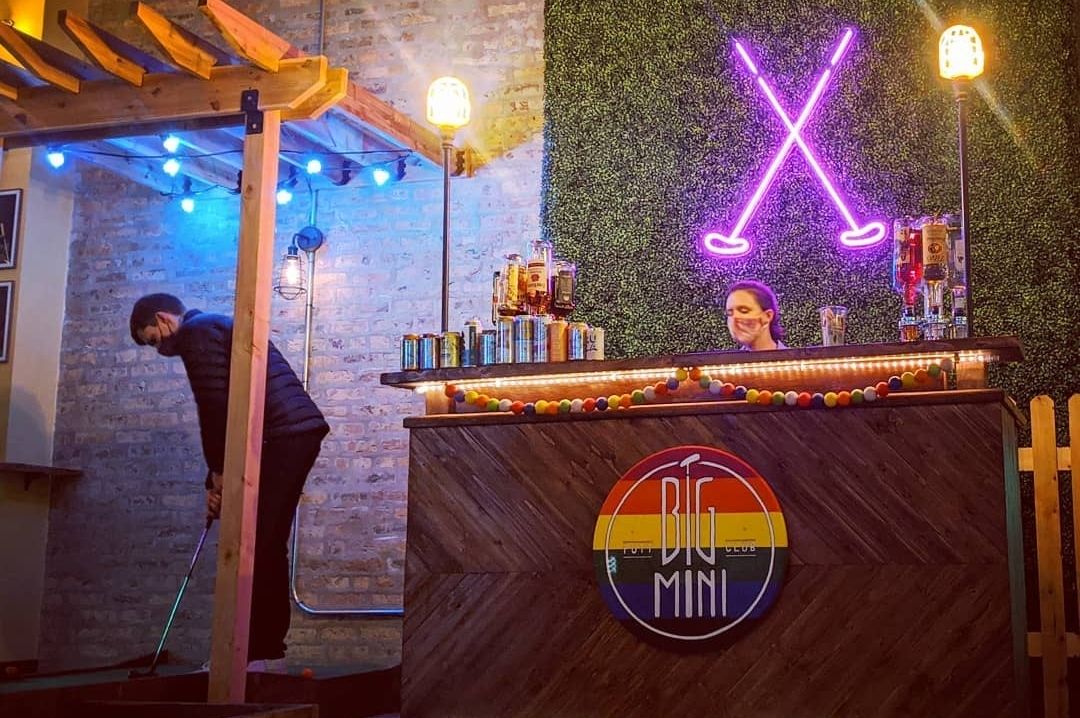 Golf course by the bar, Source: Instagram
Bringing together mini golf, drinks, and fun, Big Mini Putt Club is a paradise for golfers. It has a 9 hole indoor course that is big enough to accommodate parties, and a full bar which serves tasty cocktails like Straw-Berdie Margarita made with Arette tequila, triple sec, strawberry puree, lime, and sour mix. We also like the Smoked Paloma cocktail made with Dos Hombres mezcal, lime, grapefruit, ginger beer, and charred rosemary. The bar also sports a list of beers and ciders on the tap, and wines to choose if you are not a big fan of cocktails.
Timings- Mon- Thu (3.30 pm- 12 am)
Friday (1.30 pm- 1 am)
Saturday (11 am- 1 am)
Sunday (11 am- 11 pm)
Location- 1302 N Milwaukee Ave Chicago, IL 60622.
Replay
Drinks and games at Replay, Source: Instagram
Uniting the video gaming community with 26 classic arcade game choices such as Tetris, Pac-man, Mario Bros, Tron, and more, Replay is always full on the tank when it comes to entertainment. An overflowing beer menu consists of pale ales, lagers, pilsners, IPA's, blondes, porters, ciders, and more. Canned wine and hard seltzer options are also on the list, with Jameson, Bombay Sapphire, Bacardi, and other classic favorites rounding up the spirits menu. The games themed bar has fighting, shooting, and sports arcades alongside pinball machines and air hockey tables so the fun never stops. And, all the games are free to play!
Timings- Mon- Thu (5 pm- 2 am)
Friday (3 pm- 2 am)
Saturday (12 pm- 3 am)
Sunday (12 pm- 2 am)
Location- 2833 N Sheffield Ave, Chicago, IL 60657.
Neon Wilderness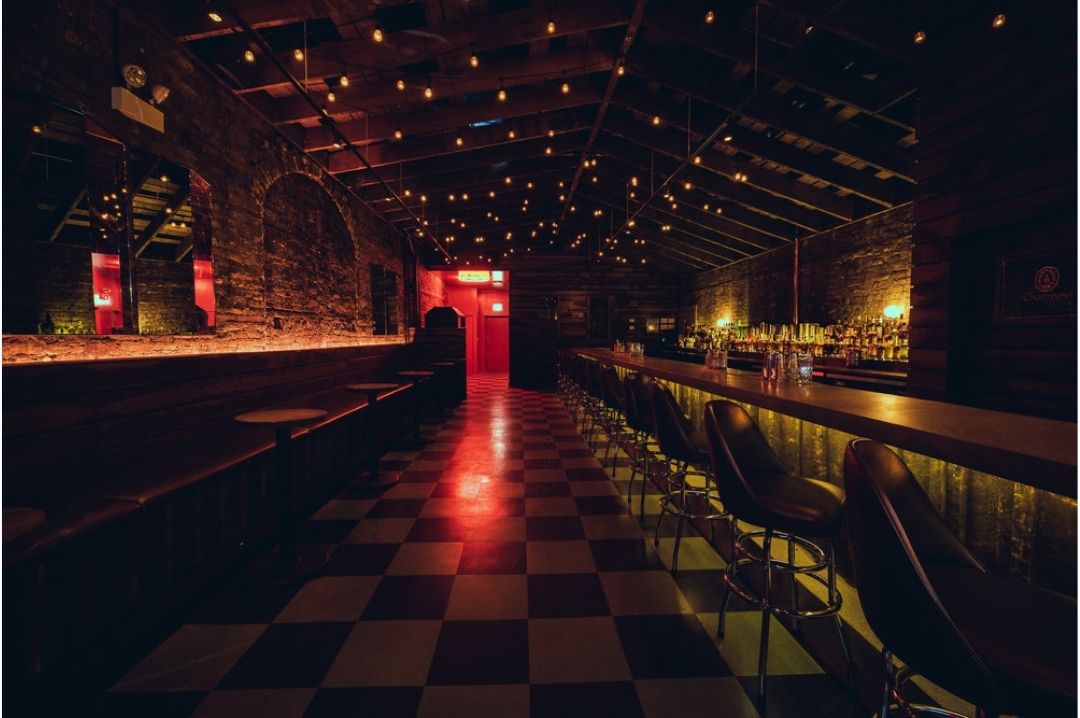 Neon lighted interiors, Source: Website
Themed with an immersive neon light setup, the Neon Wilderness will tickle you in all the right spots. Simple house cocktails such as The Hard Sell made with Beefeater gin, Marlot St. Germain, and lemon will spice your evening. If you're a hophead, go for canned beer options like Hamm's and Revolution Cross of Gold.
Timings- Sun- Mon (5 pm- 1 am)
Tuesday (Closed)
Wed- Thu (5 pm- 1 am)
Friday (5 pm- 1.30 am)
Saturday (5 pm- 2.30 am)
Location- 1270 N Milwaukee Ave, Chicago, IL 60622.
Happy Camper Pizzeria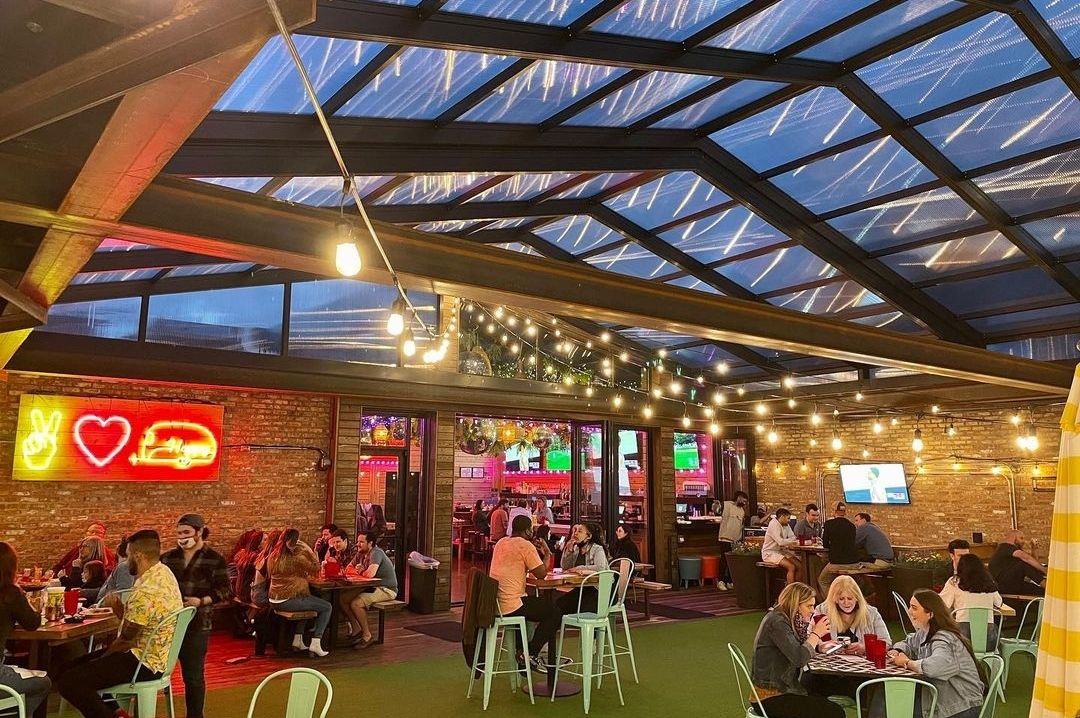 Indoor dining at the Happy Camper Pizzeria, Wrigleyville, Source: Instagram
Like the name suggests, Happy Camper Pizzeria has dining rooms filled with trailers to dip into a camping experience. Call for a Pink Flamingo cocktail made with tequila, pomegranate, lime, soda, and jalapeño to accompany an appetizing pizza. Beers on the tap like Bud Light, Miller Light, and Guinness go well with mozzarella cheese sticks and jalapeño homies for all the turophiles out there.
The bar's divergent seating arrangement brings out different shades of camping from colored metal chairs, wooden boat compartments, cushioned stools, and more. Go experience the joy of trailer camping with your friends in the city.
Timings- Mon- Wed (10.30 am- 12 am)
Thursday (10.30 am- 1 am)
Friday (10.30 am- 2 am)
Saturday (10 am- 3 am)
Sunday (10 am- 11 pm)
Location- 1209 N Wells St, Chicago, IL 60610.
Electric Hotel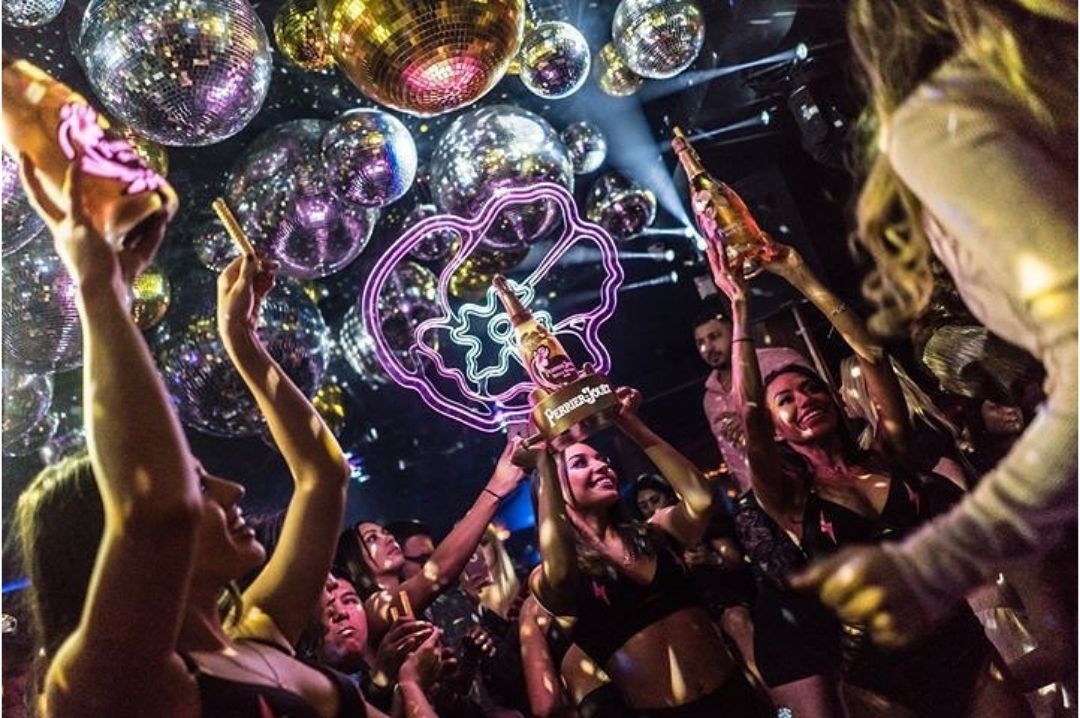 Electric themed party at the Electric Hotel, Source: Instagram
Are you searching for an underground electric party? The Electric Hotel has LED lights which collide with EDM music in harmony, delivering an unforgettable experience. The bar extends its bottle range with favorites like Absolut, Belverde, Grey Goose, Jack Daniels, Jameson, Don Julio Blanco, Bombay Sapphire, Hendrick's, Captain Morgan, Remy Martin, and more. Additionally, you can top up your shots with mixers or go for bottled beers like Peroni, Corona, Stella Artois, Miller, Heiniken, Coors, and Amstel.
Timings- Sun- Tue (Closed)
Wednesday (9 pm- 4 am)
Thursday (11.30 pm- 4 am)
Friday (10 pm- 4 am)
Saturday (10 pm- 5 am)
Location- 222 W Ontario St, Chicago, IL 60654.
Charlie's Chicago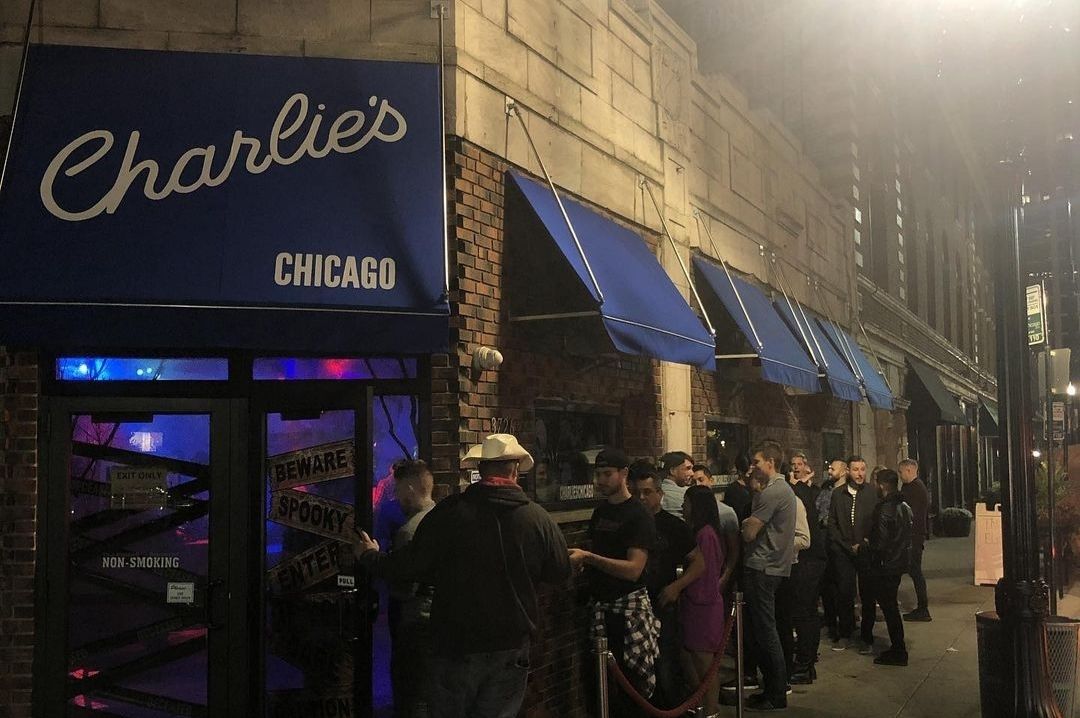 People queued to enter Charlie's Chicago, Source: Instagram
A boystown bar, inviting homebodies at late hours, Charlie's Chicago hosts classical/western music and karaoke nights, late night DJ parties, dancing lessons, and a game of darts. You will find cheap cocktails and shots at the bar such as $2 tecate, $3 fireball, $2 well cocktails, $4 cazadores tequila, $3 apple pie moonshine shots, $4 bacardi bombs, and more. Despite being a karaoke themed bar, Charlie's Chicago hosts weekly bingo nights and pop up dance shows.
Timings- Mon- Sun (3 pm- 4 am)
Location- 3726 North Broadway, Chicago, IL 60613.
Header image- Three Dots and a Dash, Source: Instagram