Channel your inner rockstar at Chicago's karaoke bars
From private rooms to taverns with open mics, sing your heart out at these karaoke bars in Chicago.
Nothing makes a night out better than karaoke and some drinks. Lucky for us, Chicago boasts some great bars with kickass karaoke options and delectable drinks. Choose a spot from some of our favorites and make your next karaoke night worth remembering.
Louie's Pub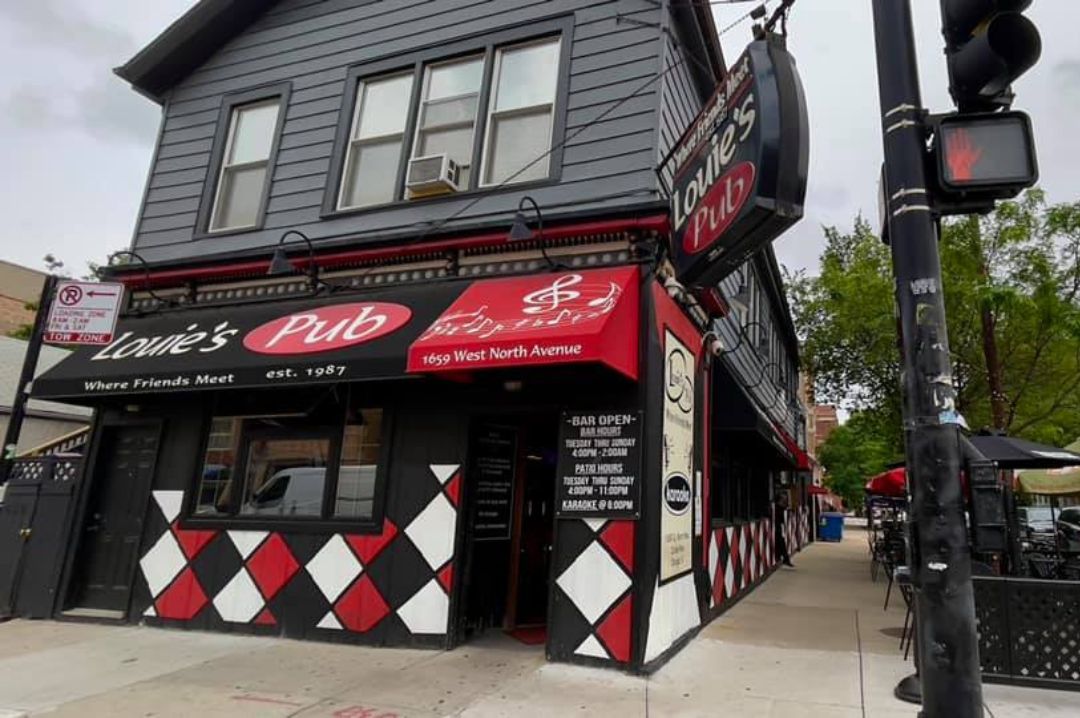 Louie's Pub, source: Facebook
Established in 1987 by Gene and Connie Gloria, Louie's Pub has been serving and providing entertainment to Chicagoans for over 30 years. Gene and Connie Gloris named this pub after their son.
Karaoke and drinks are the highlights of the pub. They have digital karaoke and an extensive list of songs that you can sing and enjoy. The digital karaoke will help you download your favorite song right on the spot and if you don't feel like singing solo, then Louie's professional karaoke jockey will back you up with vocals. The bar serves classic cocktails like Manhattan, Margarita, Martini, and many more. But you should be interested in their beer list, it is endless. From domestic and imported to draft and bottled beers, they have all, you just have to name it. They also have a selection of hard seltzers, wines, and ciders.
Where - 1659 W North Ave, Chicago, IL 60622
Hours - Tue-Fri (5 pm - 2 am)
Saturday (4 pm - 3 am)
Sunday (4 pm - 2 am)
Lincoln Karaoke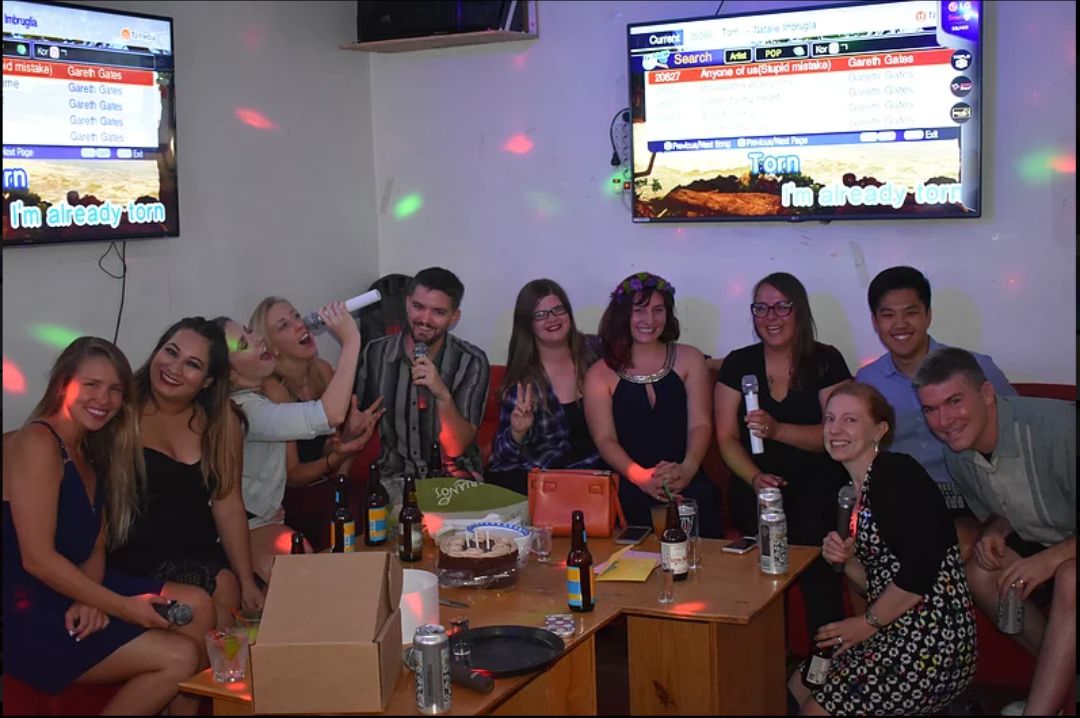 Patrons enjoying themselves in a private room at Lincoln Karaoke, source: Website
If you come across the Northside of Lincoln Square, find the Lincoln Karaoke just minutes away from downtown. The speakeasy bar and karaoke lounge offer Chicagoans and tourists the perfect place to party till late. Whether you are going with a small group of friends, hosting a corporate event, or throwing a large party, Lincoln Karaoke can accommodate all.
Meet the owner, Steve Han, but be careful his smile is contagious. At the lounge, you can find private karaoke rooms, along with an extensive list of cocktails, a great selection of beers, and VIP bottle service. Each of their private rooms is stacked with mics, flat-screen TVs, and sofas for you to get comfortable. The kitchen provides a full bar snack menu like chicken wings, pizzas, and platters to eat. The regular rates of the karaoke room range from $30 to $40 but during their happy hour, you can enjoy the karaoke room just at half price.
Happy hours - Thursday (7 pm - 9 pm)
Where - 5526 N Lincoln Ave, Chicago, IL 60625
Hours - Mon-Fri (7 pm - 2 am)
Saturday (7 pm - 3 am)
Sunday (7 pm - 2 am)
Brando's Speakeasy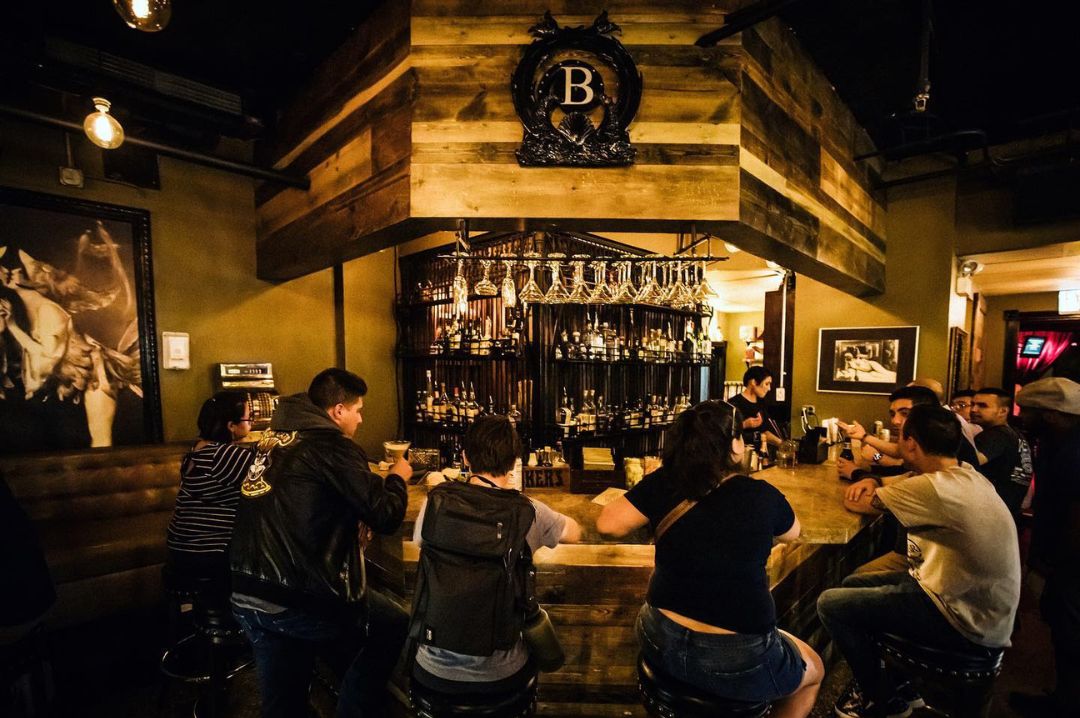 Bar counter at Brando's Speakeasy, source: Facebook
Since 2007 Brando's Speakeasy has been a staple for karaoke and cocktails in Chicagoland. If you are looking for a fun and lighthearted time, then Brando's Speakeasy is just the place for you. Not many people know about its karaoke bar. The karaoke only comes to life when the patrons demand it.
If karaoke isn't your thing, then head over to their cocktail lounge. Try out their house-made cocktails like the 'Tailor Made' created from rye whiskey, cognac, sweet vermouth, benadictine, aromatic bitters, and Peychaud's bitters. Other than their house-made cocktails the bar also offers beers like IPAs, pale ale, wines, and small bites to eat. Come during the happy hour and avail cocktails at just $5.
Happy Hours - Daily (5 pm - 7 pm)
Where - 343 S Dearborn St, Chicago, IL 60604
Hours - Mon-Fri (5 pm - 2 am)
Saturday (5 pm - 3 am)
Sunday (5 pm - 2 am)
No.18 Karaoke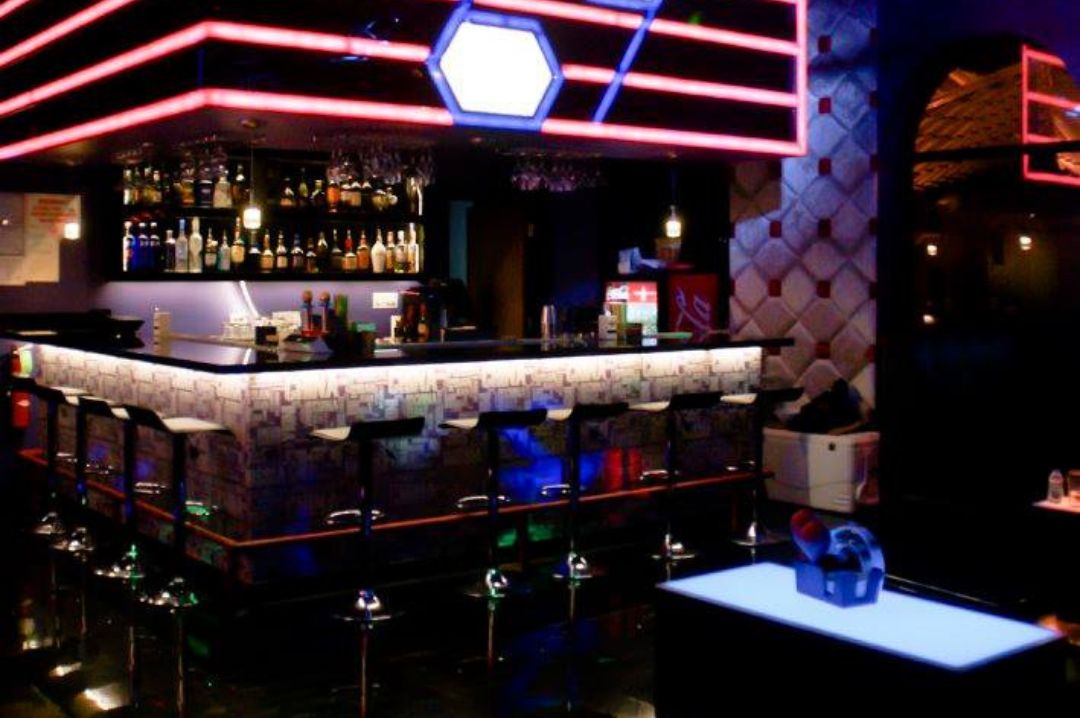 Bar counter at No. 18 Karaoke, source: Facebook
Chinatown's No. 18 Karaoke is one of the best in the neighborhood and has gained popularity amongst patrons. This speakeasy bar and karaoke lounge is the perfect place to host your birthday, bachelorette, and after-work parties. No. 18 Karaoke gives you a feeling that you are partying in 1999 and is famous for its private karaoke rooms, open bar, and a wide range of hit lists of your favorite music.
Besides their private karaoke rooms, you must also explore their extensive drinks list. It includes beers, various types of wine, spirits, sake, soju, and various specialty cocktails. If you are hungry and tired of singing, take a break and check out the food menu. You can get regular bar snacks and hot food like fries, burgers, onion rings, etc. If you are heading with our group, order the No. 18 Fish Bowl. It is a big batch 50oz cocktail including a mix of liquors, sweet-and-sour mix, pineapple juice, and soda. Also before making the visit check out their website for their daily specials.
Where - 2201 S Wentworth Ave #2FL, Chicago, IL 60616
Hours - Mon-Thu (6 pm - 2 am)
Friday (6 pm - 3 am)
Saturday (3 pm - 3 am)
Sunday (3 pm - 2 am)
Trader Todd's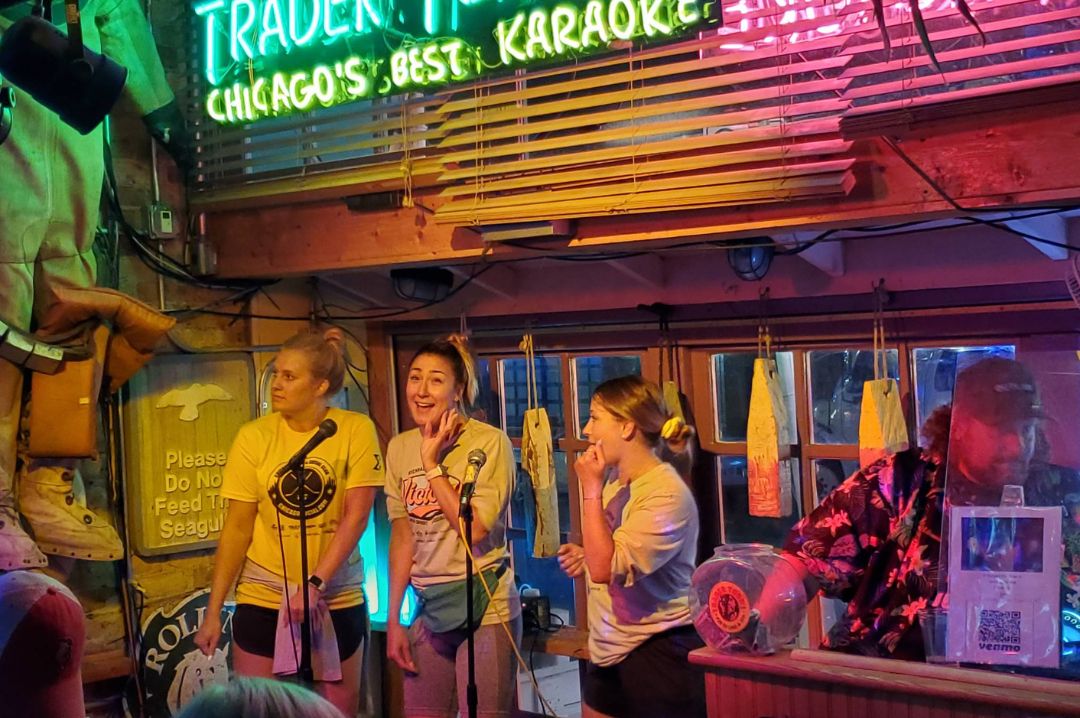 Patrons enjoying karaoke at Trader Todd's, source: Facebook
Located in the heart of Chicago, Trader Todd's is a tropical paradise for those looking to sing their hearts out. This restaurant and karaoke bar only allows fully vaccinated people to sing on stage and offers their guests microphone covers if they desire. Todd's specializes in pizzas and drinks. Especially on Mondays, they offer pizzas and tiki drinks just at half the price from 5 pm to close.
We recommend trying the Chicago Caribbean pizza made with traditional Chicago and Caribbean toppings, house sauce, Italian cheeses, sausage, seasoned mushrooms, and coconut caramelized onions. Their Tiki bar has numerous collections for cocktails and bottled and draft beers from Off Color Brewing, Three Floyds, and many more. Try their 'Todd's Twisted Tea' made from Absolut Citron and Absolut Apeach vodkas, fresh-squeezed sour mix, & a splash of cola.
Where - 3216 N Sheffield Ave, Chicago, IL 60657
Hours - Mon-Thu (5 pm - 2 am) Tuesday - closed
Friday (4 pm - 2 am)
Saturday (11 am - 3 am)
Sunday (11 am - 2 am)
Alice's Lounge
Alice's Lounge, source: Facebook
Established in 1986, Alice's Lounge is somewhat Alice Boron's kingdom and she seems to be a local celebrity. Earlier, Boron had no interest in bartending, but after her husband's death she took over. The place is popular for karaoke and kamikaze. Yes, some of the best in town. There are thousand-plus collections of your favorite songs and a DJ for you to sing and dance to. Karaoke here is held four nights a week from Wednesday to Saturday and it runs till late. With a laid-back vibe, reasonable prices, and fun crowd Alice's Lounge becomes an ideal spot for its customers.
Where - 3556 W Belmont Ave, Chicago, IL 60618
Hours - Mon-Sat (7 pm - 4 am)
Sakura Karaoke Bar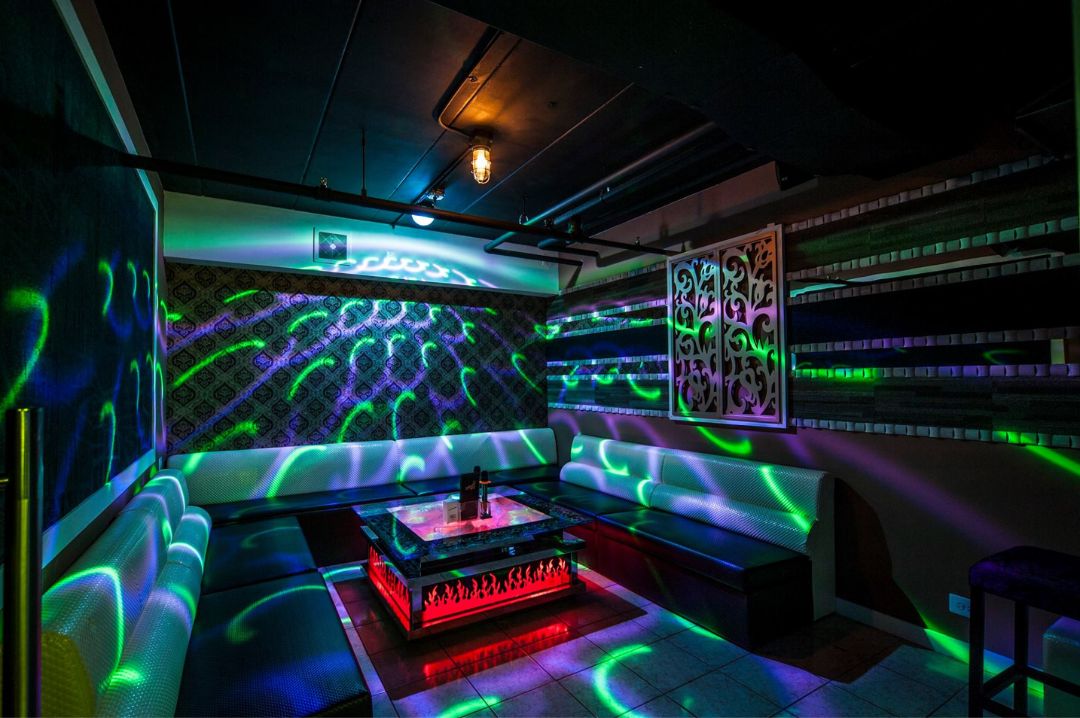 Private karaoke room at Sakura Karaoke Bar, source: Facebook
Sakura is a trendy subterranean karaoke lounge just steps away from the Chinatown red line stop. Recently, they refurbished and expanded their bar with new lights and equipment. The place holds a stage for karaoke, a dance floor with an art LED lighting system, two separate bars with live sports, and eight private VIP suites.
With their full-running bar, they provide over twenty house-crafted martinis and a wide arrange of liquors, enough to satisfy your thirst and the kitchen serves a variety of Western and Asian food. Order from the classic cocktails and some light bites and let your inner Rihanna burst out.
Where - 234 W Cermak Rd, Chicago, IL 60616
Hours - Mon-Fri (6 pm - 2 am)
Saturday (6 pm - 3 am)
Sunday (6 pm - 2 am)
Header image, source: Facebook Sakura Karaoke Bar