Black Whiskey: Now a Bartender's Staple.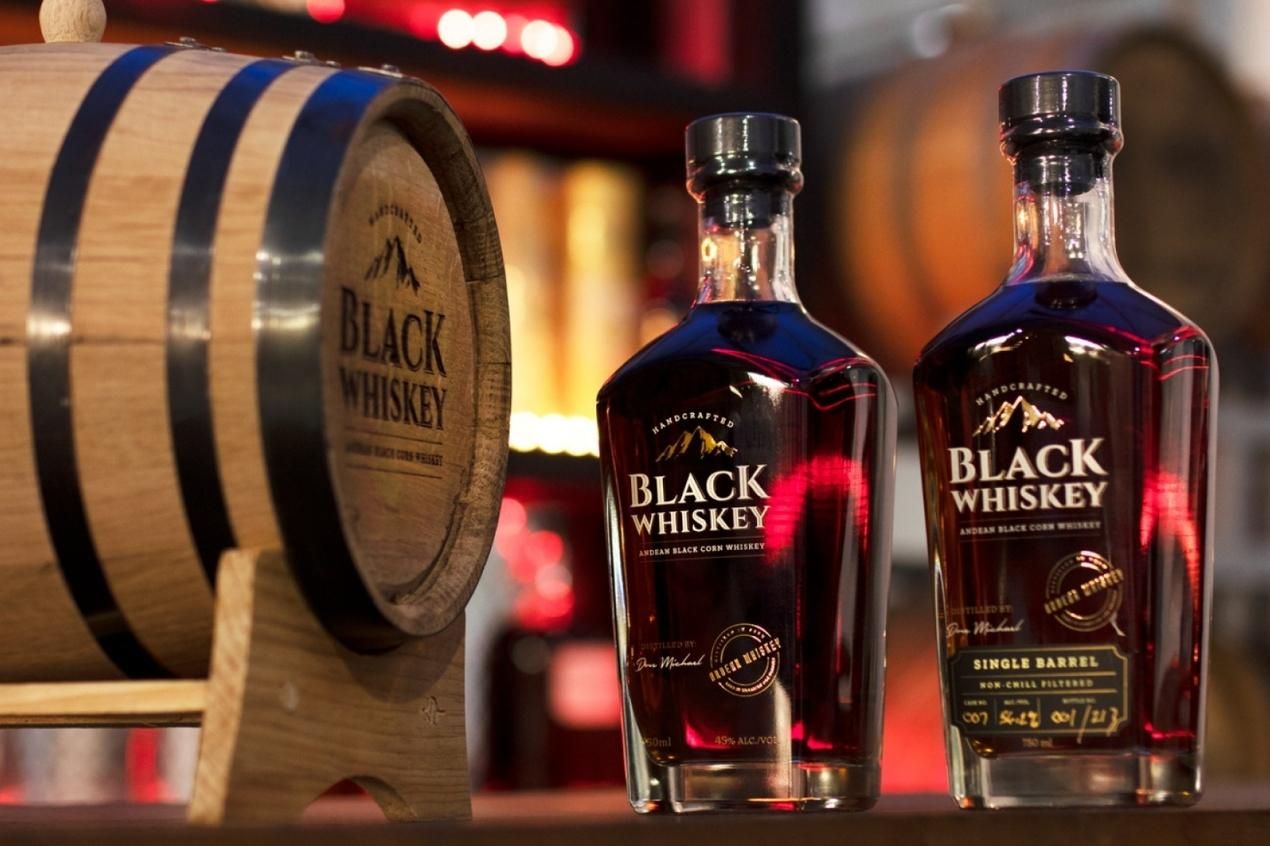 If there's one bottle every liquor cabinet should hold, it's a good bottle of whiskey. Yes, the classics are always a great option to turn to, but Black Whiskey is becoming a staple for many when trying something new.
Hailing from the distillation-obsessed mind of Michael Kuryla (Don Michael Distillery), Black Whiskey is a Peruvian gem even though Black Whiskey hasn't been around in the market for as long as some of the other award-winning whiskeys, it has already picked up accolades like no other.
Kuryla's expression took home a Double Gold medal at the 2021 Bartender Spirits Awards and a Gold medal at the 2021 USA Spirits Ratings, both of them being some of the most highly acclaimed spirits competitions across the globe. In 2022 Black Whiskey continues to win gold after gold. This culminated with the win at the New York World Spirits Competition, where we won Best in Show, Best in Class, and Double Gold. The subsequent articles in Forbes magazine launched us into the limelight.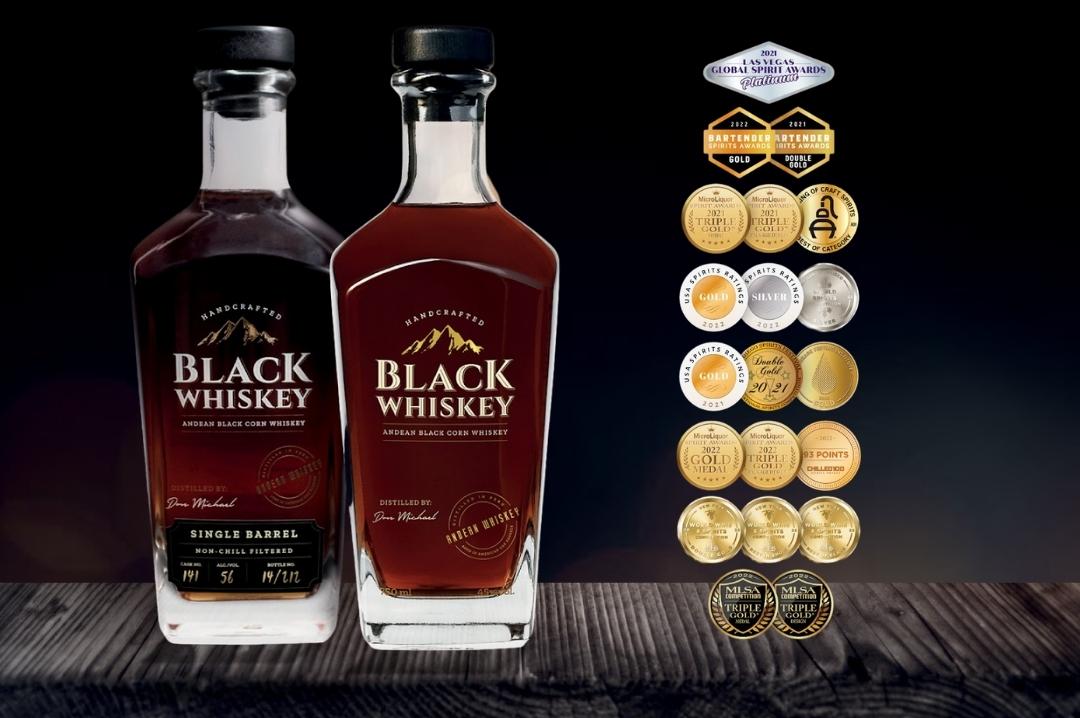 The single barrel Black whiskey is a true limited edition of Don Michael Distillery's world class Black Whiskey. Barrels are hand picked by the master sommelier Daiana Paola Milon Mayer. Each barrel offers a unique expression of its Andean Black Corn Whiskey. Don Michael's Black Whiskey Single Barrel won Best in Show Whiskey at the New York World Wine & Spirits Competition. It was also named Best of Class for Best Other Whiskey.
The judging panel described the whiskey as having:
Waxy and leather notes, accompanied by tropical fruit on the nose. Spicy and sweet on the palate, with tropical fruit notes. Slightly herbal, with spicy cinnamon and a touch of clove on a long, smooth finish.
What makes Black Whiskey stand amongst some of the top winners of 2021 & 2022 is its unique distillation with Andean Black Corn. In fact, Black Whiskey is the only whiskey out there made with the Andean Black Corn, solely found in the Andes mountains.
There's no doubt that Black Whiskey is taking the markets by storm, and Peruvian bartenders tend to think so too.
Black Whiskey has become a favorite amongst Peruvian bartenders, who like mixing it in classic cocktails and adding twists to it. Kuryla works closely with the bartenders at the world-famous restaurant El Mercado by Rafael Osterling, where two of their star bartenders have created some delicious concoctions with award-winning expression.
Just like us, these bartenders have also fallen in love with Black Whiskey.
Ricardo Paredes Sheen, Bartender at Alimentos latinos
"I discovered black Whiskey thanks to Michel Kuryla, who is our client, and he sent us a few samples. We were fascinated with his distillates," says Sheen. "I like to drink black whiskey in classic Manhattan-type cocktails, old fashioned to a boulevardier."
Today, Sheen shares his version of an Old Fashioned made with Black Whiskey.
~ 45 ml Black Whiskey
~ 15 ml Cognac
~ 15 ml lemon juice
~ 22ml green tea syrup
~ 30 ml pear juice
~ 1 dash of chocolate bitters
"What I like about black Whiskey is how innovative it is to make a Whiskey in Peru and that it is made of purple corn that is unique and out of the ordinary, apart from that, it is a super product with a lot of potential," Sheen added.
When asked Sheen, where do you see yourself using Black Whiskey in the near future?
He said, "I have been working with Rafael for almost 20 years, I see myself in the short-term future opening my own bar, and I think that Peruvian distillates have a lot of potential and little by little, they are making their way worldwide and are worthy of being in the best bars in the world."
Oscar Figueroa, Bartender at El Mercado
"I had the opportunity to meet Michael & Daiana at the restaurant El Mercado, where I have been working for 5 years," says Oscar. "We have seen each other regularly over the years as Black whiskey was aging, waiting for the release of the first bottles."
"The fact that Black Whiskey is a Peruvian product makes it my favorite whiskey at the bar. This bourbon-style whiskey made with Andean Black Corn is incredible, daring, and very elegant. It's a different type of whiskey, and that's a good thing."
Oscar crafted a delicious Andean Highball with Black Whiskey, which has been on the lips of many whiskey lovers across Peru.
~ 45 ml Black Whiskey
~ 15 ml sherry
~ 3.75 ml Campari
~ 30 ml grapefruit juice
~ 7.5 ml lemon juice
~ 15 ml simple syrup
~ 2 drops of bitter orange
~ 2 drops of saline solution
~ Sparkling water to complete.
Method: shake
Glassware: highball glass
Decoration: grapefruit skin
"Black Whiskey is a very versatile whiskey with which you can let your imagination run wild. Only when tasting it, can you appreciate the whole personality of amazing Peruvian whiskey."
Here are some of the Standard Cocktail Recipes: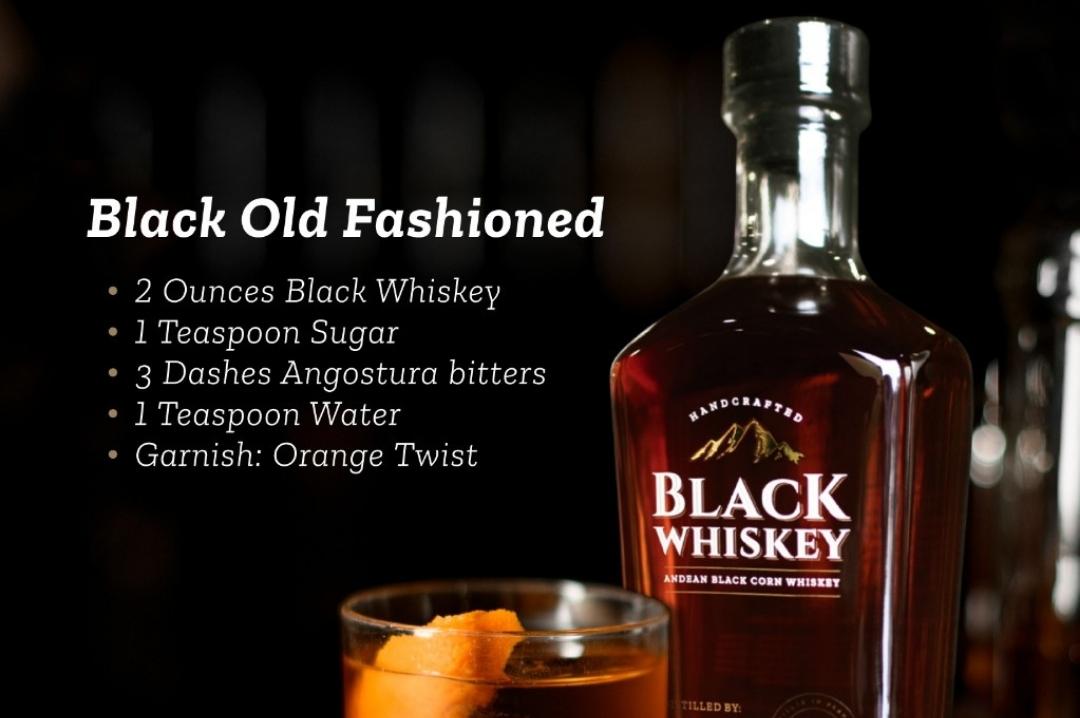 BLACK WHISKEY OLD FASHIONED
INGREDIENTS:
~ 1 Sugar Cube
~ 3-4 Dashes Bitters
~ 3-4 Dashes Orange Bitters
~ 2 Oz. Black Whiskey
~ Garnish: Orange Peel and Maraschino Cherry
PREPARATION:
Muddle the sugar and bitters with one bar spoon of water at the bottom of a chilled rocks glass. Add Black Whiskey. Stir. Add one large ice cube or three or four smaller cubes. Stir until chilled and properly diluted, about 30 seconds. Slip an orange twist on the side of the cube with a cherry.
BLACK WHISKEY SOUR
INGREDIENTS:
~ 2 Oz. Black Whiskey
~ 1 Oz. Freshly Squeezed Lemon Juice
~ 3/4 Oz. Simple Syrup
~ 1 Egg White
~ Ice
PREPARATION:
Place the Black Whiskey, lemon juice, simple syrup, and egg white in a cocktail shaker. Do not add ice yet. Dry shake the cocktail for 10 seconds. Shake again with ice. Strain the cocktail. Garnish and serve with a few drops of bitters on the foam.
BLACK & COKE
INGREDIENTS:
~ 2 Oz. Black Whiskey & a bit of Coca-Cola
PREPARATION:
Simplicity is the key, Black Whiskey with Coke, as much or as little as you like. Garnish with a lime.
So, wait no more. Get your hands on Black Whiskey today, and make yourself and your loved ones these delicious mouth-watering cocktails.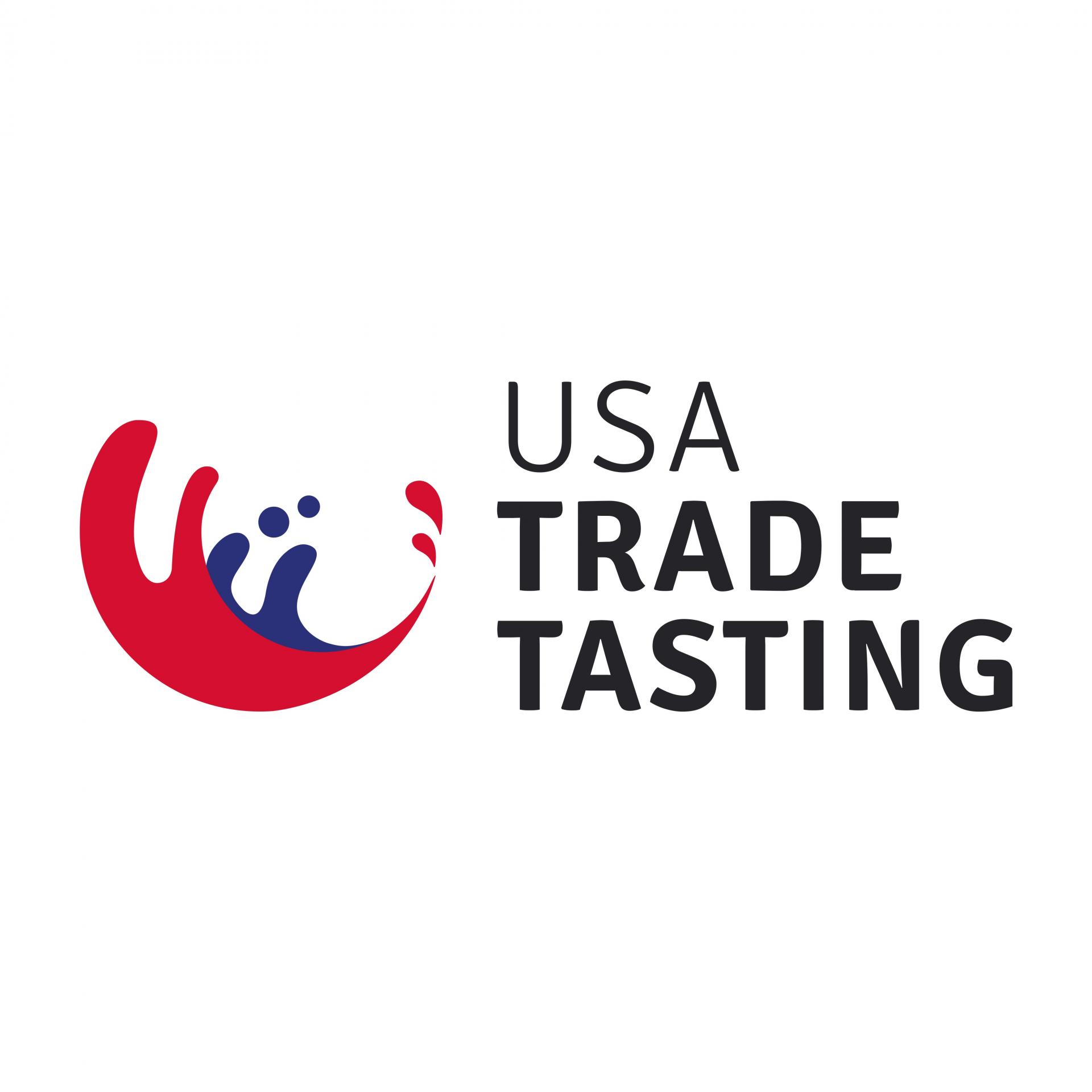 Morgan MFG, 401 N Morgan St Suite #204A, Chicago IL 60642
Register Now
South San Francisco Conference Center, 255 South Airport Boulevard, South San Francisco, CA 94080, United States.
Register Now
South San Francisco Conference Center, 255 South Airport Boulevard, South San Francisco, CA 94080, United States
Register Now