Alcohol-Free Drinks are All the Rage
Alcohol-free drinks are growing in popularity in unprecedented numbers. Make the mocktail your new best friend, it's here to stay.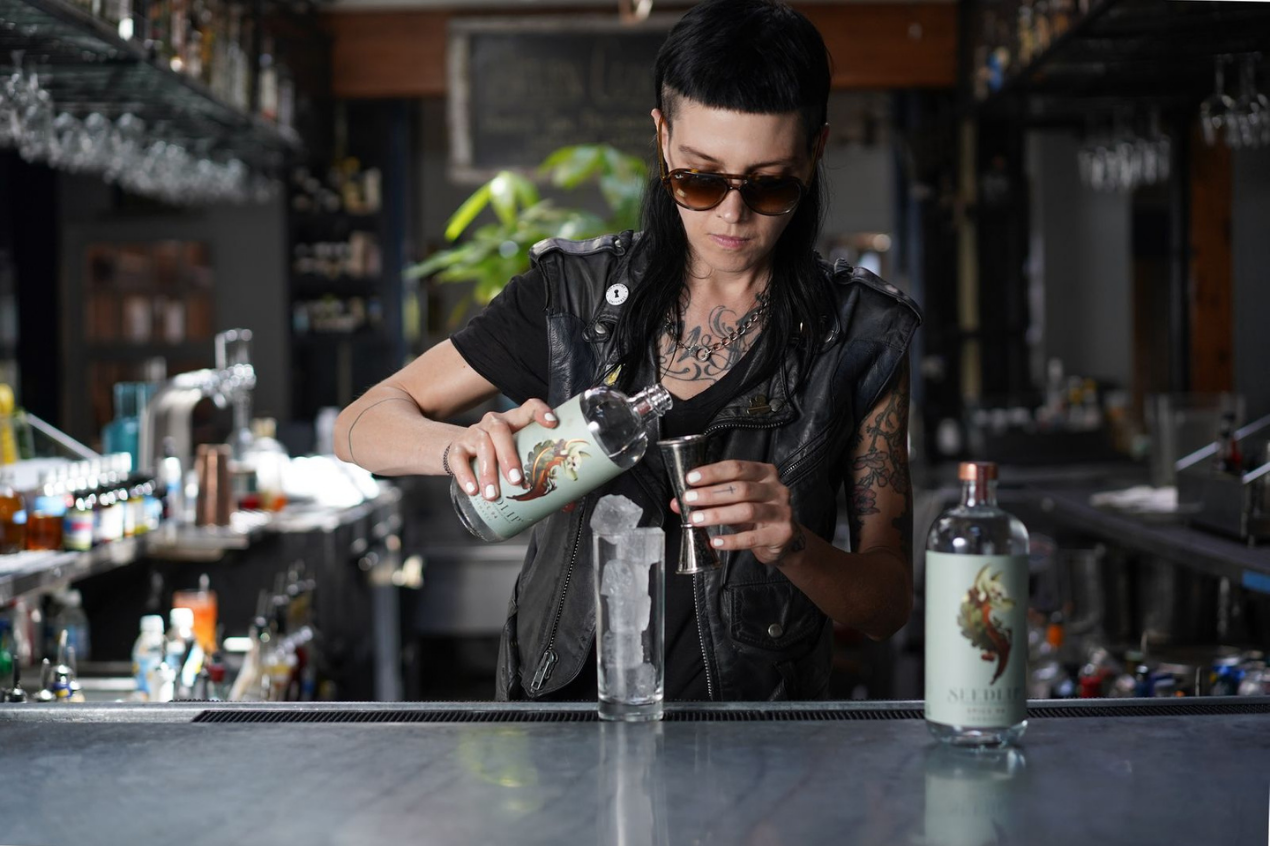 Drinks trends come and go, but with a lot of people actively reducing their alcohol consumption, no and low abv beverages are making their mark in the realm of the drinks industry. According to Bacardi's 2020 Global Brand Ambassador Survey, 22% of consumers are drinking less alcohol globally.
Alcohol-free drinks have been around since the 1970s. It started with the non-alcoholic beer by Clausthaler, put on the map in 1979. During those times, most people described non-alcoholic beers as 'yeast water', and 'mocktails' (non-alcoholic cocktails) and said they were just made to keep your kids busy at restaurants.
However, the category over the past few years has found a large following in the drinks industry with people becoming more health-conscious, pushing them towards the array of alcohol-free drinks. People, young and old, want to have a few drinks with their friends whenever they feel like it without feeling the after-effects of a hangover the next morning.
As the demand for no abv drinks increases, even cult brands such as Kopparberg and Heineken are starting to expand their portfolios by adding non-alcoholic drinks to their offerings. In Bacardi's first-ever cocktail trend report, the spirits giant emphasized the expansion of the no and low abv movement in 2021. The same report also forecasted growth of 400% in the low-ABV sector by 2024.
Amongst the range of no and low abv drinks brands, Seedlip, recently acquired by Diageo stands out with its distilled non-alcoholic spirits. The pioneering brand is home to three different drinks, namely Seedlip Grove 42, Seedlip Spice 94, and Seedlip Garden 108 - each with its own set of cocktail recipes.
With the growing popularity of non-alcoholic beverages, bartenders and mixologists across the globe have also found a special place on their bar shelves and menus for alcohol-free drinks. Even some of the world's best bars and Michelin-starred restaurants — like California's three-Michelin-starred restaurant Single Thread — have started stocking no abv spirits, beers, and wines as part of their menus. In fact, before it shut down, the one-Michelin-starred restaurant in Santa Monica, Dialogue, had a full-time non-alcoholic beverage mixologist Hansuk Cho who worked on creating cocktail menus revolving around low and no abv wines and spirits. At Berber Bar in San Francisco, one out of three cocktails is non-alcoholic, with a rotating 0% libation section to pick from.
Here are some of our favorite non-alcoholic beverages worth trying.

Lyre's American Malt
A non-alcoholic Bourbon? Yes, you read that right. Lyre's American Malt is crafted to capture the essence of a gently mellowed American Classic Bourbon Malt with flavors that are distinct and contemporary. Generous flavors of vanilla and toasted nuts with herbal notes providing a complexity, offset by a long mellow finish. The gently spiced palate results in the flavors remaining well after finishing.
The Lyre's American Malt has already established itself as an award-winning drink, earning 83 points at the 2020 Bartender's Spirits Awards, with a silver medal.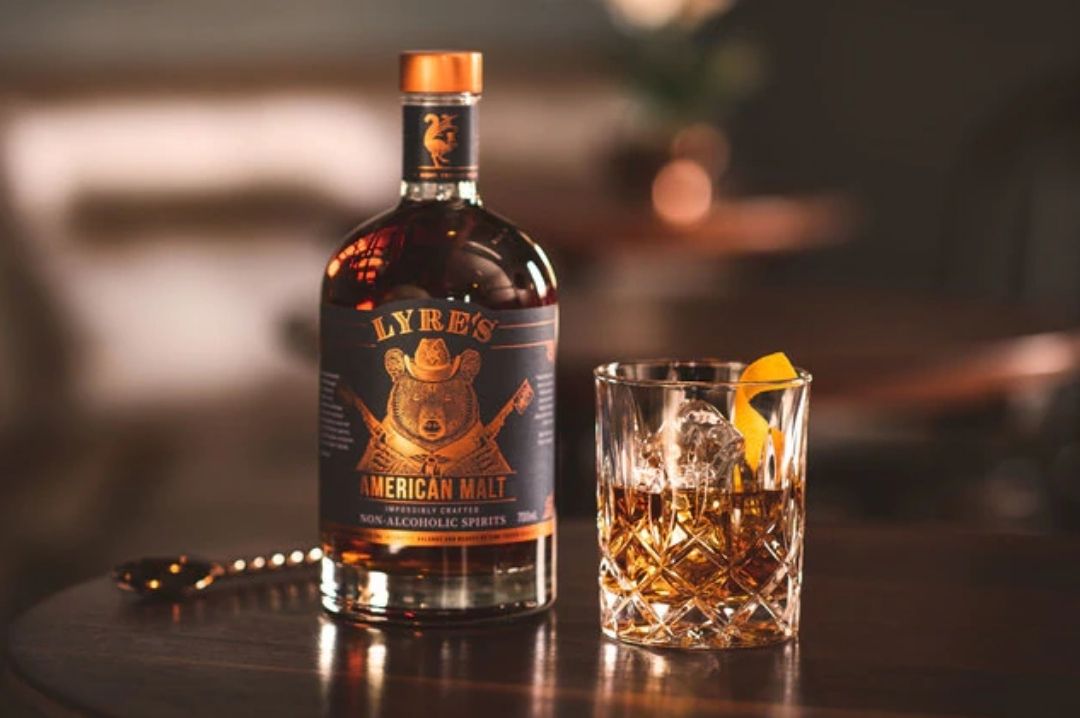 Lyre's Old Fashioned, source: website
Enjoy this non-alcoholic Bourbon with cola, as the team at Lyre recommends. You can also try Lyre's American Malt Old-Fashioned recipe, which is quite a treat to sip on.
Ingredients:
— 60mL (2oz) Lyre's American Malt
— 5mL (0.25oz) white sugar syrup (1:1)
— 2 dashes of aromatic bitters
Put all ingredients in a glass and stir briefly over ice. Garnish with an orange peel.
Clausthaler Dry Hopped Non-Alcoholic Beer
Non-alcoholic beer pioneer Clausthaler is known for being the gold standard for non-alcoholic beverages since its launch in 1979. With its own, specialized brewing technique, Clausthaler still creates its signature non-alcoholic lager, Clausthaler Original, in strict accordance with the German purity law.
Clausthaler dry-hopped beer, source: website
The beer, like many say, and as the company claims, has a genuine beer taste is well-balanced, fresh, and easy to drink, with a creamy feel on the palate and a pleasing golden color to match.

Kopparberg Non-Alcoholic Mixed Fruit Cider
Kopparberg ciders and beer have been quite popular amongst young-adults at the bar. The brand saw a hike in its popularity with the Strawberry & Lime Pink Gin, which made a groundbreaking appearance in 2019 and has remained a favorite ever since. Along with their ciders and beer, Kopparberg now has a range of non-alcoholic ciders, including the famous non-alcoholic mixed fruit cider.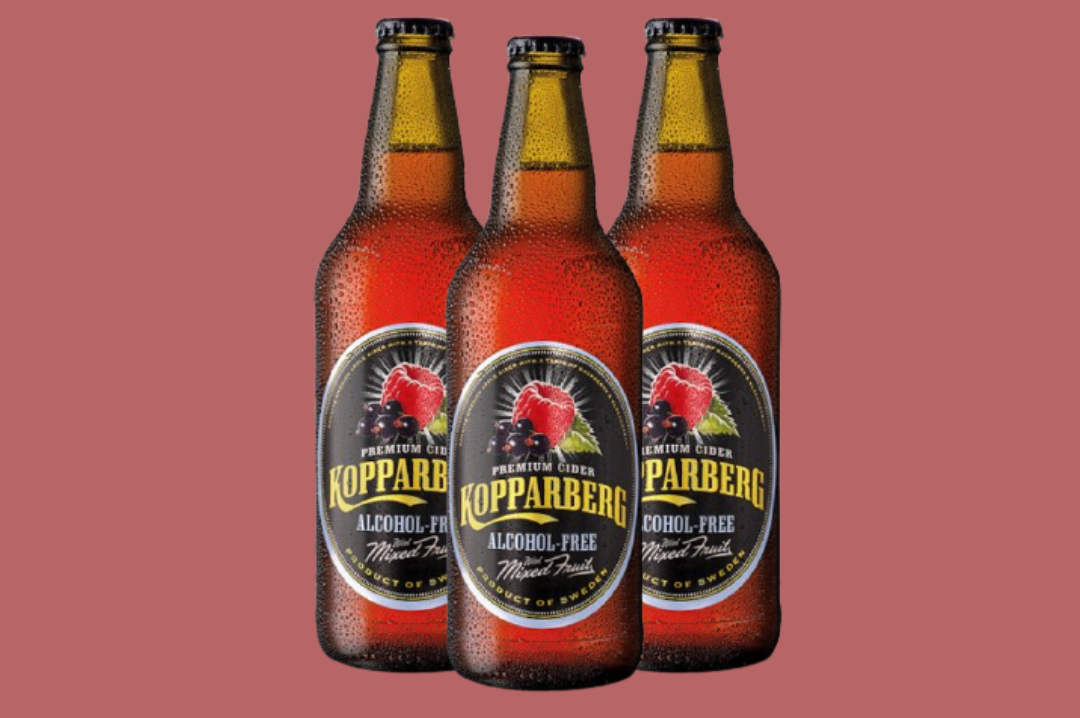 Kopparberg Mixed Fruit cider, source: website
The Kopparberg Non-Alcoholic Mixed Fruit Cider is a great addition to the brand's roster, making it the choice for cider lovers looking to cut down on their alcohol intake. Bursting with blackcurrants and raspberries, Kopparberg Mixed Fruit spoils you. Rich and indulgent with effervescent energy, it's best served cold over loads of ice.

Ritual Zero-Proof Gin Alternative
This summer, we're switching up our G&Ts for a zero-proof gin cocktail. The Ritual Zero-proof Gin Alternative is made with English cucumber and juniper berries hit the top notes, and a mix of all-natural botanicals shimmy in the middle. Ritual Zeroproof's aim is to give everyone a beverage in hand, whether they're working, driving, training, dieting, parenting, staying out later, or getting up early, and still keep the fun alive.
Ritual Spirits, Gin Alternative, source: website
Enjoy this gin with your favorite tonic, or turn it into a non-alcoholic cocktail like the Gin Fizz.
Ingredients:
— 2 oz. Ritual Gin Alternative
— 3/4 oz.​ lemon juice
— 3/4 oz. simple syrup
— 1​ egg white (optional)
— 2 oz. soda water (or enough to fill)
— Lemon peel for garnish
Pour the Gin Alternative, lemon juice, simple syrup, and egg white (or aquafaba) into a shaker. Shake for 30 seconds. Add ice. Shake for another 15 seconds. Strain into a chilled highball glass over fresh ice cubes. Top with soda and garnish with lemon peel.
Seedlip Grove 42
Seedlip, well-known for its distilled non-alcohol spirits like the Grove 42, has found immense popularity amongst drinkers who are looking to switch to no and low abv spirits. The Grove 42 is a sophisticated, bright, citrus blend of Mediterranean Orange, Lemon Peel, Lemongrass, and Ginger with a dry finish.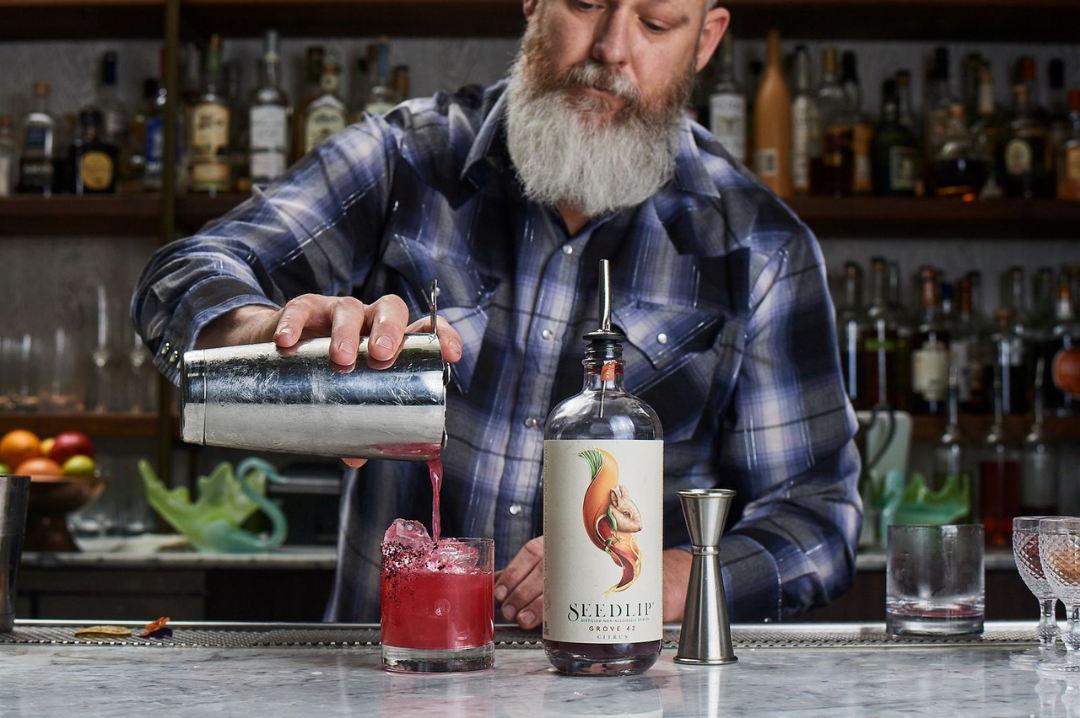 Seedlip Grove 42, source: Courtesy of Seedlip
Only four years old, Seedlip has already taken up spots in some of the world's best bars, restaurants, hotels, and retailers across the globe.
Try out Seedlip's CosNOpolitan recipe with the Grove 42.
Ingredients:
— Seedlip Grove 42: 2 oz
— Organic Cranberry Juice: 1 oz
— Lime Juice: 1⁄2 oz
— Simple Syrup*: 1⁄2 oz
Add all ingredients to a cocktail shaker w/ ice. Shake & strain into a coupe glass. Garnish w/ an Orange peel.
Simple syrup: combine equal parts warm water & sugar. Stir to dissolve. Let cool.

St. Regis Chardonnay De-Alcoholized Wine
Amongst the wide range of brands creating their range of non-alcoholic beverages, St.Regis Wines has a variety of de-alcoholized wines to offer, including a Cabernet Sauvignon, Brut, and Kir Royal amongst others.
The St. Regis Chardonnay is a delicious, refreshing, and elegant wine. The golden yellow color reflects its light, aromatic, happy personality that evokes floral and fruity notes of exceptional depth and flavor including apricot and pear. On the palate, this Chardonnay offers a well-balanced, broad mouthfeel leading into a medium finish that can be enjoyed at any time with a wide variety of dishes.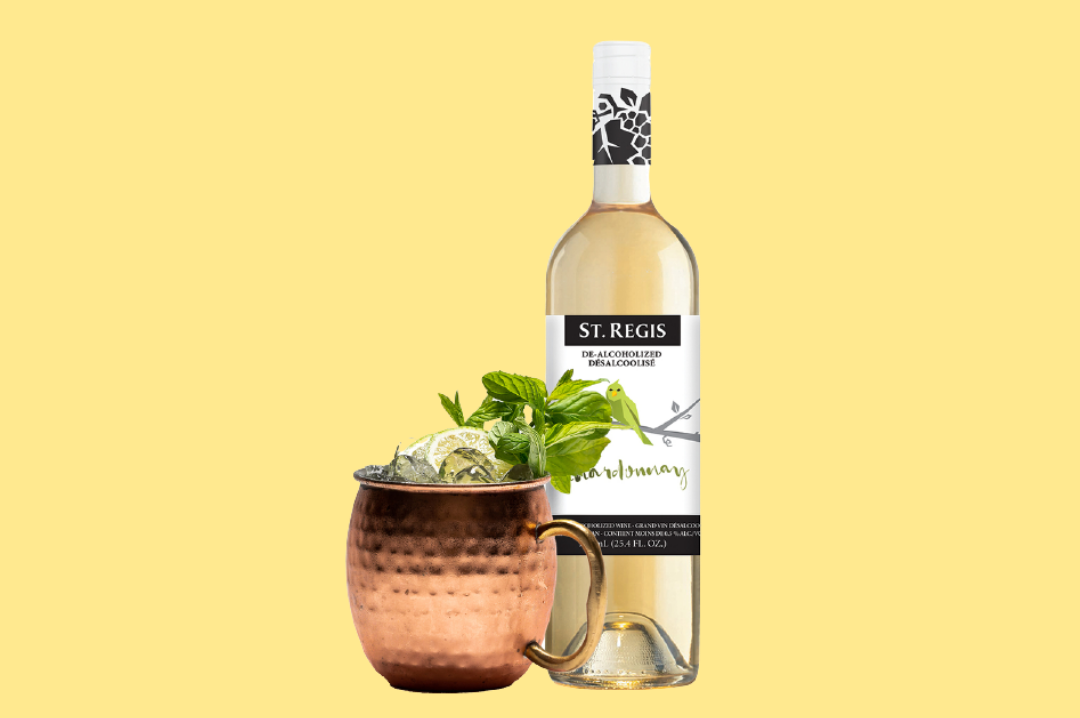 Chardonnay Mule, source: website
While the wine tastes great by itself, the St.Regis Chardonnay Mule mocktail is a must-try.
Ingredients:
3 oz. St. Regis Chardonnay
4 oz. Ginger Beer
1 Lime wedge, juiced
1 Slice of lime
1 bunch mint
Crushed ice
Fill your copper mug with crushed ice. Pour in the ginger beer and St. Regis Chardonnay. Add the lime juice. Stir lightly. Garnish with a slice of lime and a sprig of mint if desired.
Header image: Seedlip cocktails, courtesy of Seedlip