Non-alcoholic cocktails: Fun, fruity, and flavorful
Craving a booze-free drink? Try these amazing non-alcoholic cocktails that you can make in the comfort of your home.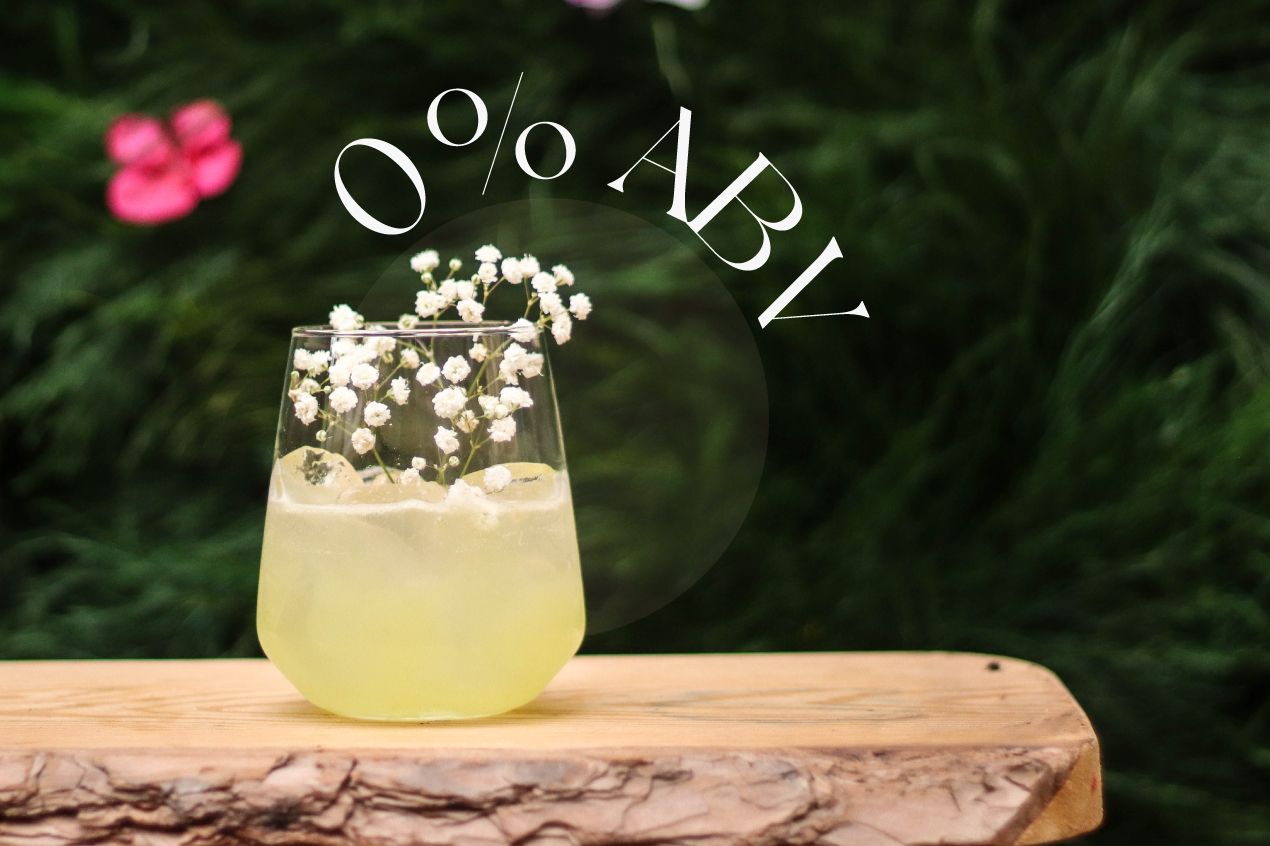 If wandering in the world of non-alcoholic drinks is your thing, you have come to the right place. With non-alcohol cocktails finally getting the attention they deserve, it is time to indulge in some exhilarating beverages that are bursting with sweet berry flavors, fizzy aerated coolers, and spiced herbs. If you thought cocktails without alcohol are no fun, think again. Because the virgin cocktails revolution is here and these beautiful drinks are a part of the hunting pack.
Paloma Fizz
Recipe by Tablespoon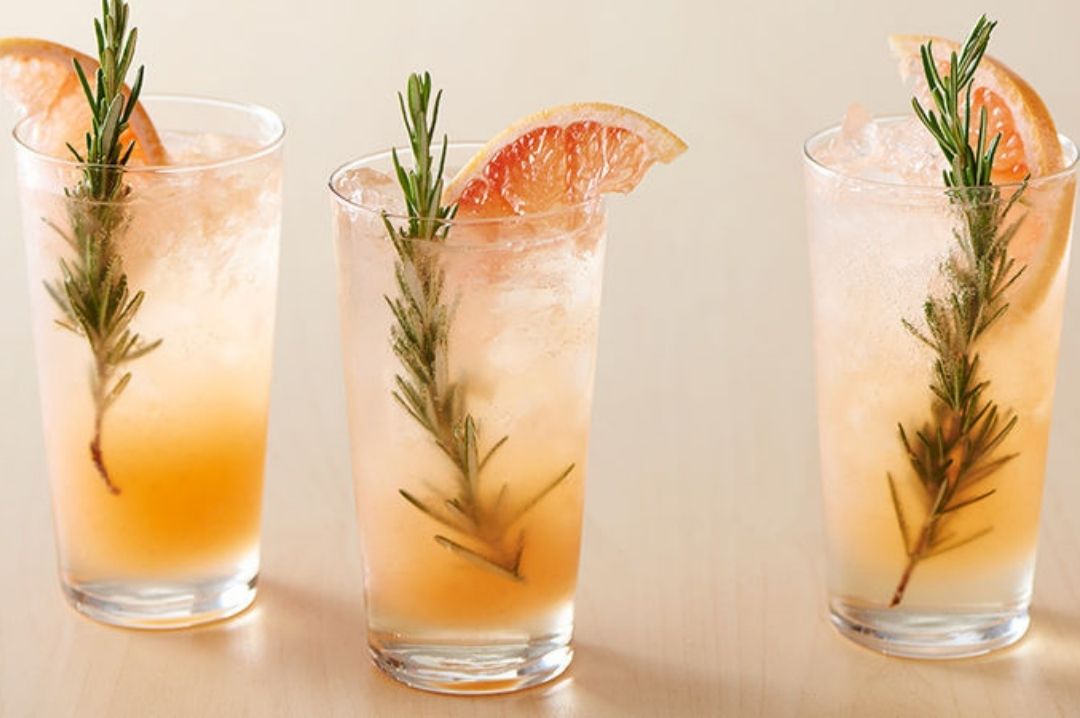 Paloma Fizz, Source: Website
A unique drink with refreshing hints of rosemary, Paloma Fizz is as soothing to the throat as it is to the eye. Craft this easy-to-make non-alcoholic cocktail at home within 10 minutes and keep sipping.
Ingredients:
For the rosemary simple syrup:
1/4 cup sugar
1/4 cup water
1 sprig fresh rosemary, coarsely chopped
Add 1/4 cup of water and 1/4 cup sugar to a pot. Add rosemary. Bring to a simmer and cook until the sugar is dissolved, for about 3 minutes. Strain into a small resealable container. Let it cool.
For the drink:
1/4 cup pink grapefruit juice
2 tbsp rosemary simple syrup
2/3 cup seltzer water or grapefruit soda
Rosemary sprig for garnish
Grapefruit slice for garnish
Crushed ice
Pour the grapefruit juice and simple syrup into a Tom Collins glass. Stir to mix. Fill the glass with the ice and top off with seltzer water. Garnish with a sprig of rosemary and a slice of grapefruit.
Kombucha Spritz Mocktail
Recipe by Olive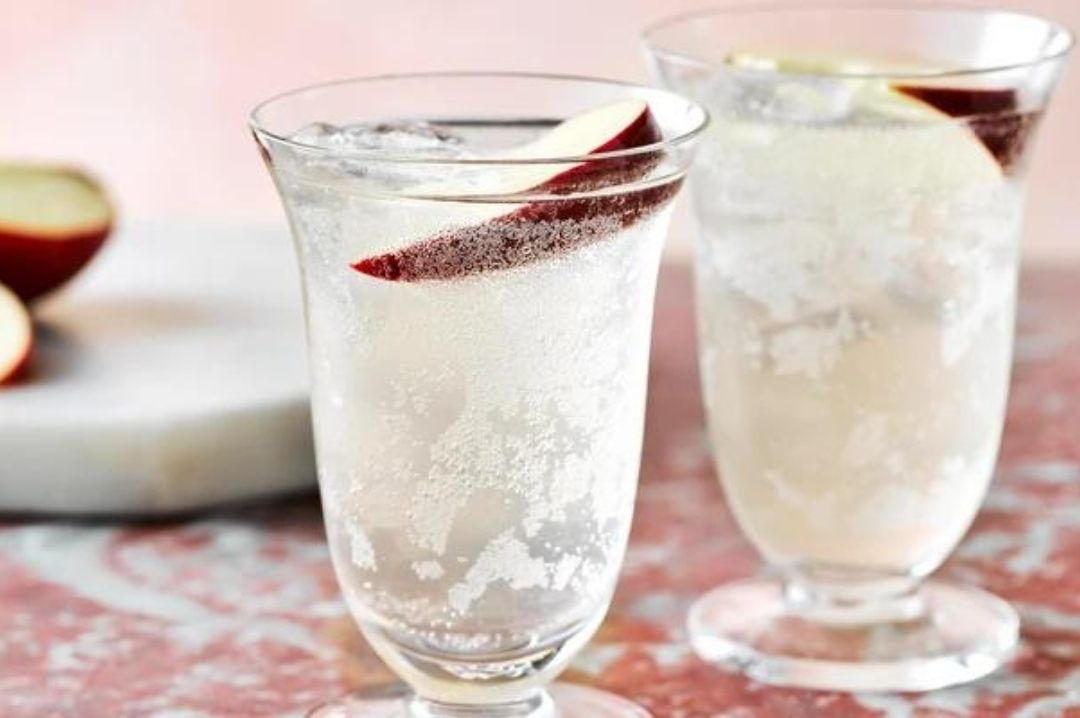 Kombucha Spritz, Source: Website
Taking just three ingredients to assemble this white beauty, Kombucha Spritz comes alive with sharp tangy notes of the sparkling kombucha. Non-alcoholic cocktail making doesn't get any easier than this.
Ingredients:
60 ml alcohol-free aperitif (try Everleaf Marine)
90 ml plain sparkling kombucha
A splash of soda water
Red-apple wedge
Put some ice in a chilled large wine glass and pour over the alcohol-free aperitif followed by the plain sparkling kombucha and a splash of soda water. Stir briefly and garnish with a wedge of red apple.
Shirley Temple
Recipe by A Couple Cooks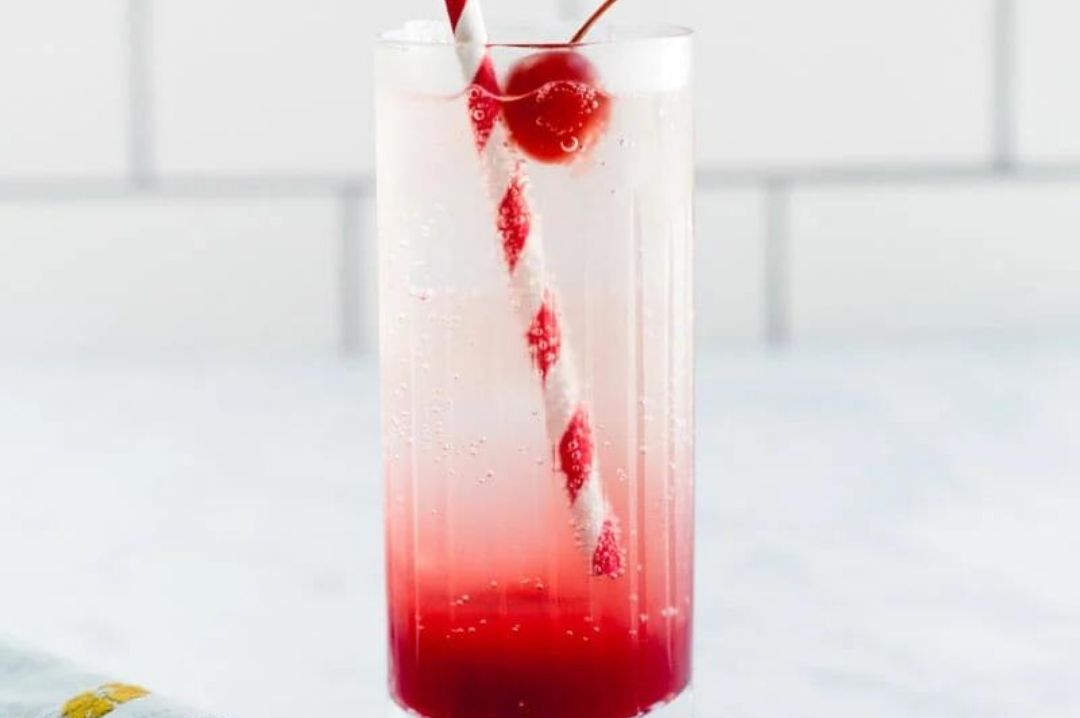 Shirley Temple non-alcoholic cocktail, Source: Website
Light and energizing, Shirley Temple is often misunderstood as a very sweet drink. Named after the famous American actress, the beverage displays mellow nuances of sweet berries and sour tones of lime.
Ingredients:
1 oz grenadine
½ oz lime juice
5 oz ginger ale
For the garnish: cocktail cherry
In a highball glass, stir together the grenadine and lime juice. Add the ice and fill the glass with the ginger ale. Top with a cherry.
Non-Alcoholic Moscow Mule
Recipe by Like Mother Like Daughter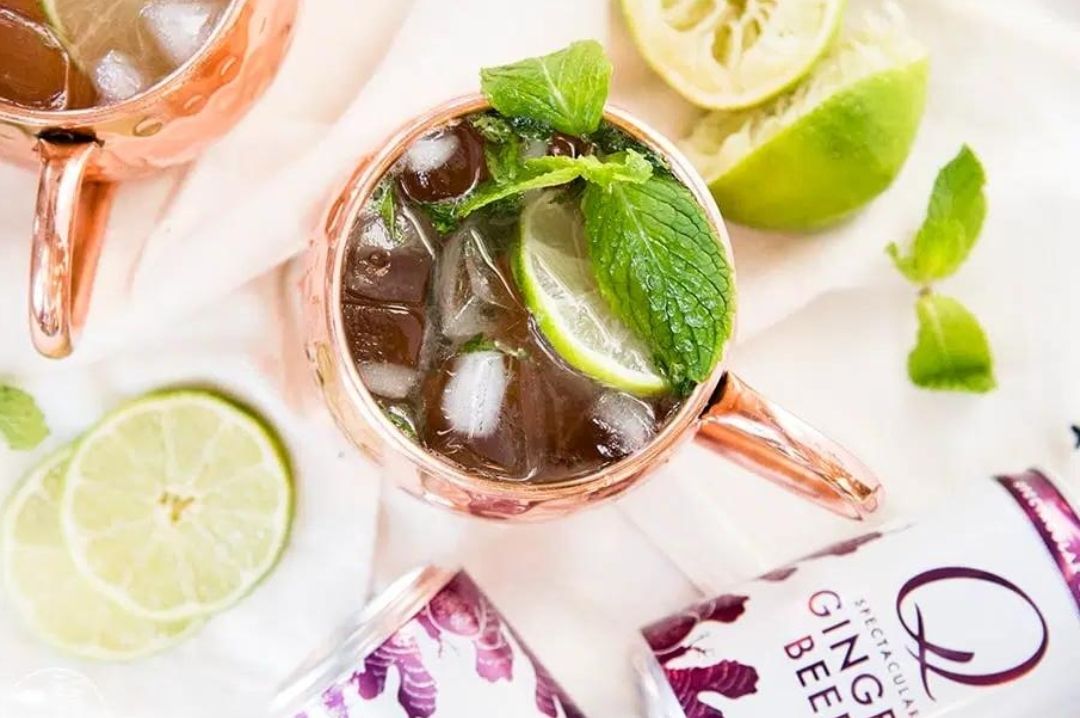 Non-Alcoholic Moscow Mule, Source: Website
Even without the vodka, the Non-Alcoholic Moscow Mule packs a strong and spicy ginger punch. Add some club soda and your drink is almost as feisty as the original version of the cocktail.
Ingredients:
1 lime (1-2 tbsp)
1 tbsp simple syrup
1/4 cup club soda
3-4 mint leaves (torn, optional)
3/4 cup ginger beer
Crushed ice
In the bottom of the cup, pour juice from the lime, simple syrup, and club soda. Add mint leaves if desired. Fill the cup about halfway with ice. Then pour about 3/4 a cup of ginger beer over the ice. Garnish with mint leaves and a lime wedge if desired, and serve.
Grapefruit Radler
Recipe by Jeffery Morgenthaler
Refreshing Grapefruit Radler, Source: Website, image by Julia Gartland
The Grapefruit Radler revitalizes mind and body with its zesty grapefruit and lemon nuances, finishing with a custardy aftertaste from Sober Carpenter Blonde Ale non-alcoholic beer. The lemon wedge keeps the citrus flowing in circulation along with making up for a beautiful garnish.
Ingredients:
1 1/2 oz freshly squeezed grapefruit juice
1/2 oz freshly squeezed lemon juice
1/2 oz rich simple syrup
1 oz soda water
4 oz to 5 oz non-alcoholic beer (try Sober Carpenter Blonde Ale, silver medal, 2021 USA Beer Ratings)
1 lemon wedge, for garnish
Combine the juices, simple syrup, and soda water in a pint glass and fill with ice, then top with beer. Dump the mixture into either one half of a cocktail shaker or a fresh pint glass. Pour back into the first-pint glass. Garnish with the lemon wedge.
Non-Alcoholic Raspberry Mojito
Recipe by A Sweet Pea Chef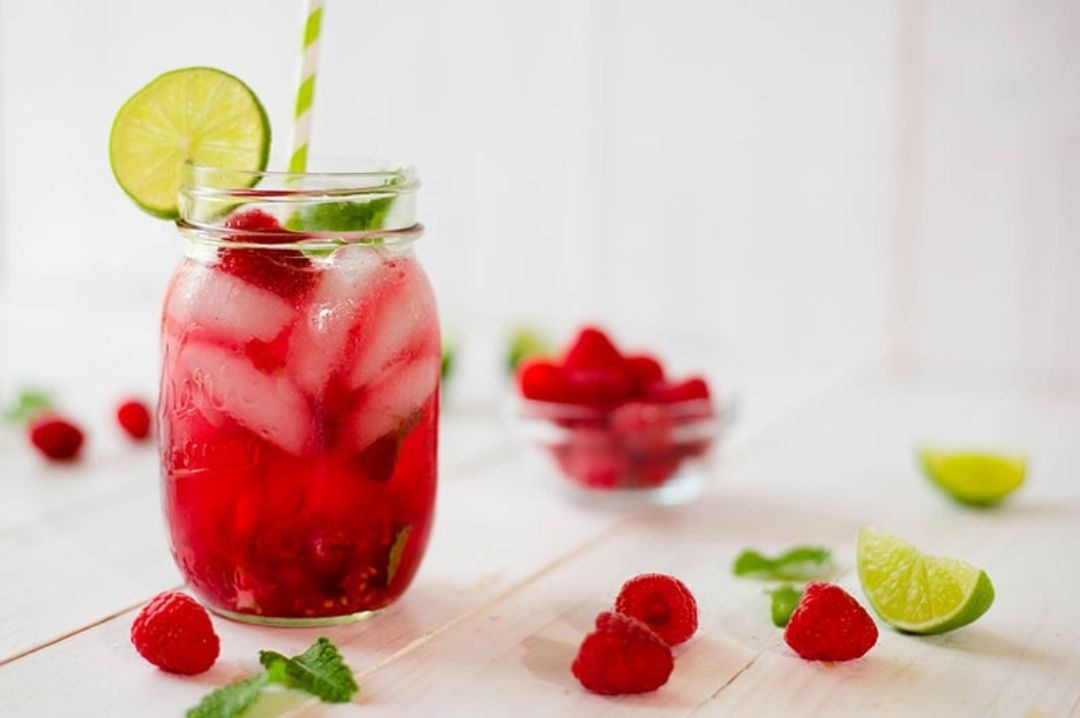 Non-Alcoholic Raspberry Mojito, Source: Website
For those who like berry flavors flowing in their drinks, the Non-Alcoholic Raspberry Mojito will suffice. Once you prepare the syrup, there is no holding back on the raspberry fun. Drink away the virgin cocktail on a lazy day when you plan to relax with a refreshing drink in hand.
Ingredients:
3-4 fresh raspberries plus more for garnish
5-6 mint leaves
2 tbsp simple syrup
1/4 cup raspberry juice
2 tbsp fresh lime juice approx. 1/2 medium-large lime
1/2 cup club soda or sparkling mineral water
Make simple syrup:
Combine 1 cup granulated sugar with 1 cup water (or just equal parts, if making more or less) in a medium saucepan. Heat over medium heat, stirring frequently, until the sugar is completely dissolved. Allow it to cool. In a tall glass, add raspberries, mint leaves, and simple syrup.
Muddle (squish with the back of a wooden spoon) well until the mint, simple syrup and raspberries are well combined. If possible, try not to break apart the mint leaves, as this will make for a less pleasant drinking experience.
For the drink:
Fill the glass with ice. Add the raspberry juice, lime juice, and fill with soda. Garnish with a lime wedge or additional raspberries, if desired.
Sunrise Mocktail
Recipe by Mindful Mocktail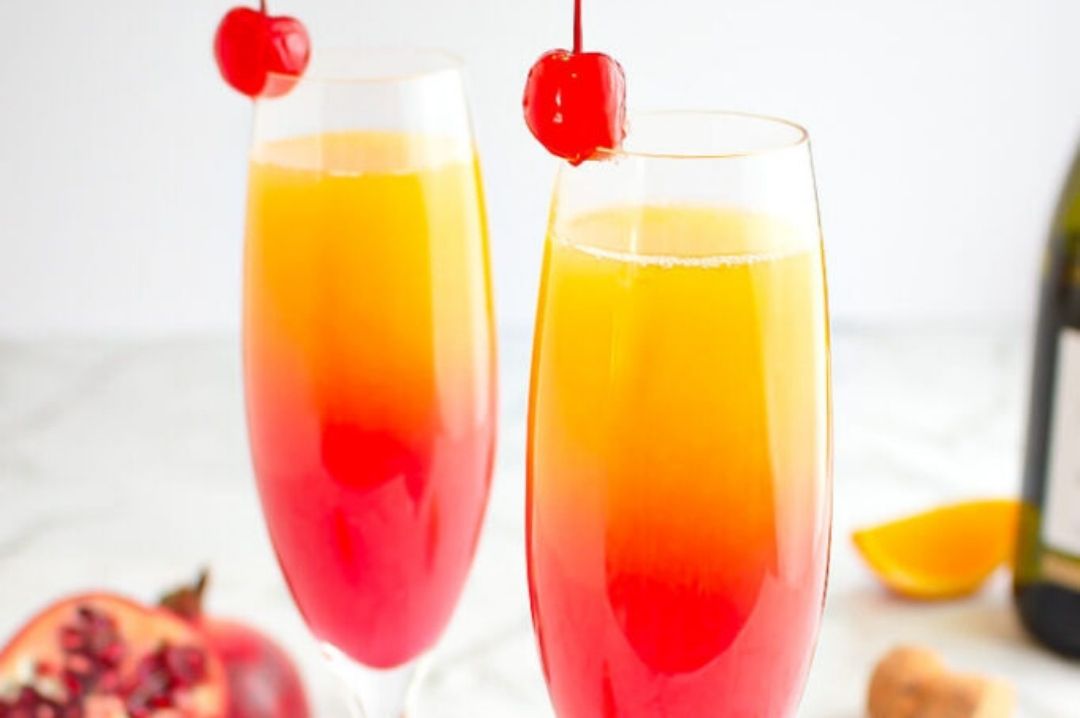 Sunrise Mocktail, Source: Website
The red to orange gradient resembles the sunlight, hence the name Sunrise Mocktail. From looking incredible to tasting even better, the Sunrise Mocktail is an ideal pick while cutting down on the ABV.
Ingredients:
Alcohol-free sparkling wine (try Ariel Chardonnay)
Orange juice
2.5 ml grenadine
Add equal amounts of orange juice and non-alcoholic sparkling wine to a champagne flute. Gently pour in the grenadine. Garnish with your choice of fruit and serve.
Peach, Mint, and Vanilla Chai Iced Tea
Recipe by Tesco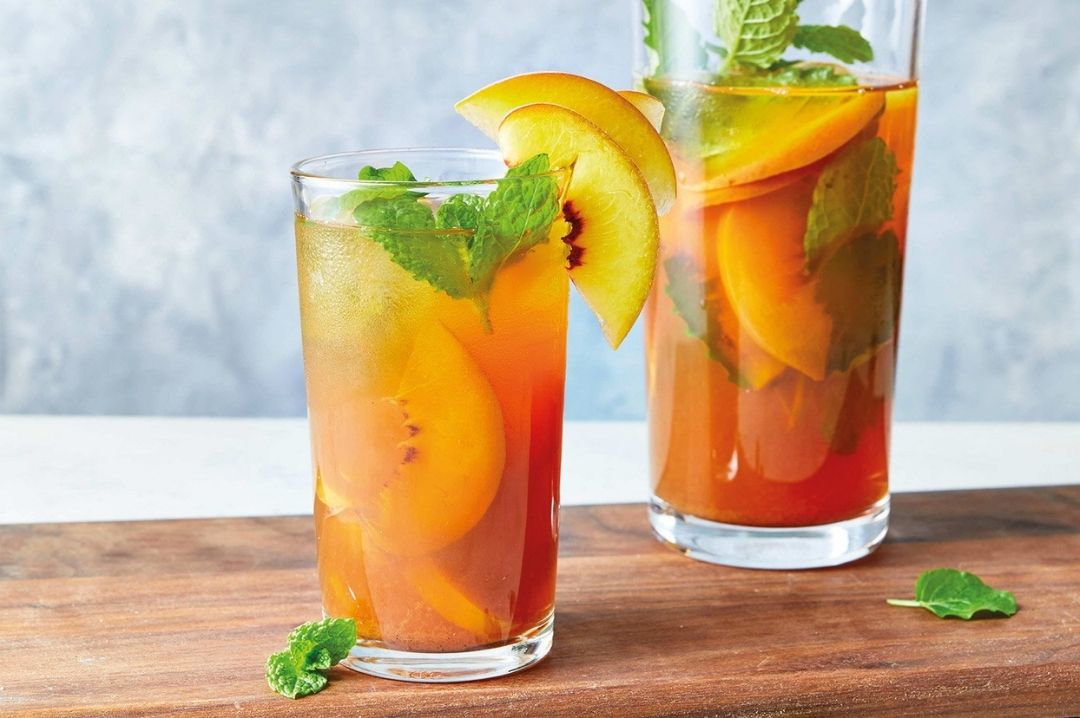 Peah, Mint, and Vanilla Chai Iced Tea, Source: Website
Beat the heat with Peach, Mint, and Vanilla Chai Iced Tea which is an interesting way to deposit essential vitamins in your body. The cool summer spritz is healthy, tasty, and comes with peach slices.
Ingredients:
3 very ripe peaches
5 vanilla chai tea bags
2 tbsp caster sugar
fresh mint sprigs, to serve
½ lemon, juiced
Stone and thinly slice the peaches. Put two-thirds in a large heatproof jug with the teabags and sugar and pour over 750ml boiling water. Stir vigorously to dissolve the sugar and bruise the peaches, then leave to infuse for 4 minutes. Discard the teabags, then set them aside to cool completely.
Fill 4 tall glasses with ice and the mint. Stir a little lemon juice into the cooled tea. Add a little more sugar or lemon juice to taste. Pour into the glasses and garnish with the remaining peach slices.