7 Wineries to Visit for Michigan Wine Month
April is Michigan Wine Month and there cannot be a better time to visit these fine Michigan wineries.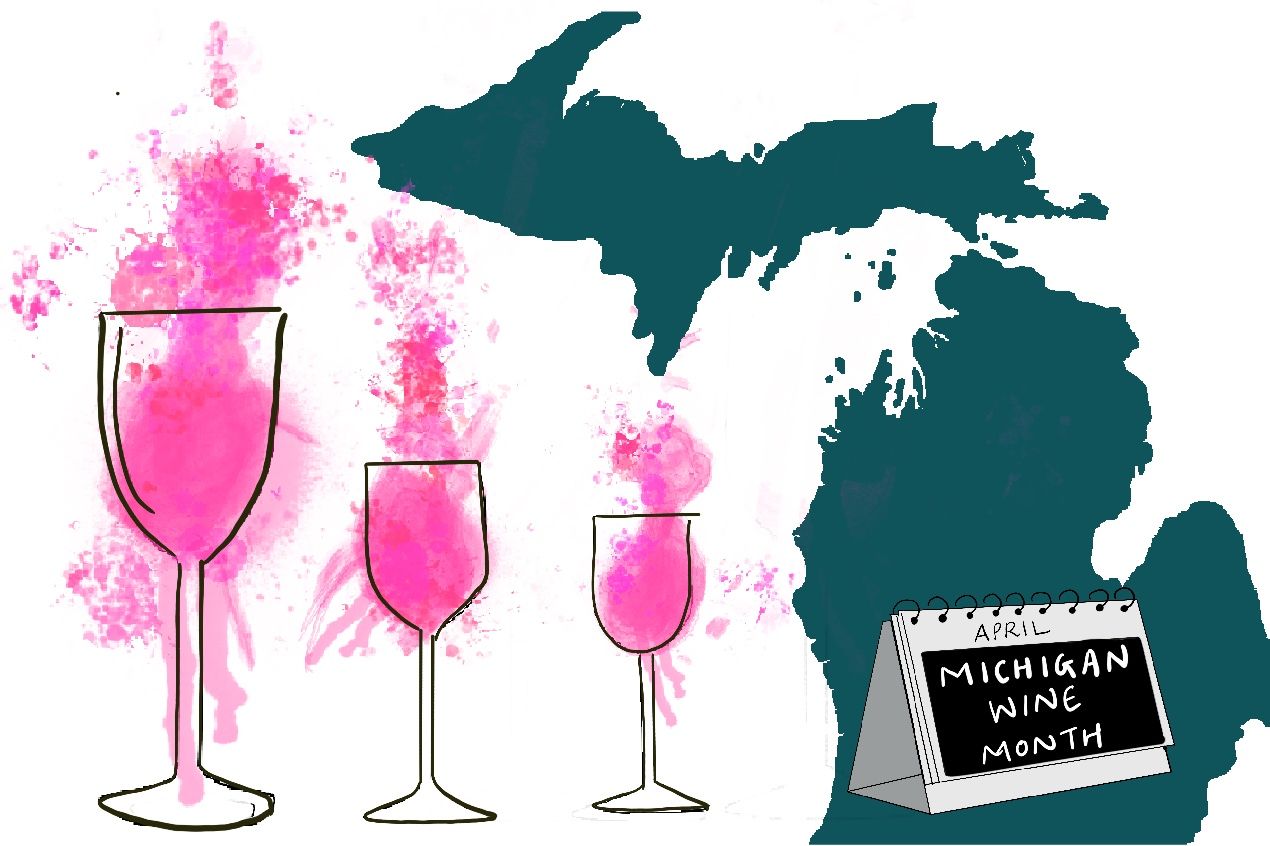 Home to the five Great Lakes, the wine industry of Michigan has some of the finest wineries in the country. Its cool climate and charming countryside give in to some of the best sparkling wines produced outside of Europe. Michigan also boasts fantastic views from patios, culinary experiences and wine tastings that are bound to impress.
These are among the wineries that you should visit to experience Michigan's wine history and its renaissance in recent years.
Black Star Farms Winery
A fitting wine and culinary destination, the Black Star Farms Winery is one of the best endorsements for Michigan's rising wine popularity. Upon starting their journey in 1998, they brought Lee Lutes on board as the chief winemaker. Through their 23-year journey, the winery has produced several terrific wines including chardonnay, riesling, cabernet franc and more. Today, Black Star Farms property consists of two wineries, three tasting rooms, a state-of-the-art inn and an upscale cafe. Come for their award-winning wines and stay for a grand experience that will make it a perfect Michigan getaway.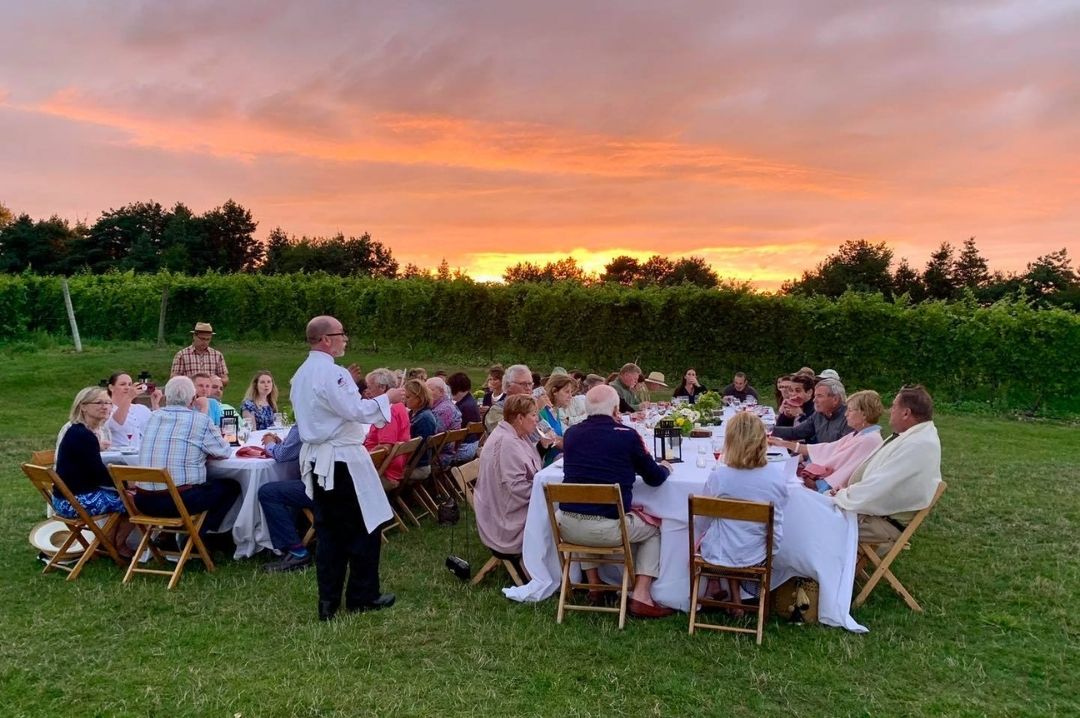 Black Star Farms, Source Facebook
Visiting the Winery:
Under the current circumstances, the tasting rooms at the winery are operating at 25% capacity and not allowing more than 100 guests across their tasting rooms. They only offer seated services with tables kept six feet apart.
Timings:
Sutton BayTasting Room: 11 am to 5 pm daily
Old Mission Tasting Room: 11 am to 5 pm daily
Cafe: Reopening in May 2021
Location: 10844 E Revold Rd, Suttons Bay, MI 49682
Chateau Chantal Winery & Inn
In the current scenario, if you want to experience a bit of Europe in Michigan itself, Chateau Chantal Winery & Inn is just the place to visit. Started by Robert and Nadine Begin, who both hailed from a background of helping others, Chateau Chantal opened its doors in 1993. Through the years, there have been a lot of changes made at the winery. From an expansion in the area, upping the equation when it comes to their services and more, the Chateau Chantal name has grown with time. One thing that hasn't changed is the quality of their wines. Bob and Nadine have crafted wines that showcase love and excellence. The picturesque location and gorgeous setting make for the most romantic scenery.
Chateau Chantal Winery, Source Facebook
Visiting the Winery:
Chateau Chantal offers group wine tasting for up to six people for their outdoor/igloo seating facility. The indoor seating is limited to four people. Wines are available by the glass or in Caddy Flights (three wines at $10). The winery also asks for prior reservations to ensure your safety.
Timings:
Monday- Sunday: 11 am to 5 pm
Location: 15900 Rue Devin, Traverse City, MI 49686
Bonobo Winery
The wine journey stays in Traverse City as the attention shifts to Bonobo Winery. Named after primates, the winery promotes a noble cause, preserving the natural habitat of Bonobos in the Congo Basin while producing quality wines. Spread across 19 acres, the team at Bonobo grows seven varietals including Pinot Gris, Pinot Blanc, Sauvignon Blanc, Chardonnay, Riesling, Pinot Noir, and Cabernet Franc. With spring arriving, you can enjoy the stunning views from their deck.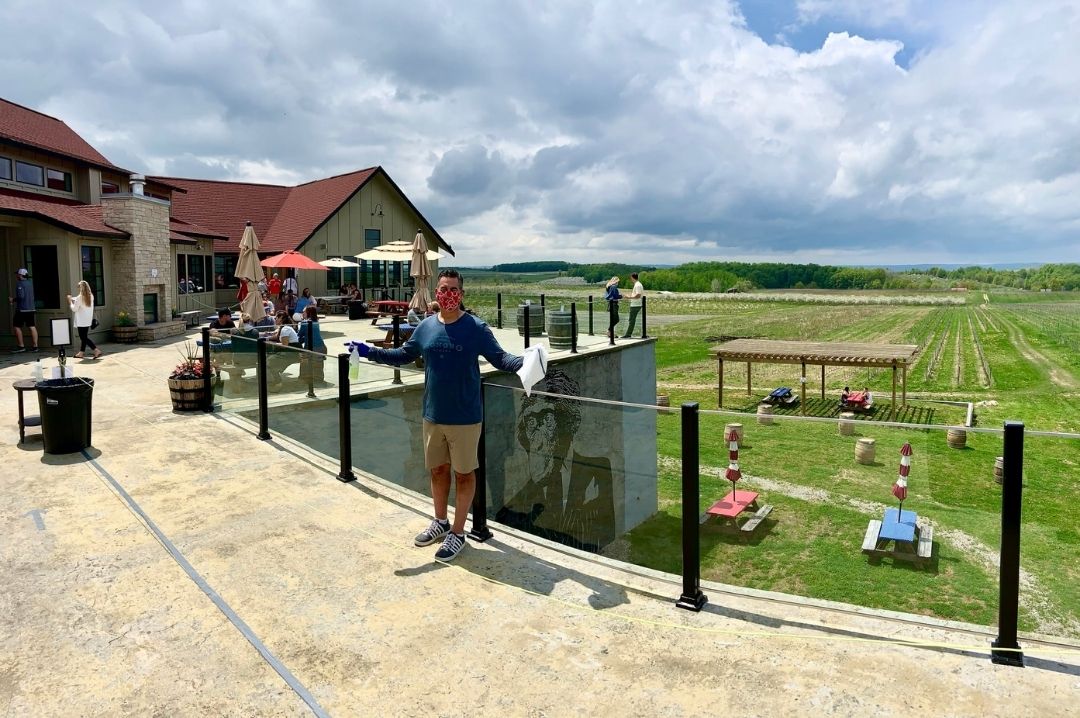 Bonobo Winery, Source Facebook
Visiting the Winery:
Bonobo Winery has opened its doors to the public since February. Both their indoor and outdoor spaces are fully operational, with seating available on a first come first serve basis. Wines are available by the glass for all guests. Reservations are also available for VIP experiences.
Timings:
Monday- Thursday: 2 to 6 pm
Friday- Saturday: 12 to 9 pm
Sunday- 12 to 5 pm
Location: 12011 Center Rd, Traverse City, MI 49685
Fenn Valley Vineyards
Located just five miles from Lake Michigan, Fenn Valley Vineyards are spread across a 240-acre area just south of Holland, Michigan. The Welsch family who comes from Chicago migrated to Michigan and found the perfect area to create magic. They settled down in 1973 and since then, it has been a ride full of learning, fun and recognition. Their property spreads across the land inland of Lake Michigan between the Black River and the Kalamazoo River valleys. The land the Welsch family procured was used for producing natural fruit wines. They continue the tradition today and produce wines from peach, cherry and raspberry wines, all of which have gained national recognition.
The Fenn Valley Vineyards is definitely the place to be when it comes to tasting an array of brilliant wines and enjoying a nice time on a luscious property with serene surroundings.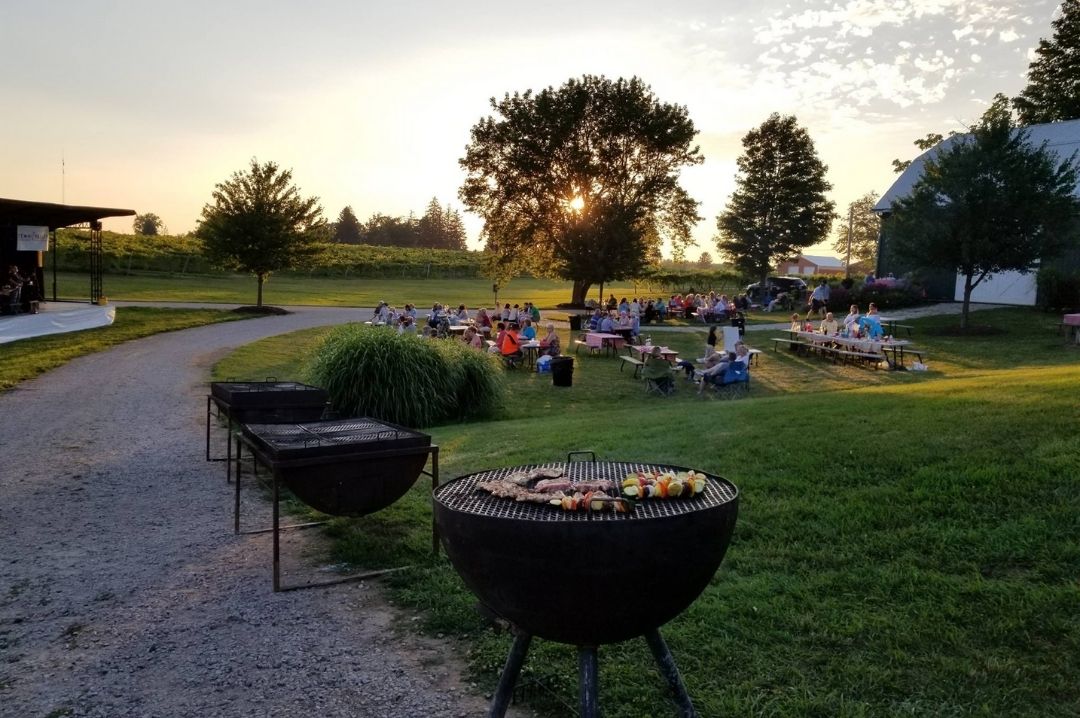 Fenn Valley Vineyards, Source Facebook
Visiting the Winery:
Fenn Valley Vineyards has a very in-depth tour timed for almost two hours. Extensive information is provided on the winemaking process and the vineyards. There are also specially designed food and wine tours during select times of the year.
Timings:
Monday- Sunday: 11 am to 5 pm
Check their website for additional details regarding holidays.
Location: 6130 122nd Avenue, Fennville, MI 49408
MAWBY Sparkling Wines
Back in the early 70's Larry Mawby planted the first seeds for this winery's decades of success when he planted a piece of land in Leelanau County with the vision of producing the best wines. Quickly realizing that sparkling wines were best suited for Michigan's climate, Larry developed his first sparkling in 1984. Through the decades that followed, Larry and his team created champagne and fermented wines. It was in 2009 that Larry's dream took a step forward as he partnered with the Laing family to take his winegrowing dreams to the next level. Today, the Laing brothers Michael and Peter lead the MAWBY Sparkling Wines team with support from Larry.
At MAWBY it is all about producing the finest sparkling wines while respecting the land, a thought the winery has carried ever since Larry first started the place. Apart from the wonderful wine collection, MAWBY also has a great environment that you can enjoy on your trip there. With a team as exuberant as their wines, expect a great time at the winery. Check their website for the latest offers to get the best deal on winery visits and their wine selection.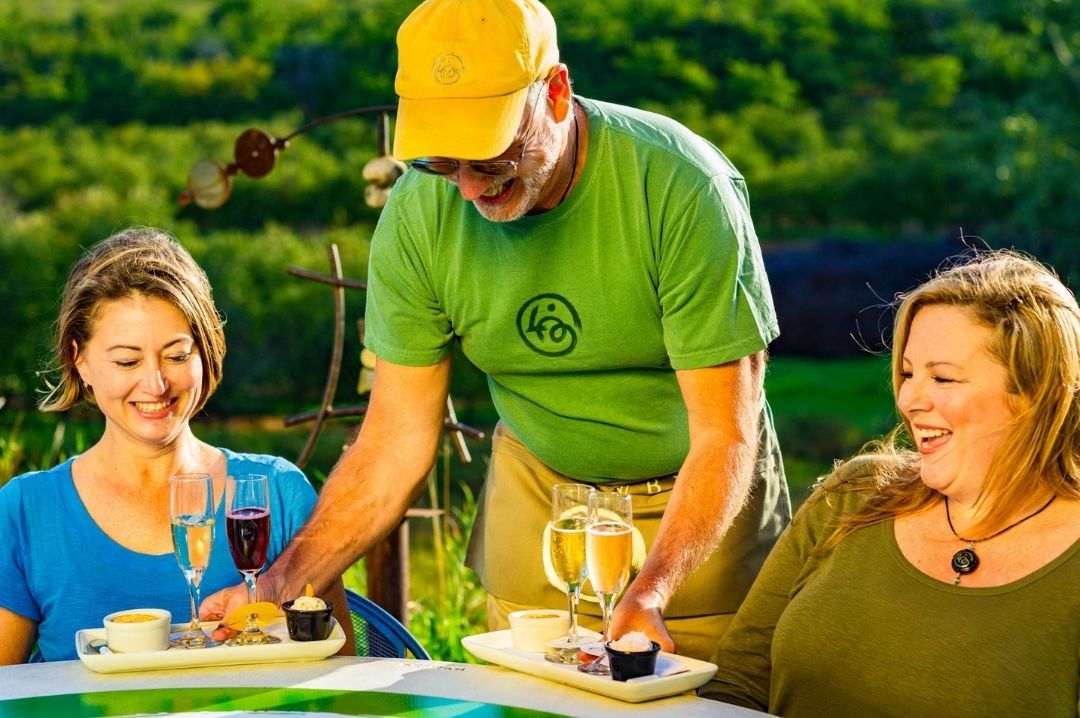 MAWBY, Source Facebook
Visiting the Winery:
MAWBY has opened its doors to the public, with the group size limited to six. Their outdoor patio and seating are available, with masks compulsory until the time the guests are served. Wines are available by the glass or bottle, with a delectable range of snacks to pair. Reservations can also be made for inside seating.
Timings:
Monday- Thursday: 12 to 5 pm
Location: 4519 S Elm Valley Road, Suttons Bay, MI 49682
Chateau Grand Traverse
A family-owned winery with a colorful and proud winemaking tradition, Chateau Grand Traverse is located at the Old Mission Peninsula. Today, the second generation of winemakers carry forward the legacy and the winemaking vision set forth in 1974. From their humble beginnings, the winery is now a world-class establishment that comes with a personal touch. In every hand-crafted bottle, there is the maverick spirit of their founder, Ed O'Keefe Jr. that lends a great value to the bottle.
The tale of Northern Michigan's first winery is one of determination, persistence and a whole lot of O'Keefe originality. All of these values can be seen and enjoyed first hand during your visit to the winery's estate. From the best seats on the patios to the well-planned winery tours, soak in an experience that will teach you as much about wines as much as it will about the O'Keefe family's fortunes made of wines.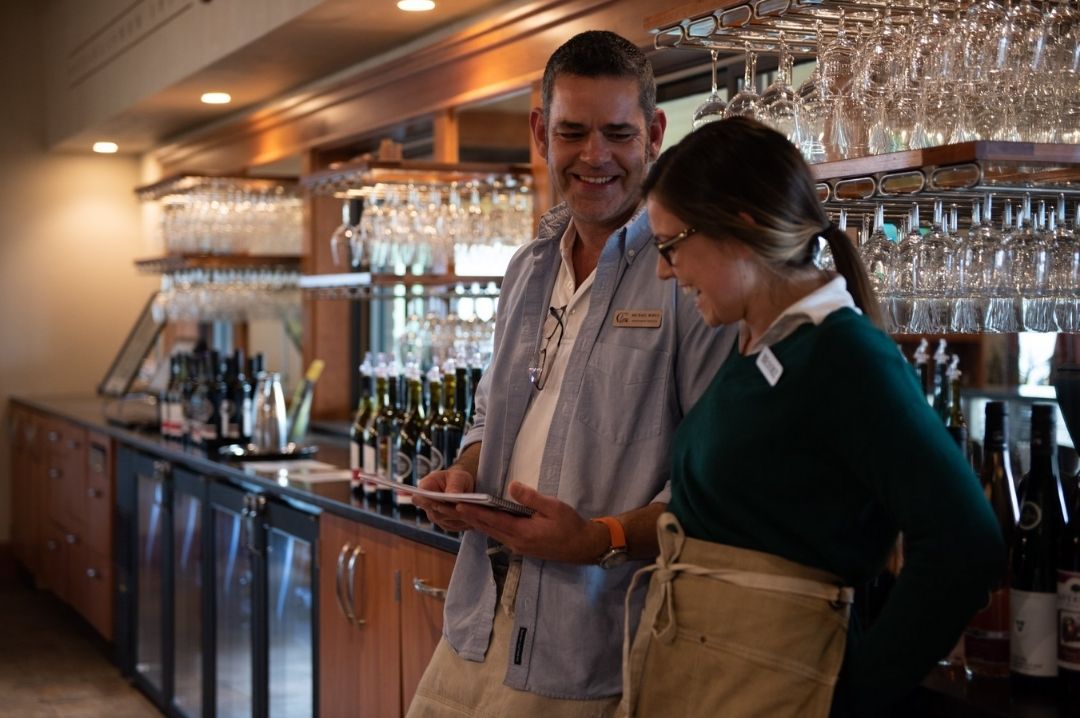 Chateau Grand Traverse, Source Facebook
Visiting the Winery:
While the current circumstances have made Chateau Grand Traverse cancel their winery tours, the tasting rooms are still open with limited seating. The tasting session is priced at $6 per person. The wine list includes five of their current wines, including the Reserve Wines.
Timings:
Monday- Sunday: 11 am to 5 pm
Location: 12239 Center Road, Traverse City, MI 49686
2 Lads Winery
Everything that feels ancient in the road leading up to the 2 Lads Winery stops right at the entry. Going in the completely opposite direction to all the wineries we have mentioned here, the 2 Lads Winery is one that conveys the New World agenda. Modern, bold and true, the winery currently has three separate vineyards planted years from one another. Sustainably farmed, the winery produces cool-climate reds, sparkling wines along a few runs of whites.
With the new techniques in place, the winery has created a great structure that allows them to speed their process and get better results than classic winemaking habits. Michigan's present-day answer to its own wineries that have been around for years. A great place to visit and understand the ways and the culture of a modern winery.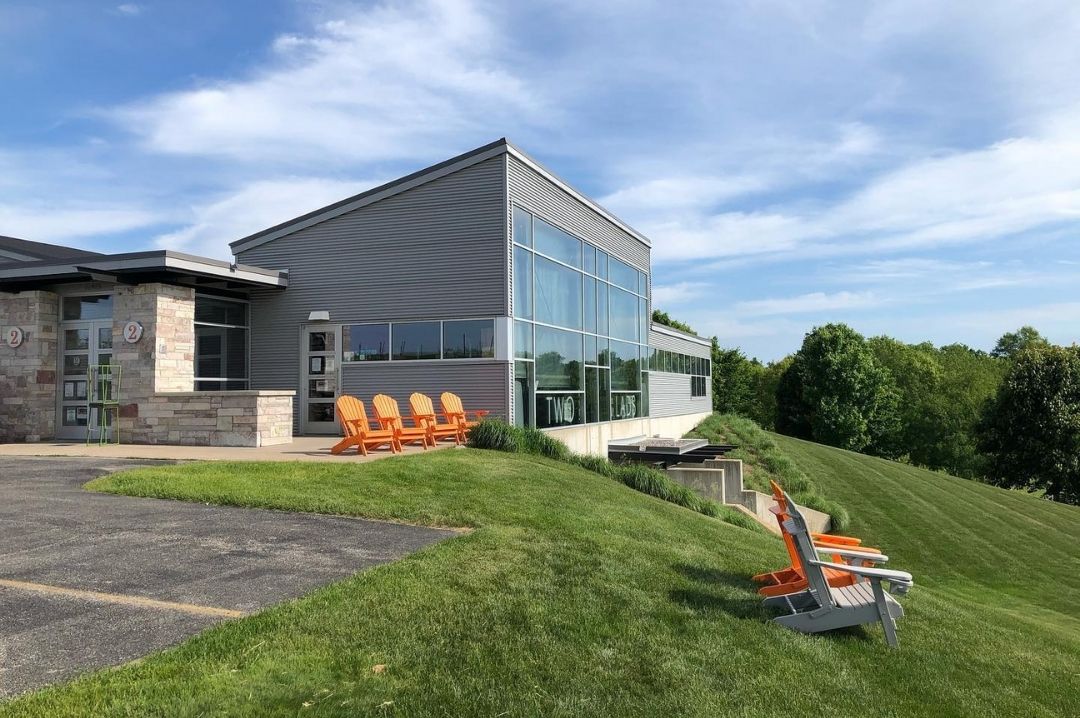 2 Lads Winery, Source Facebook
Visiting the Winery:
2 Lads offers visits to the winery in groups of up to six people. The winery encourages prior reservation to follow safety protocols. The group will be accompanied by a host at the tasting room entrance so that the guests can soak in all the information while sipping on their selection. Wines are available by the glass and will have options from their current menu.
Timings:
Monday- Saturday: 11 am to 5 pm
Sunday: 11 am to 4 pm
Location: 16985 Smokey Hollow Road, Traverse City, MI 49686