What is a cannabis beverage and why should I try one?
Entering the world of cannabis consumption? How about starting out with a drink?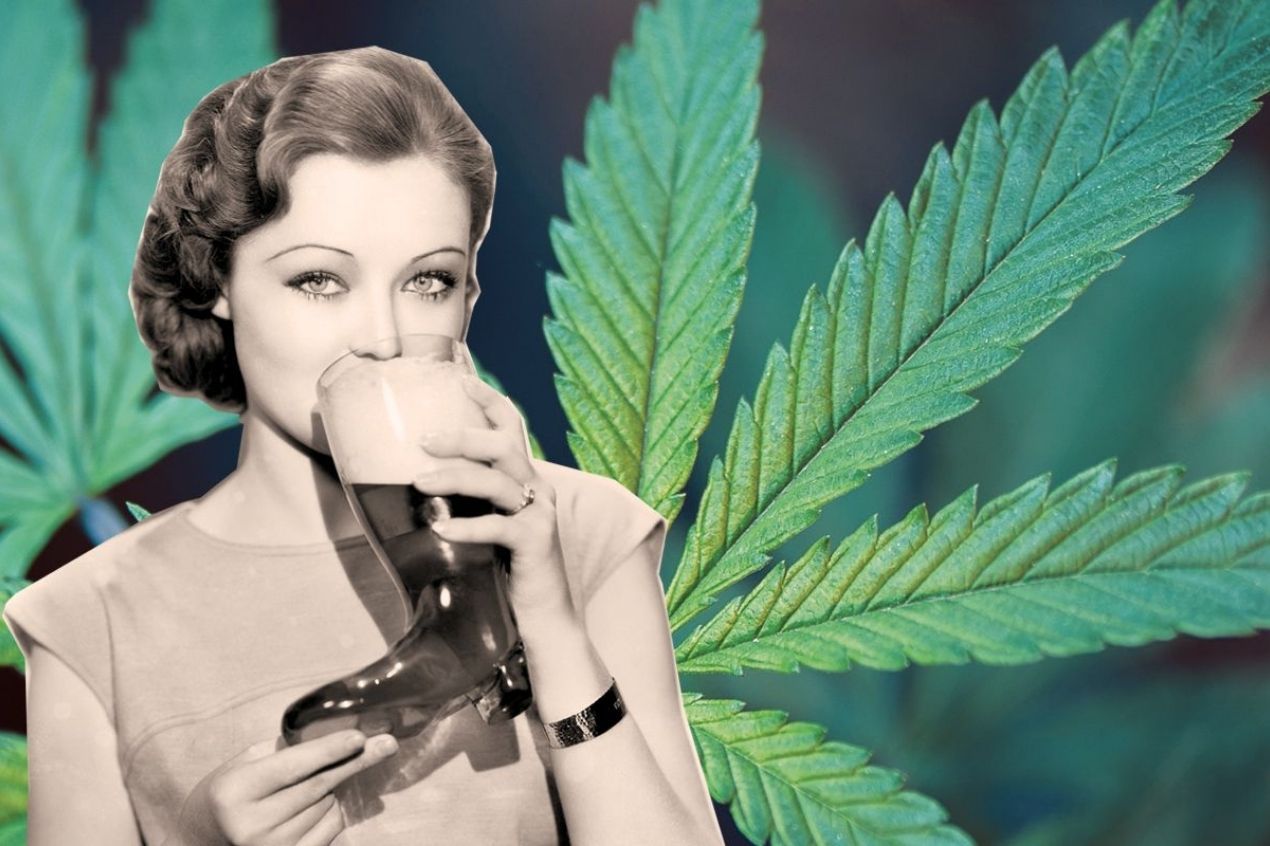 Cannabis beverages are having a major moment right now, and it's not just another passerby trend. According to a report by Million Insights, the global cannabis beverages market is estimated to reach USD 2.8 billion by 2025.
Many drinkers are making the switch to cannabis-infused beverages, while brands continue to up their game, offering us a wide selection of canna drinks, from tonics to mixers, seltzers, and even cannabis-infused spirits. This indeed proves that cannabis beverages are here to stay.
But that's not how cannabis beverages always were...
Even though cannabis-infused drinks have been around for a while, it wasn't until recently that they got their 'delicious, top-quality' reputation. Originally, the industry didn't have the right technology to break down CBD and THC oils to mix with water, leading to chunky textures, weird tastes, and erratic dosages (which is what many people still think of when they hear cannabis beverages).
Thankfully, we now have nanoemulsion. The nanoemulsion technology breaks down oil particles to microscopic sizes, allowing them to seamlessly blend with water, in turn, increasing the efficacy of cannabis in a drink.
When it comes to cannabis-infused drinks, they can be split into two teams: THC dominant drinks and CBD dominant drinks. THC is what is known to give you 'the high'. In technical terms, it's a psychoactive ingredient, which is extracted from the Marijuana plant. On the other hand, CBD, unlike THC, doesn't have the 'high' effects. Instead, it is rather known to be beneficial for one's mental health.
Today, there are many brands out there creating some great cannabis-infused beverages. One of the brands killing it in the world of canna drinks is Cann. Cann is home to a line of 'social tonics' - aiming to change everyone's day-to-day social drink.
The brand offers a wide range of flavors, from Lemon Lavender to Yuzu Elderflower Reserve, Grapefruit Rosemary Reserve, and more. Each of their regular-sized cans holds 2mg of THC and 4mg of CBD, while the larger cans, also known as Hi-Boy, hold 5mg of THC.
In fact, Cann recently launched their first caffeinated flavor - Passion Peach Mate - with Swedish pop star Tove Lo. The launch came with a 'trippy' video of the artist showing off her can of Passion Peach Mate.
Another brand making it big in the cannabis drinks industry is House of Saka, a line of three, alcohol-free, luxury CBD wines. House of Saka was brought to life when cannabis industry expert Cynthia Salarizadeh and wine industry veteran, Tracey Mason came together to create cannabis-infused products, by, and for women. House of Saka is home to three beverages, namely Saka Pink, Saka White, and Saka Spark Mimosa.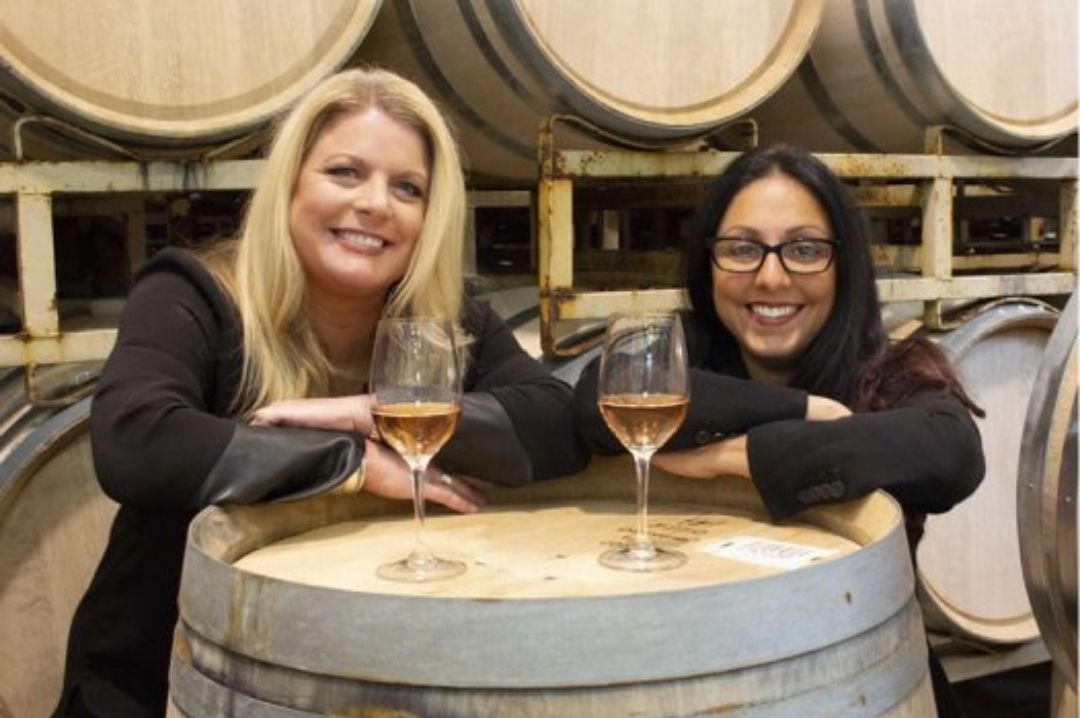 Tracey Mason (left) and Cynthia Salarizadeh (right), owners of House of Saka
Tracey Mason from House of Saka will be taking the stage at the 2021 Cannabis Drinks Expo, which is set to take place in Chicago on November 15, 2021, and in San Francisco on November 11, 2021. Her main focus will be on the rise of cannabis-infused beverages, and how canna-drinks are set to steal share from the alcohol occasion. But more on that later.
Why should I drink a cannabis drink?
Even though smoking is still the most common form of consuming cannabis, drinks are a great leeway for those who are just starting out their green journey. For those who have been consuming cannabis for a while, cannabis beverages are an impeccable to-go option.
There are ample amounts of brands out there making cannabis beverages. We've already spoken about Cann and House of Saka, so let's take a look at some more options.
Houseplant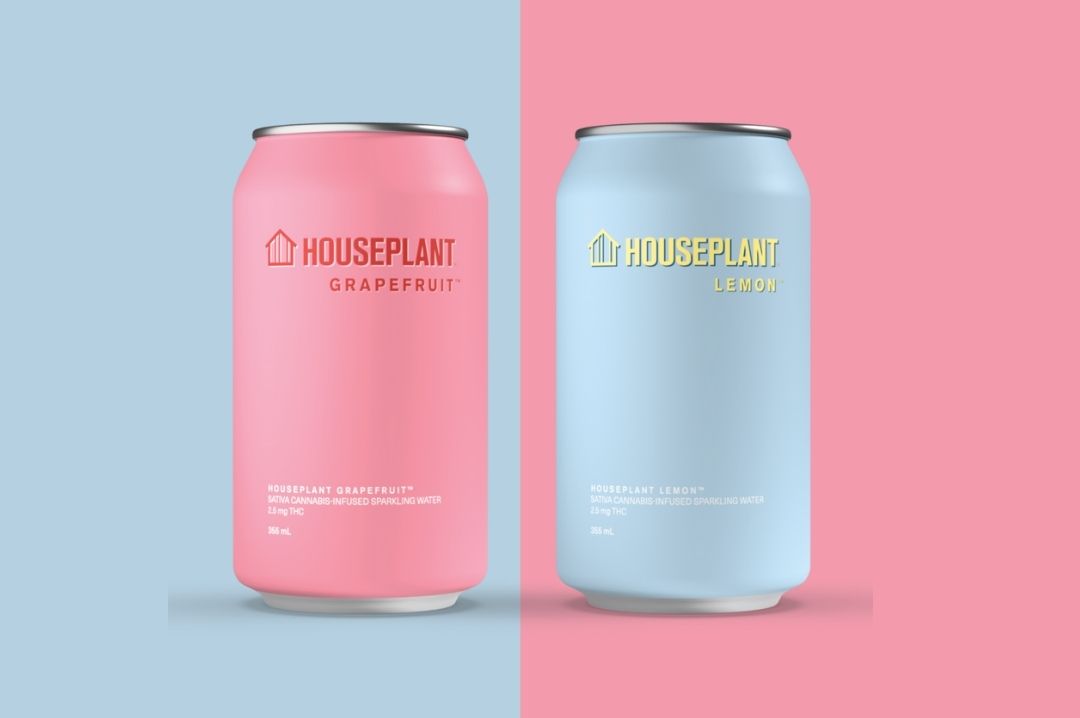 Houseplant Beverages
Seth Rogen and Evan Goldberg came together to create this delicious cannabis-infused sparkling water. Houseplant has two flavors, namely, Lemon, and Grapefruit. Each of the flavors has 2.5mg of THC in them.
Rogen and Goldberg's aim with Houseplant is to educate consumers about the cannabis drinks industry, and non-smokers an easy-to-consume option. Houseplant beverages are made with Sativa dominant THC, which makes you feel energetic.
Recess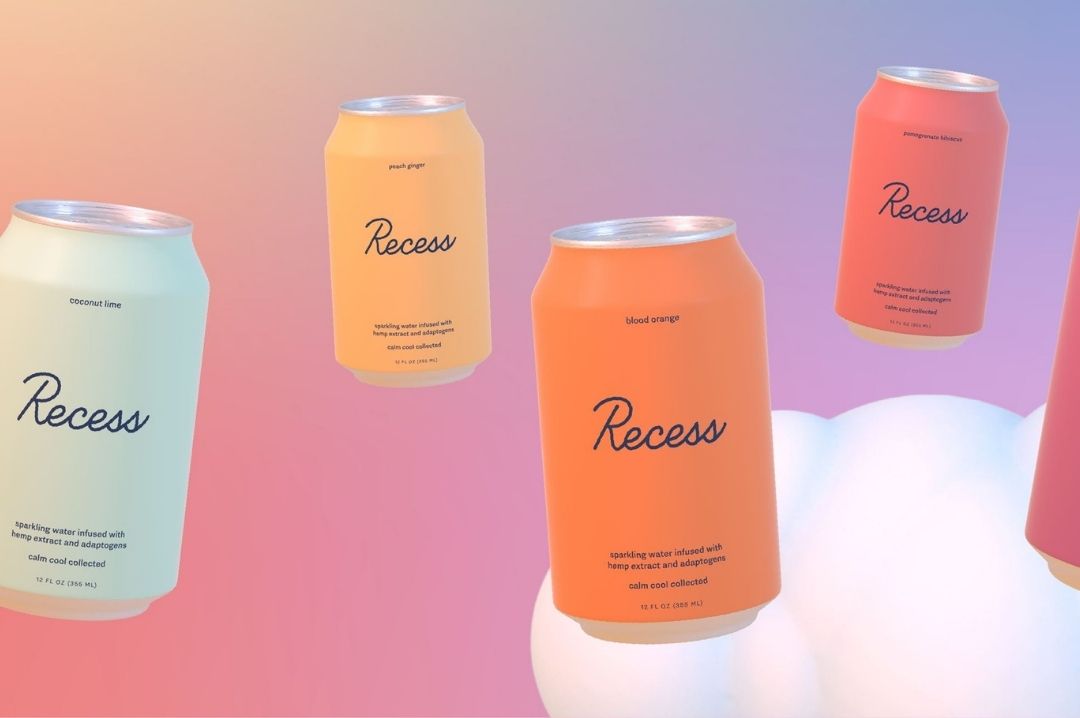 Recess Sparkling Water
Recess creates drinks and powders 'to help you feel calm cool collected despite the stressful world around you'. Each of their sparkling water cans in the calming hemp + adaptogen range is made infused with hemp and adaptogens for calm and clarity. From Peach Ginger to Pomegranate Hibiscus, Black Cherry, and more, Recess offers some refreshing flavors. The brand also has a mood-lifting range, with magnesium and adaptogen.
Pabst Blue Ribbon Cannabis-infused seltzer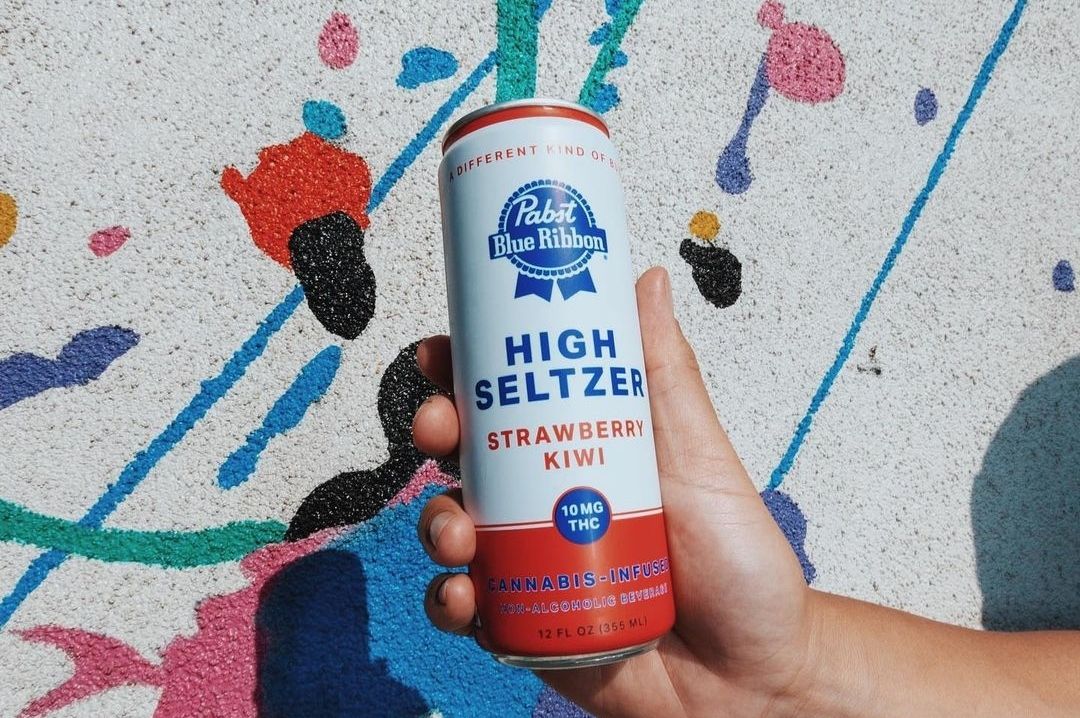 PBR High Seltzer, Strawberry-Kiwi
Even our favorite beer brands are moving into the cannabis-drinks sector! In 2020, PBR launched two flavors of a cannabis-infused seltzer, namely Lemon and Strawberry-Kiwi. Each can have either 5mg or 10mg of THC (your choice).
The brand says that their cannabis-infused seltzer works quicker than your average edible, and allows for the most efficient absorption, so you won't have to wait for hours for the buzz.
Shop PBR Cannabis-infused Seltzer
Cannabis drinks and more…
Chicagoans, this is the canna-moment you've been waiting for. The Cannabis Drinks Expo brings to you an entire day full of brands showcasing their products, experts sharing their experiences and knowledge, and industry experts and enthusiasts networking with each other.
Not only will you be able to network with the budding cannabis drinks industry, but you will also be able to learn from some of the USA's best industry experts at the conference.
Apart from the expo floor, where brands and businesses will shine the light on their product lines, there will also be a conference led by some of the USA's cannabis drinks industry leaders.
Along with House of Saka's Tracey Mason, Chicago will see other speakers like Joy Hudson (Founder and CEO at Nimble Distribution), Dr. Alexey Peshkovsky (President & CSO, Industrial Sonomechanics, LLC), Josh Lizotte (Chief Executive Officer & Co-Founder at Rebel Coast), Bradley Mora (CEO at Spacestation), and many more.
Cannabis Drinks Expo 2019
The morning in Chicago will kick off with Joy Hudson taking center stage and talking about working with distributors in the cannabis drinks industry. Following suit will be Dr. Alexey Peshkovsky, who will dish insights on "Water-Soluble" Cannabis: Ultrasonic Production of Liquid and Powdered Nanoemulsions of CBD, THC and/or Other Cannabinoids. Meanwhile, Josh Lizotte will talk about effective ways to market your cannabis beverage brand from dispensary to the internet.
Check out the full schedule for CDE Chicago 2021
Check out the full schedule for CDE San Francisco 2021
The Cannabis Drinks Expo will take place in both Chicago (November 15, 2021) and San Francisco (November 11, 2021).
If you're looking to dive deeper into the growing cannabis drinks sector, then the Cannabis Drinks Expo is for you.
Book your visitor passes for San Francisco
Book your visitor passes for Chicago
South San Francisco Conference Center, 255 South Airport Boulevard, South San Francisco, CA 94080, United States.
Register Now
South San Francisco Conference Center, 255 South Airport Boulevard, South San Francisco, CA 94080, United States
Register Now