The Finest Whiskeys from the World's Bourbon Capital
The brands and the families whose tireless work for generations has made Kentucky bourbon synonymous with perfection.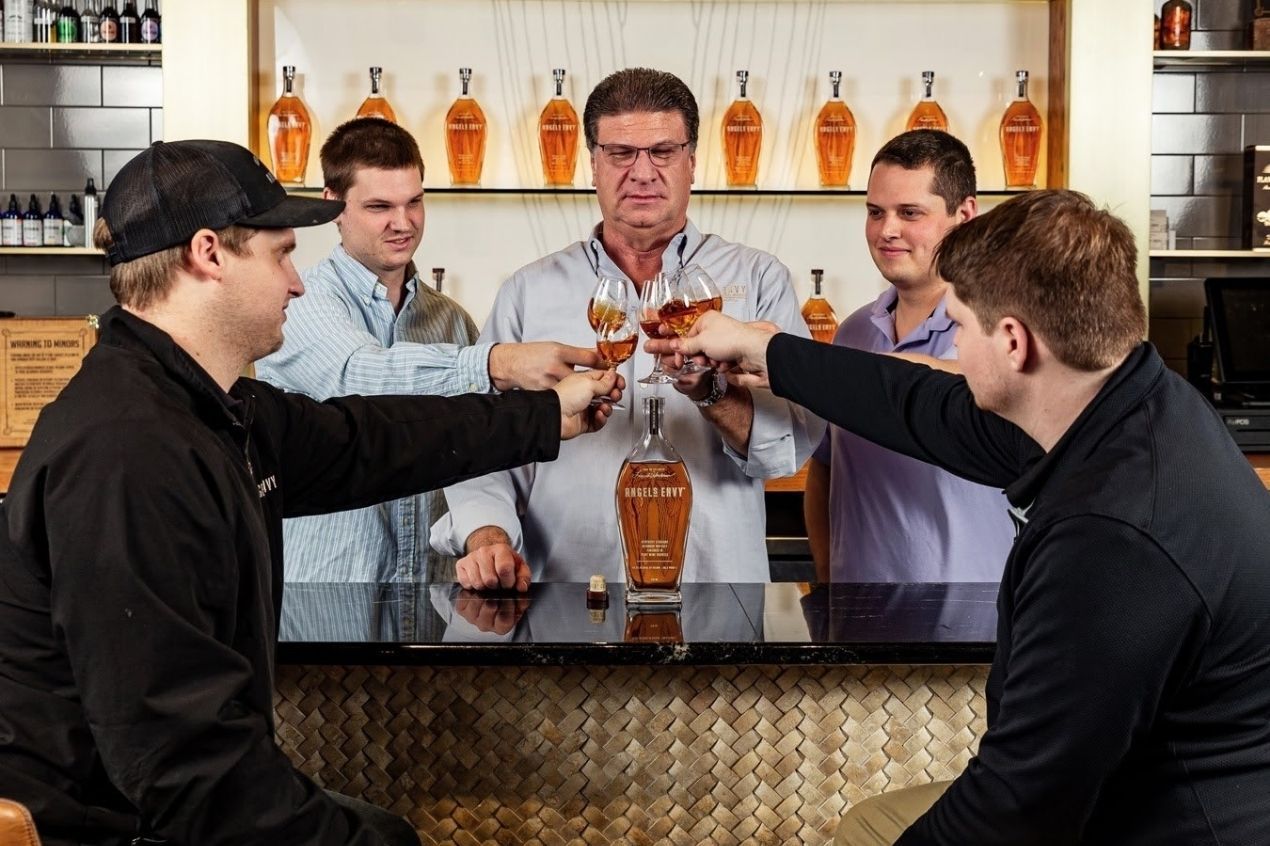 Only a few cities or states anywhere in the world have the distinction of being called the capital of the world. Even fewer among those are a part of an ever-diversifying industry like that of alcoholic drinks and beverages. Kentucky is a part of that elite list of states conferred with such an honor. The honor of being known as the World's Bourbon capital. It comes as no surprise given that the state is responsible for producing a significant amount of the entire bourbon whiskey production in the world.
So how did this magnificent status come to be? Is there something in the water in Kentucky that helps elevate a bourbon? Yes, there surely is. The vast deposits of limestone found in Kentucky are a big reason for the fine tasting bourbons of Kentucky. It does not stop there, however. The tale of why Kentucky came to be the center of whiskey and bourbon production in the United States goes way back. The art of distilling is said to be brought to the state by the Scots, Scot-Irish and other settlers in the 18th century.
Through a line of families that honed their skills during this time and with the passing generations, whiskey production in Kentucky amplified and became more diverse. There was never a small number of distillers that seized control over the entire production. Instead, more and more families and groups joined the bourbon production business and all these families now play a huge hand in bringing world-class whiskey to the world, originating in Kentucky, of course. These brands and families have had their share of tough times, during the long period of Prohibition and more. Unfettered, however, they have moved forward at a rapid rate, releasing bourbons that see no difference between a connoisseur and a lad drinking just for enjoyment.
The bourbons attract them all and these are the brands that make it so. These are the bourbons that have changed the game for Kentucky bourbons over the years.
Angel's Envy
Rooted in 200 years of whiskey heritage, Angel's Envy is the dream of a father-son duo, Lincoln and Wes Henderson. Today, Angel's Envy is a hand-crafted, small-batch whiskey produced by the Louisville Distilling Company. Inspired by master distiller Lincoln Henderson's lifetime of work crafting fine spirits, Angel's Envy Kentucky Straight Bourbon is a true masterpiece.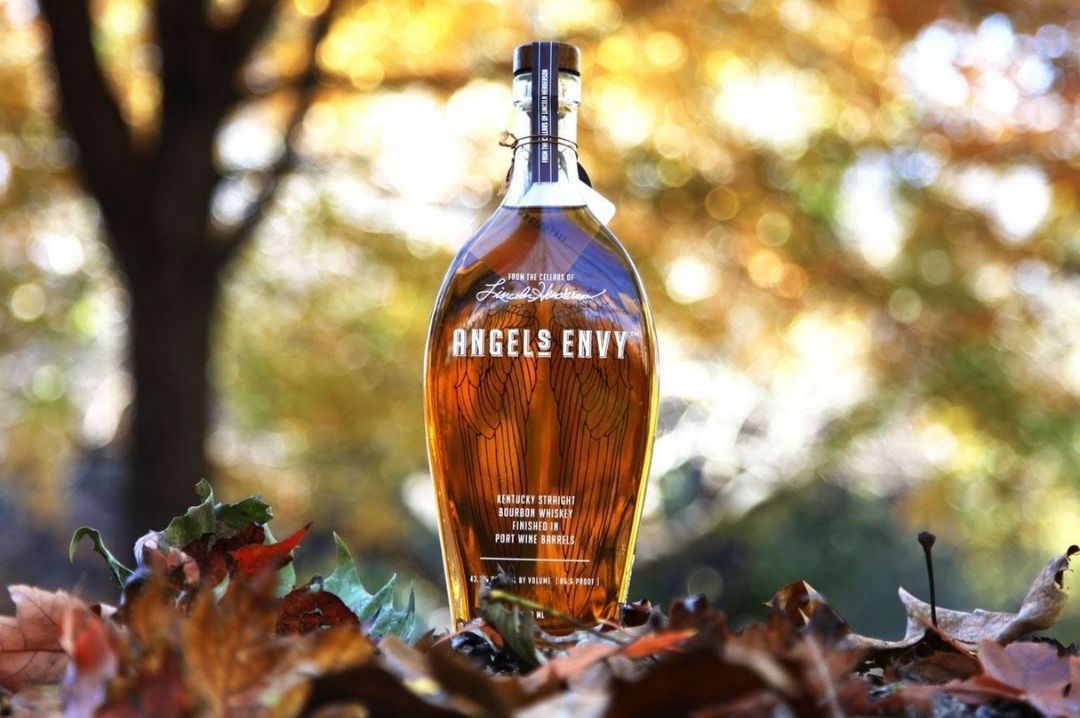 Angel's Envy, Source Facebook
Blended in small batches of 8 to 12 barrels at a time and typically aged for up to 6 years, Angel's Envy Kentucky Straight Bourbon is nearly copper in tone, with a golden appearance laced with reddish amber hues. Subtle vanilla, raisins, maple syrup and toasted nuts adorn the nose while ripe fruits and bitter chocolate linger on the palate. The clean and lingering sweetness on the finish with a hint of slowly fading Madeira adds to the spectacle. An excellent manifestation of why Kentucky bourbons are so highly recommended. Get yours from Total Wine or Crown Wine and Spirits.
Maker's Mark
Based in Loretto, Kentucky, Maker's Mark has been a major player in the growth of Kentucky bourbon since it was established in 1953. On the Star Hill Farm, everything's the same as it always was. From the old letterpress to every barrel being rotated by hand, nothing has changed and why would it when the results are so satisfying and beautiful.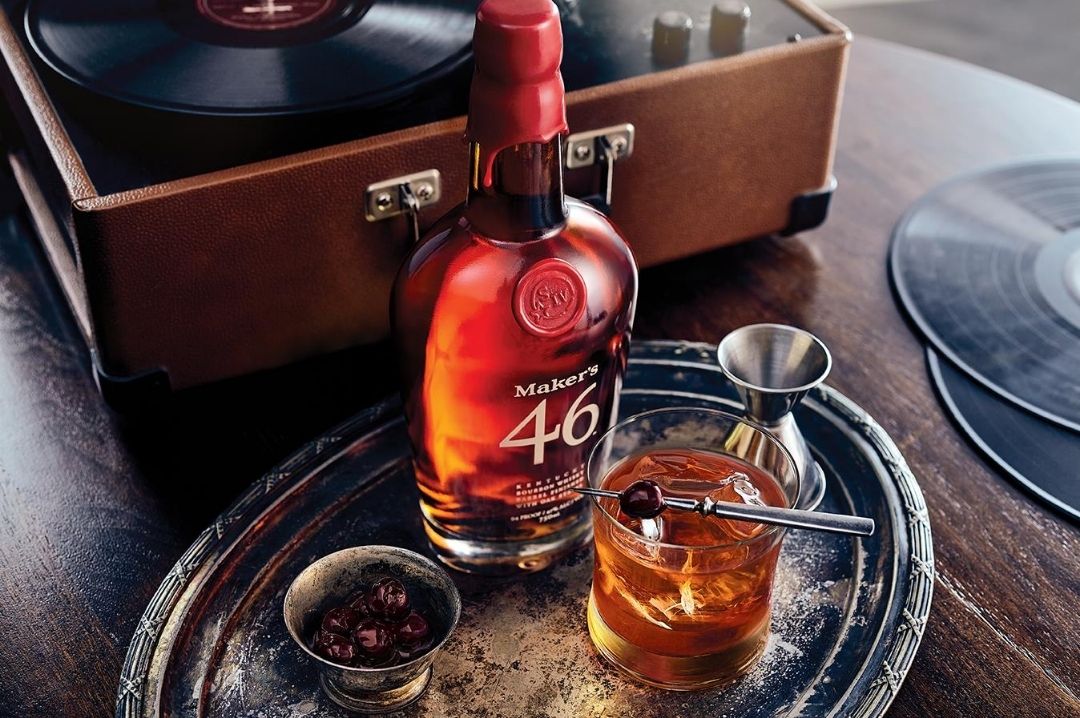 Maker's Mark, Source Facebook
Among their fine but select list of Bourbons is the Maker's Mark 46, the first bourbon in the distillery's wood-finished series. Created by Bill Samuels Jr, Maker's Mark 46 is a bold and complex bourbon without the bitterness of a long-aged bourbon. Rich aromas with hints of wood staves and caramel, the taste has a big crescendo of wood that blends perfectly with deep, complex and rich notes of vanilla and caramel. The finish is smooth and subtle and can be a great addition to a Manhattan or a Revolver. Shop for Maker's Mark 46 on the Whisky Shop or Reserve Bar.
Woodford Reserve
If you romanticize with history, your eyes will immediately be drawn to the Woodford Reserve Distillery for its involvement in bourbon-making history. The distillery, now a National Historic Landmark, is the site where the first bourbon was made in 1812. Over two centuries later, the distillery is still a proud representative of Kentucky's bourbon whiskey culture.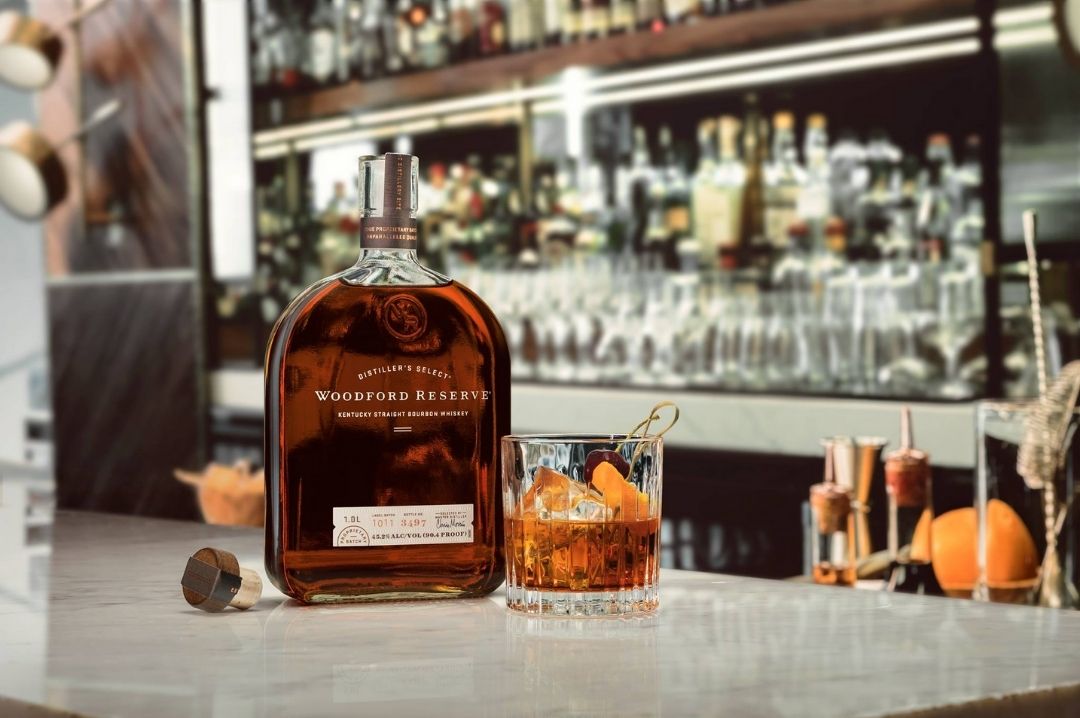 Woodford Reserve, Source Facebook
The distillery produces ten top-shelf bourbons among which is the Straight Bourbon Whiskey, a winner of 13 gold medals at various international competitions. Each Woodford Reserve whiskey has a unique flavour profile and that of the Straight Bourbon Whiskey is rye, grains and malt. The clean and brilliant honey amber appearance leads to a heavy nose of rich dried fruit with hints of mint and orange covered with a dusting of orange. The palate has a citrus, cinnamon, toffee, caramel and chocolate notes. The silky smooth and creamy finish ends the whiskey on a perfectly satisfying note. Get yours on Reserve Bar or from their product locator.
RockCastle Bourbon
The Barrel House Distilling Company are proud producers of this Kentucky bourbon. Owned and operated by Jeff Wiseman and Pete Wright since 2006, the distillery is located in the barrelling house of old Pepper Distillery in Lexington. Even though they are a fairly new distillery, they use traditional techniques to craft their fine spirits.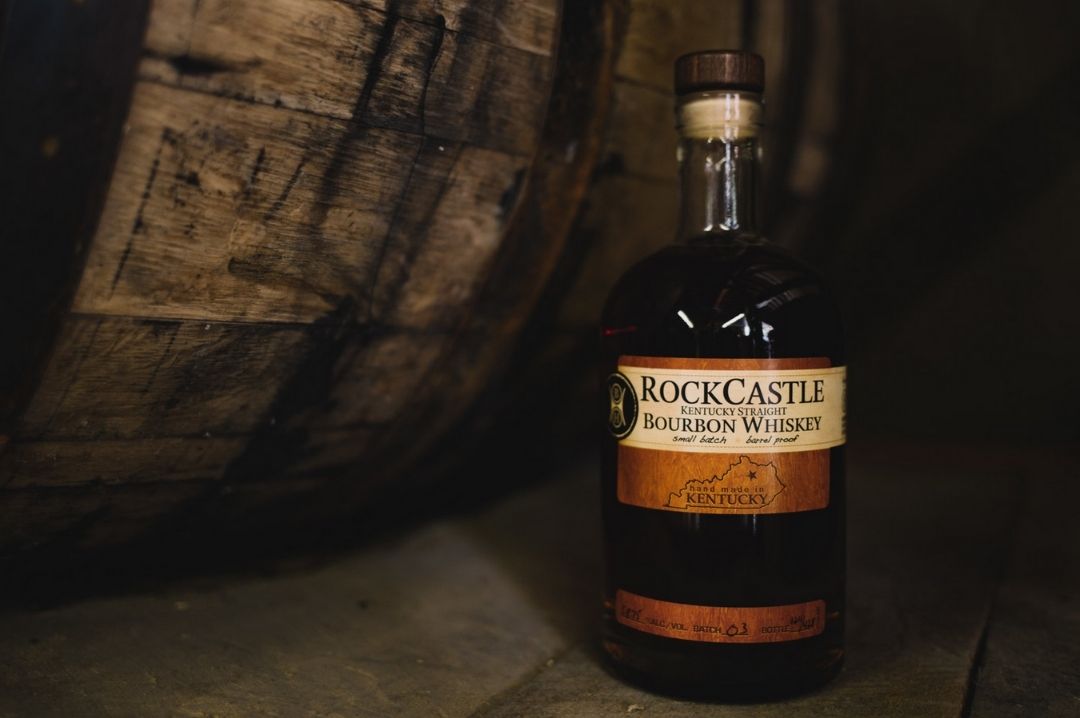 Barrel House Distillery, Source Website
The RockCastle Bourbon, named after the county where the distillery sources its limestone-rich mountain spring water is a smooth and sweet bourbon. Bottled at batch strength and in small batches, the RockCastle Bourbon displays a distinct flavor of toffee, caramel and vanilla. A must-have for any bourbon aficionado. Get it from The Party Source.
Jim Beam
Dating back to 200 years and seven generations of the Beam family, Jim Beam is a name synonymous with bourbon lovers the world over. Started by Jacob Beam and the development overseen by his son David Beam and further by James Beauregard Beam, or Jim Beam as he is more lovingly known, the brand has expanded significantly through the years.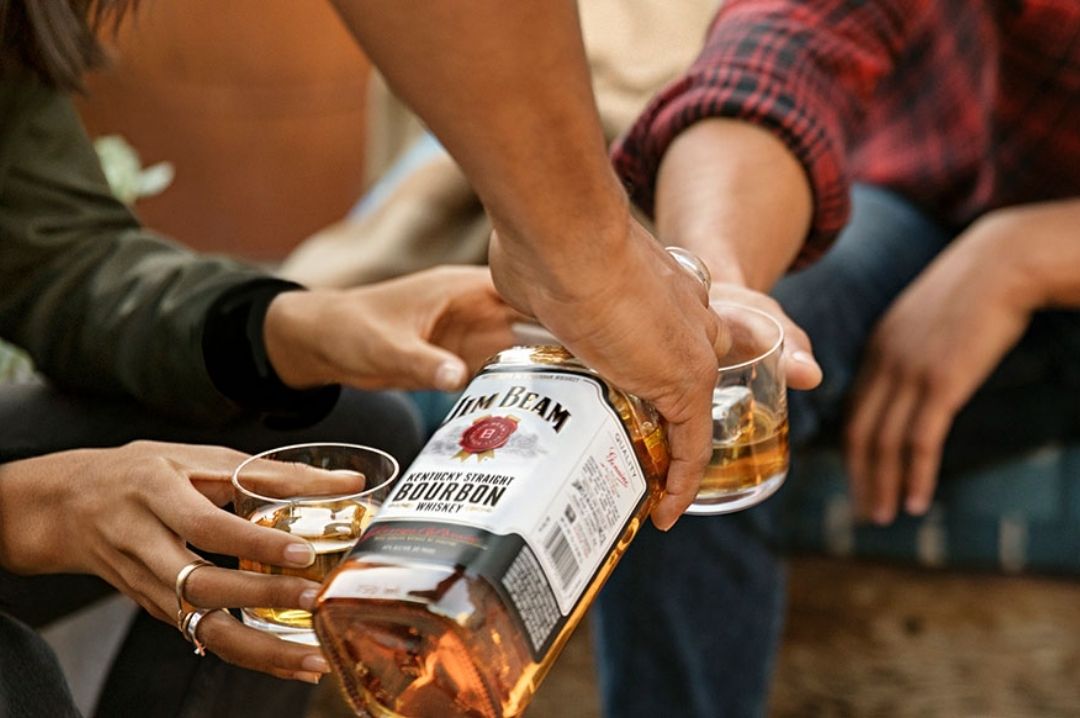 Elegant, smooth and refined, there is an effort put in every drop of Jim Beam for four years. It is still perfected using the recipe of Jim's great-great-grandfather. Aromas of oaky vanilla with a smoky backdrop bring great character to the nose. Medium-bodied and mellow with hints of vanilla and caramel. The values and the effort have stayed the same and the results have remained constant, putting Jim Beam right at the top of the best bourbons in the world list. Buy yours here.
Pappy Van Winkle's Reserve 20 Year Old
A happy accident brought Julian "Pappy" Van Winkle to the world of whiskies and the world is better for it. He simply wanted to make a great product and please people with it. The same thought has stayed with the distillery for more than 100 years now. Over four generations now, Pappy's thought has been carried forward by his family and his vision has grown to become one of the United States' favorite bourbons.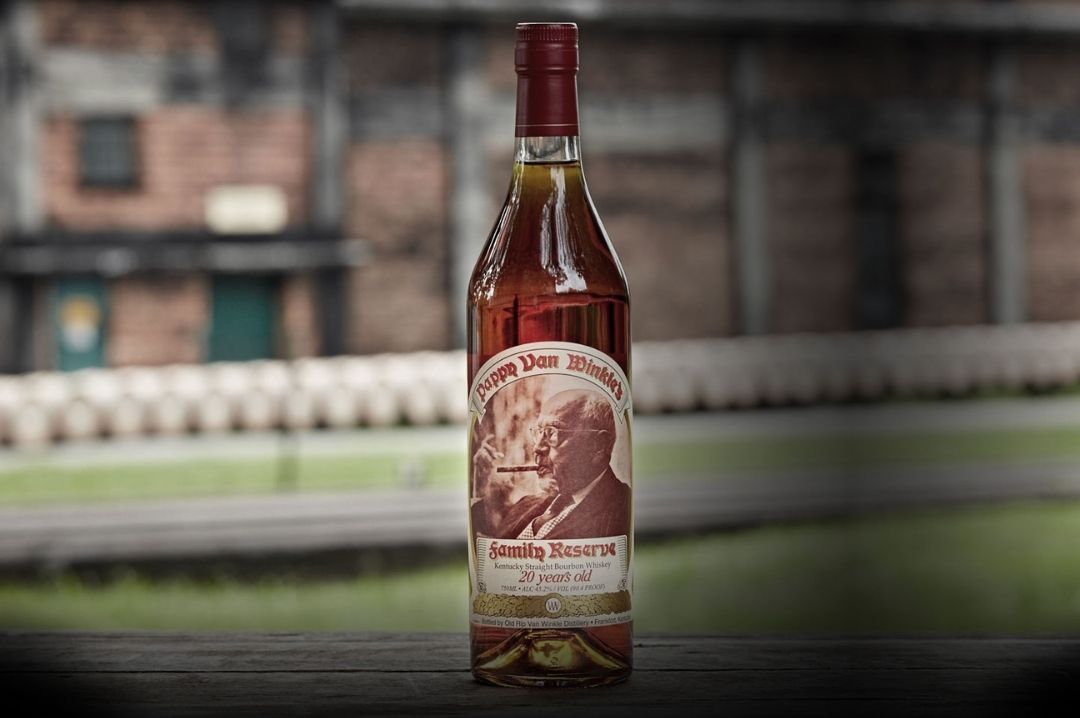 Old Rip Van Winkle Distillery, Source Website
The Pappy Van Winkle's Reserve 20 Year Old is a special bourbon-based solely on how long it has been aged for. Full of personality just like "Pappy", it has an endless range of aromatics. Full-bodied and reminiscent of oiled leather, smoke, minerals, coffee and cigar box, the bourbon also has an infinite finish. Find the whiskey on The Rare Whiskey Shop.
Bardstown Bourbon
One of the most sophisticated distilleries in the country also has one of the most collaborative programmes in the spirits world. With the goal to bring the finest Kentucky bourbon to people, the Bardstown Bourbon Whiskey has brought together some of the most experienced distillers in the world under one roof. Producing nearly forty unique mash bills for some of the finest bourbon and whiskey brands, it is difficult to choose one whiskey that stands out from this distillery.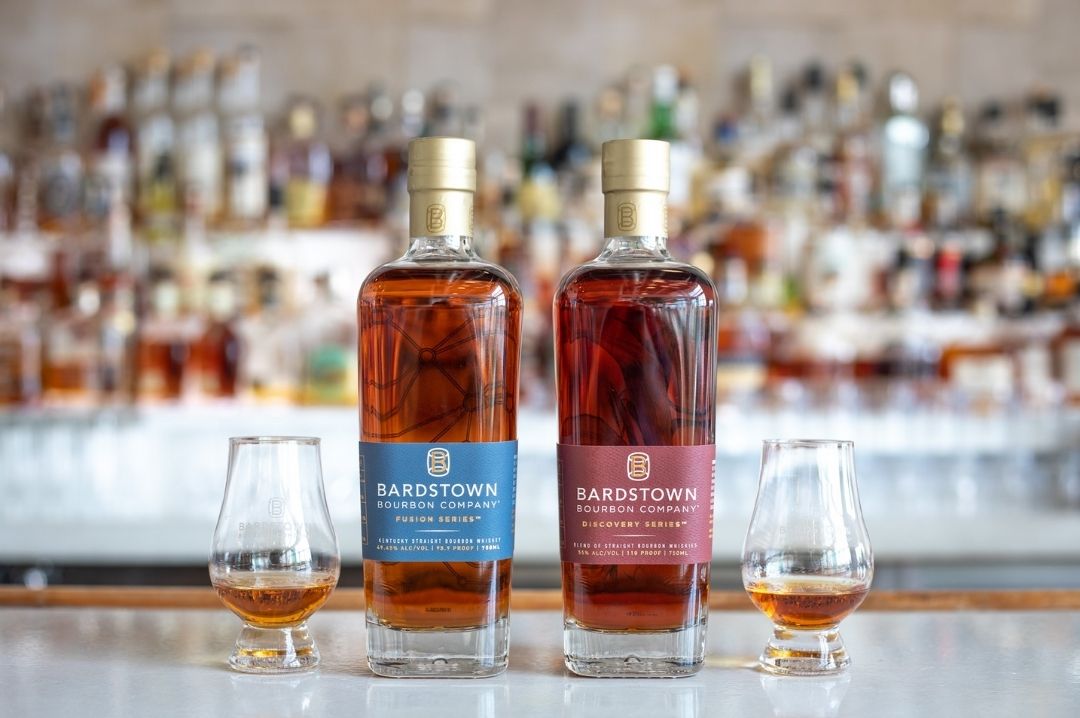 Bardstown Bourbon Company, Source Facebook
The Fusion Series #3 from Bardstown Bourbon Company is a blend of 60% of Bardstown Bourbon Company's three-year-old wheated and high-rye Kentucky bourbons along with 40% of 13-year bourbon from Kentucky to create a smooth, complex pour. The fusion between youthful and aged bourbon becomes immediately apparent on the nose. Green apples with honey join roasted nuts and caramel. These disparate profiles are unified on the first sip, coating the palate and finishing with extraordinary balance.
Four Roses Bourbon
Legend has it that founder Paul Jones Jr. was smitten by a Southern belle who agreed to his proposal. Her way of showing that she too was smitten by him? Wearing a corsage of four red roses. A dreamy love story was at the heart of this brand's beginning, a brand that has now become a sought after Kentucky bourbon producer.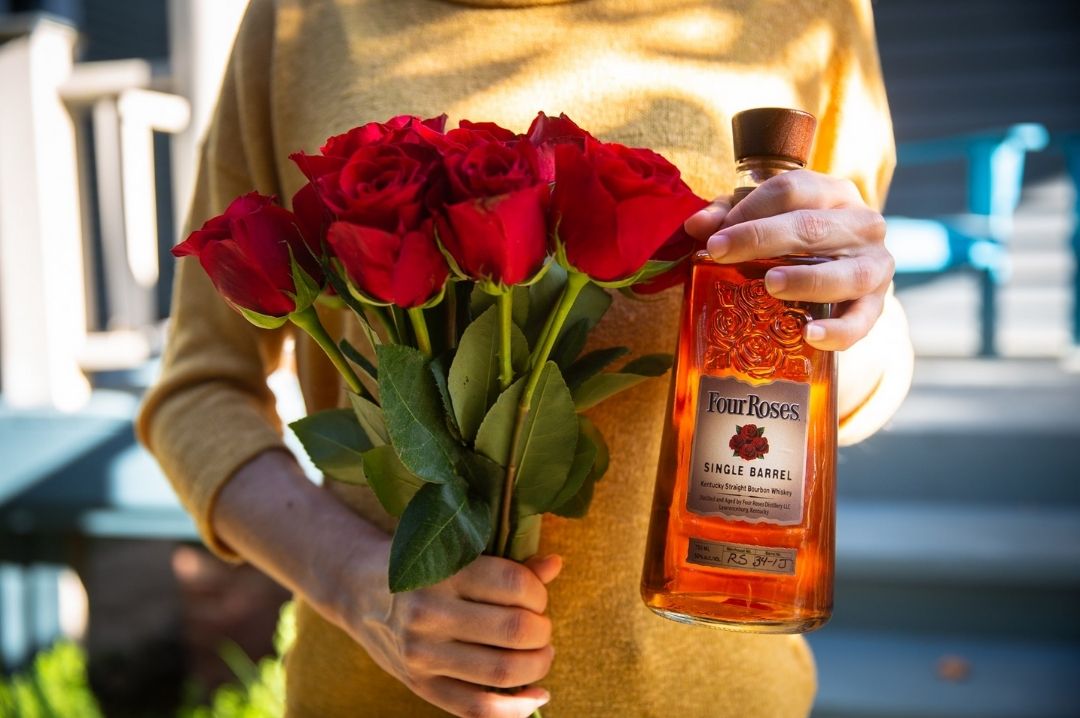 Four Roses Bourbon, Source Facebook
The Four Roses Single Barrel Bourbon is a complex, full-bodied and smooth bourbon. It comes with a long and unbelievably mellow finish. The number of accolades backs the claim of the Four Roses Single Barrel Bourbon being among the finest whiskeys produced across Kentucky. A premium bourbon whose taste lingers on the mouth. Get yours from Drizly.
Peerless Distilling Bourbon
Henry Kraver started the Peerless Distilling Co originally as the Worsham Distilling Company in the 1880s. Today, the brand has seen five generations of family work and created a fine line of bourbons for everyone to enjoy. Located in the Bourbon District of downtown Louisville, the distillery is at par with some of the best Kentucky based bourbon producers.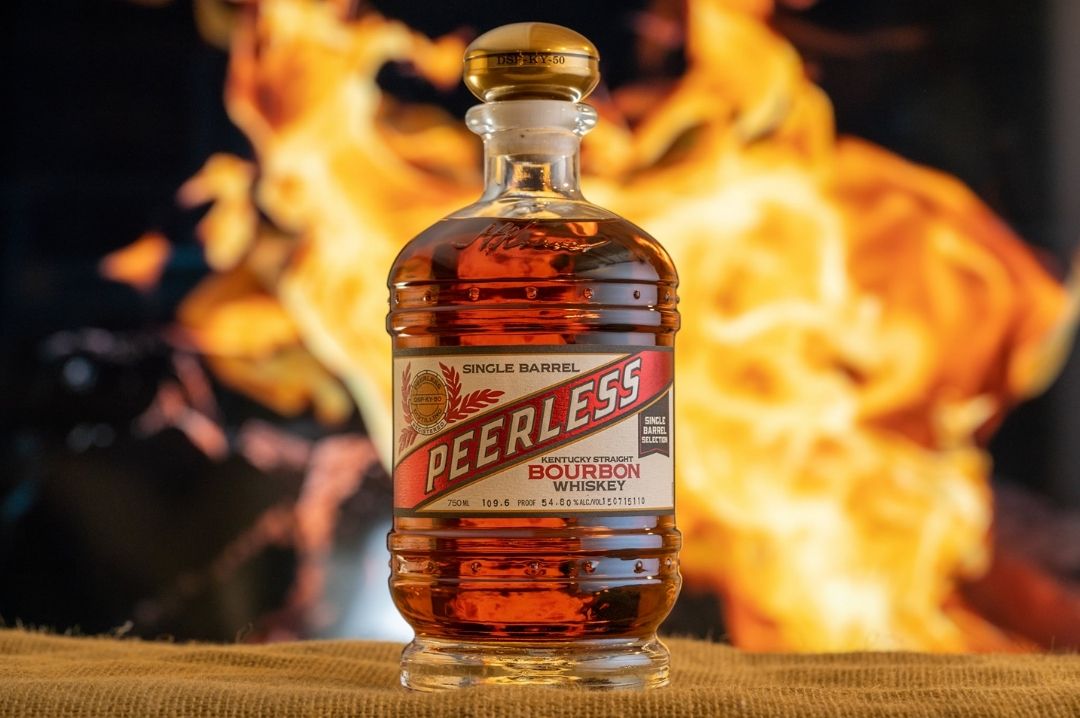 Kentucky Peerless Distilling Co, Source Facebook
The small-batch Single Barrel Bourbon is rooted in fruits, florals, and oaks. The nose features citrus, cedar, and honeysuckle as well as a nice balance of spicy oak. The first sip is that of caramel and toasted oak before a multitude of notes from around the flavor wheel show up on the palate. A bourbon that will fascinate everyone, from beginners to aficionados. Buy here.
Old Forester by Brown-Forman
Prohibition was a dark time for bourbon distillers. Most closed up shops, but Brown-Forman, distiller of Old Forester, was granted permission by the Feds to continue making their bourbon for "medicinal purposes." Today it's the oldest bourbon distillery still run by the founding family.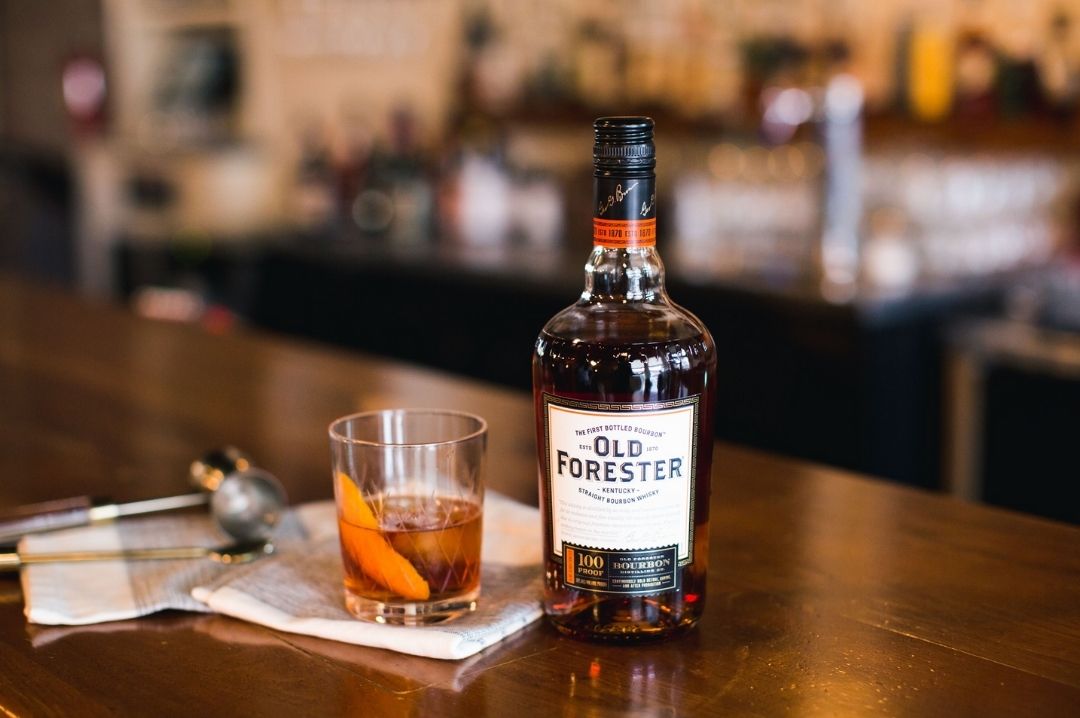 Old Forester, Source Facebook
The Distillery's Original 100 Proof is one of the best representations of Kentucky bourbon. It is handpicked from select barrels resulting in a spicy and robust Kentucky Straight Bourbon Whiskey. A bartender favorite, it enhances any classic cocktail with its complex, yet smooth and refined profile. An Old Forester Original 100 Proof Old Fashioned cocktail is the stuff of dreams. Shop on Drizly to enjoy.
Preservation Whiskey
Set in the rolling foothills of Kentucky Bluegrass Country, right along the Bourbon trail is the Preservation distillery. Their story, much like many great bourbon producers of Kentucky, dates back many decades. What started as the sharing and selling of old-world bourbons has now become a home for three top of the line Kentucky bourbons. Among those three is the Cowboy Little Barrel whiskey.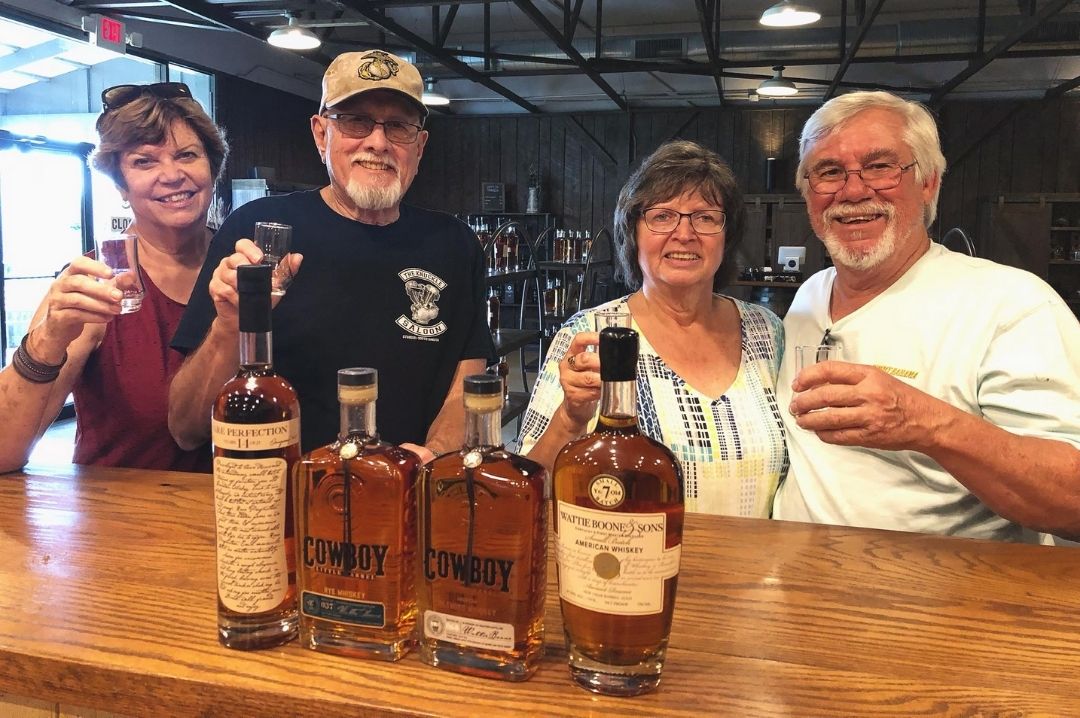 Preservation Distillery Bardstown, Source Facebook
Whiskey has long been the Cowboy's companion and the Cowboy Little Barrel serves him well in his endeavors. Whether to warm a cool evening or adding a few splashes to a morning campfire brew of cowboy coffee, their whiskey is a fine accompaniment to a long day. With tasting notes of honey, caramel, tobacco, and white pepper, Cowboy Little Barrel is smooth and easy sipping whiskey. Shop at Del Mesa Liquor or on Total Wine.
Alongside the great limestone reserves that help in Bourbon production in Kentucky, the weather also plays a key role in Kentucky being among the largest bourbon producers in the world. Its wide temperature swings, from chilly winters and equally hot summers, make the oak barrels charred. These charred oak barrels give the bourbons a distinctive taste and the amber color found so commonly in them.
The sheer number of people that flocked to Kentucky over the years from Scotland and Ireland brought with them a vast pool of knowledge and talent for whiskey and bourbon production. Their expertise paired with the hard work resulted in whiskey dethroning rum as the most popular alcoholic drink of Americans. To this day, the process of bourbon production has remained close to what it was like all those decades ago when Kentucky started becoming a hub for whiskey distillers. When someone thinks of a good bourbon, Kentucky is what comes to mind.
Header Image Angel's Envy, Source Facebook
South San Francisco Conference Center, 255 South Airport Boulevard, South San Francisco, CA 94080, United States
Register Now
South San Francisco Conference Center, 255 South Airport Boulevard, South San Francisco, CA 94080, United States
Register Now